A couple who claim to be in regular contact with the Archangel Michael have denied that their conversations with angels are behind the row which has torn apart a local branch of Ukip.
Jake Baynes, who was to have been Ukip candidate in Wells in next year's general election, and the local branch chairman, Graham Livings, have resigned, saying that relations within the local party deteriorated so badly that they cannot take it any more. Mr Livings, a 74-year-old former company director, blamed a "Glastonbury occult crowd" whom he accused of damaging the party's reputation.
But Glen Tucker, whose wife Colleen runs the Angelic Guidance and Healing Centre, in Glastonbury, insisted that the couple's private and professional lives were not a factor in the dispute within Ukip.
On their website, Colleen Tucker describes herself as an "Angelic Reiki Master Teacher, Shaman and Soul Midwife" and one of a group of practitioners who work alongside "Angels, Ascended Masters and Galactic Beings" on healing and expansion of consciousness. "About six years ago, Archangel Michael made himself known to me, and I've been working with him and the Angelic Realms since then," she claims.
Mr Livings, a longstanding Ukip activist, told The Independent: "I have been at it for 15 years or more with Ukip and to see it implode down here is depressing. Jake had the ideal profile. Any political party would have been pleased to have a candidate like him. He won the selection to be candidate fair and square and from the beginning there was a campaign against him by a handful of people. The two most vociferous were the Glastonbury occult.
"I have had people say to me, prospective Ukip voters, who have said that in view of it being true about the Glastonbury occult, they will not be voting Ukip."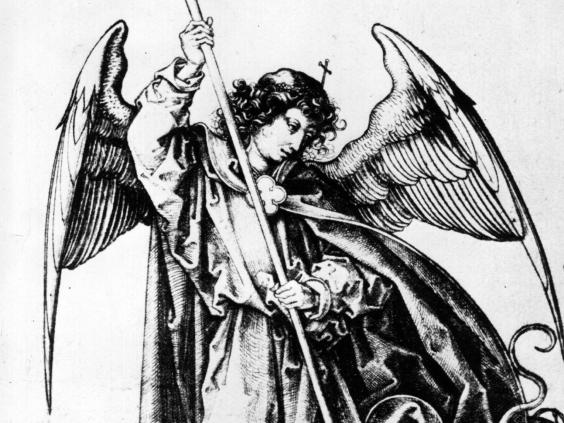 Mr Baynes, a secondary school teacher who is now on holiday, added: "They say they get their divine inspirations from the Archangel Michael, and to be honest, I don't think that has a part to play in politics. I've just had enough of all the infighting."
But Glen Tucker vehemently disputed the allegation that an "occult crowd" even existed. "We have never involved anybody or anything to do with our private life in the political sphere," he told The Independent.
"These two have concocted this fictitious organisation called the Glastonbury occult, which doesn't exist. It's amusing, because if you look at the word 'occult' it means 'secret'. Well, it's all out in the open. We have a good reputation. Why they have brought it up, I have no idea."
In 2010, Mr Baynes defied Ukip's national leadership over whether the party should run a general election candidate in Wells, where the incumbent Tory MP, David Heathcoat-Amery, who is strongly anti-EU, was under threat from the Lib Dems. Mr Baynes accused the then-Ukip leader, Lord Pearson, of wanting to protect Mr Heathcoat-Amery because they were both old boys of Eton, the same public school where David Cameron and Boris Johnson were educated. Mr Baynes ran against Mr Heathcoat-Amery, and took 1,711 votes. The Tories lost the seat to the Lib Dem Tessa Munt by 800 votes.
Reuse content