Ministers are under pressure to explain how they would respond if Scots vote for independence, as it emerged that Labour is on course to win the general election only because of its strong support in Scotland.
The latest "poll of polls" for The Independent suggests that Ed Miliband will win an overall majority of 32 next May. But if Scottish MPs are excluded, there would be a hung parliament, with Labour three seats short of a majority.
"Scotland is potentially critical to Labour's ability to win an overall majority," said John Curtice, professor of politics at Strathclyde University, who compiled the data. At present, Labour holds 41 of the 59 Scottish seats at Westminster and could land another five if the latest polls are reflected next May. Labour is on 35 per cent, the Conservatives 31 per cent, Ukip 13 per cent and the Liberal Democrats nine per cent.
Some Conservative MPs want Scottish voters excluded from the general election if the country decides to break away. The Scottish National Party has called for the election to be postponed so it did not disrupt negotiations before "independence day" in March 2016.
Scottish Independence: For and against
Scottish Independence: For and against
1/23 Vivienne Westwood

YES: "I hate England. I like Scotland because somehow I think they are better than we are. They are more democratic."

Getty

2/23 Bob Geldof

NO: "This argument needs to be had among us all, you can't selfishly resolve it amongst yourselves by taking an easy opt-out clause."

Getty

3/23 Leonard Cohen

UNDECIDED: "People are trying to make their lives significant," he said. "[They] are engaged in a struggle for self-respect and significance."

Getty

4/23 James McAvoy

UNDECIDED: "If you vote for continued unification or independence there is no protest vote – that's it. And that could be it for decades, for centuries. There's no going back from it."

Getty

5/23 Bill Clinton

NO: "Unity with maximum self-determination sends a powerful message to a world torn by identity conflicts that it is possible to respect our differences while living and working together. This is the great challenge of our time. The Scots can show us how to meet it."

Getty

6/23 George Galloway

NO: "There will be havoc if you vote Yes in September. Havoc in Edinburgh and throughout the land and you will break the hearts of many others too… I know which side I'm on. I'm with JK Rowling. Just say No."

Getty

7/23 David Beckham

NO: "We want to let you know how very much we value our relationship and friendship. Of course regardless of your decision that will never change, however, my sincere hope is that you will vote to renew our historic bond which has been such a success over the centuries and the envy of the entire world. What unites us is much greater than what divides us. Let's stay together."

Getty

8/23 David Bowie

NO: "Scotland stay with us"

Rex Features

9/23 Eddie Izzard

NO: "You can be Scottish, you can be British and you can be European. We can have that. "I say have the parliament, have the more power, but be with us. Like David Bowie said, 'Stay with us Scotland' and I'm saying the same – don't go."

Getty

10/23 Frankie Boyle

YES: "It's an 'aye' (for Independence) from me, man."

Association of Online Publishers

11/23 Andy Murray

NO: "I started competing for Great Britain when I was 11. A lot of people forget that. I didn't like it when Salmond got the Scottish flag up at Wimbledon"

GETTY IMAGES

12/23 The Proclaimers

YES: 'Scotland has huge national resources, with its people, its wave power – all the possibilities that this country has...we need to take charge of our own affairs'

Gary Calton

13/23 Susan Boyle

NO: "I am a proud, patriotic Scot, passionate about my heritage and my country. But I am not a nationalist."

Rex Features

14/23 Chris Hoy

NO: "It will weaken the British team obviously if Scotland went separately, and it would be harder for the Scottish athletes, initially, to establish themselves in a new training environment, with new coaches, with a different environment altogether."

15/23 Alan Cumming

YES: "The evidence is clear - in the past 15 years we have become stronger economically, socially, culturally and globally. The world is waiting for us and I know Scotland is ready."

Kalpesh Lathigra

16/23 Emma Thompson

NO: "Why insist on building a new border between human beings in an ever-shrinking world where we are still struggling to live alongside each other?"

Carlo Allegri, Reuters

17/23 Billy Bragg

YES: Independence would "create a new settlement that puts people before profit. Those in England who believe that our own society needs to be rebalanced along similar lines should wake up and join the debate"

Getty Images

18/23 Marcus Brigstocke

NO: "If Scotland go their own way (based on fingers crossed, f**k the Tories, William Wallace bollocks it'll be a damn shame. Still wish 'em well"

19/23 Rod Stewart

NO: "I'd hate to see the union broken after all these years. It's always been a spiritual home - but as I don't live there I shouldn't comment on independence. If it's good for the Scots I'm happy."

PA

20/23 Sean Connery

YES: "As a Scot and as someone with a lifelong love for both Scotland and the arts, I believe the opportunity of independence is too good to miss"

Rex Features

21/23 Al Kennedy

NO: "Salmond has the warm potato head of a man who is Scottish and – we hope – no threat"

Rex Features

22/23 Annie Lennox

YES: "There is an opportunity for something innovative and visionary. Scotland could have some kind of new, ethical, visionary stance and it could take on some fresh ideas. That could be amazing, really amazing."

Getty Images

23/23 Morrissey

YES: "They must cut ties with the United King-dumb. I love Scotland, and I love the Scottish spirit and they do not need Westminster in the least."

Getty Images
Whitehall sources said that delaying an election for the first time since the Second World War has not been discussed by ministers. But one official admitted: "It is too sensitive before the referendum, but we couldn't duck it any longer if there were a Yes vote."
Senior MPs in the three main parties said postponing the election would be "very unlikely". They fear it would be condemned as "anti-democratic" and a "constitutional outrage", and would be a gift for Ukip.
John Redwood, the former Tory Cabinet minister, said Scots should not participate in next year's election if they vote to leave the UK. He argued the election should take place as normal elsewhere, with existing Scottish MPs allowed to remain until independence.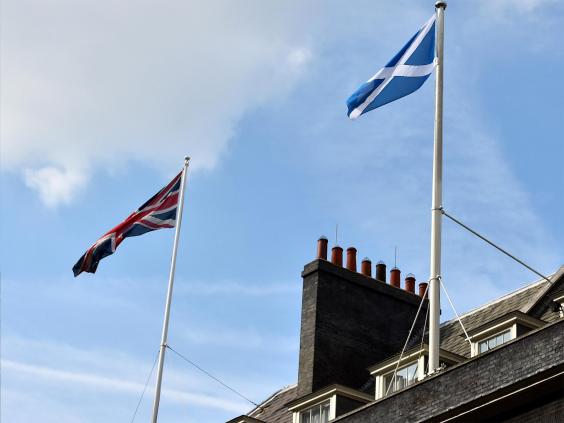 "Scottish MPs would only serve for less than a year and should not take an active part in non-Scottish matters. That seems to me the neatest solution," he said.
Peter Riddell, director of the Institute for Government think tank, said the position would be "dangerous and unsustainable" if Mr Miliband won an overall majority due to Scottish MPs, presenting Labour with a "hellish" dilemma.
But Graham Allen, Labour chairman of the Select Committee on Political and Constitutional Reform, insisted that Labour would simply move from having an overall majority to requiring the support of other parties. "The numbers in the House of Commons would decide who the Government is," he said.
David Cameron, Ed Miliband and Nick Clegg will all hit the campaign trail in Scotland tomorrow, instead of appearing at Prime Minister's Questions in an attempt to arrest the slide in support for a No vote. After the idea was suggested by Mr Miliband, Mr Cameron agreed to tear up his diary. The three leaders will travel separately and campaign in different parts of Scotland but their message will be the same: "We want you to stay."
Alex Salmond, the First Minister, said: "The message of this extraordinary, last-minute reaction is that the Westminster elite are in a state of absolute panic as the ground in Scotland shifts under their feet."
Today Gordon Brown spoke movingly as he vowed to "nail the SNP lie" that Scotland's health service is at risk of privatisation. Addressing activists in Glasgow, his voice wavered slightly as he spoke about his baby daughter Jennifer Jane, who died from a brain haemorrhage in 2002, and how his sight was saved after a rugby accident left him blind in one eye at the age of 16.
The former Prime Minister said: "I love Scotland, I love the NHS. When my daughter died it was as the result of not being able to do anything to save her life, and my respect for the NHS grew as a result of the experience that Sarah and I had."
Mr Cameron ordered the Scottish saltire to be flown over Downing Street until next week's referendum. But his gesture of solidarity with Scotland got off to an inauspicious start as the flag fell down the first time that workmen tried to run it up the flagpole.
* Writing in Wednesday's Daily Mail, Mr Cameron tells the Scottish people: "The choice for you is clear: a leap into the dark with a Yes vote, or a brighter future for Scotland by voting No. You can have the best of both worlds in the UK. You can have more powers in Scotland."
The Prime Minister says: "The UK is a precious and special country. That is what is at stake. So let no-one in Scotland be in any doubt: we desperately want you to stay; we do not want this family of nations to be ripped apart."
He adds: "If we pull together, we can keep on building a better future for our children. We can make sure our destiny matches our history, because there really will be no second chances. If the UK breaks apart, it breaks apart forever."
Reuse content