After a referendum campaign of claim and counter-claim which has lasted for more than two years and has led to allegations of bullying, intimidation, scaremongering and outright lies, Scottish voters will finally decide whether their country should embrace independence or remain as part of the United Kingdom from the privacy of the polling booth.
The final opinion polls before the vote suggested that the campaign against independence retained a very slight lead. But with significant numbers of people still undecided, the result will remain impossible to predict until the early hours of Friday morning.
David Cameron admitted he was "nervous" that the UK may be on the verge of breaking up. In the event of a Yes vote, he will face intense pressure from Conservative backbenchers to resign as Prime Minister, having presided over the separation of England's 307-year-old union with Scotland.
Mr Cameron insisted that he would not stand down if Scotland voted for independence. "My name is not on the ballot paper. What's on the ballot paper is, does Scotland want to stay in the United Kingdom or does Scotland want to separate itself from the United Kingdom," he said.
"That's the only question that will be decided on Thursday night. The question about my future will come at the British general election coming soon."
The leaders of the campaigns for and against independence spent today making their final cases on the airwaves and in front of the television cameras, while their armies of tens of thousands of volunteers mounted a final push on Scotland's streets and doorsteps.
In Perth, Alex Salmond gave a rousing speech to Yes campaigners, telling them to prepare for "a day which Scotland will never forget" and hitting out again at the main Westminster political parties, which he described as "out of touch and out of time".
The First Minister added: "To our friends in the rest of the United Kingdom, I say this: we don't seek division, but rather equality. A new, better and harmonious relationship founded on our enduring bonds of family and culture."
In Glasgow, Gordon Brown delivered what some commentators described as the best speech of his political career, telling an audience in Maryhill: "It is not less patriotic to vote No – Scotland does not belong to the SNP".

Declaring that "the silent majority will be silent no more", the former Labour prime minister added: "This vote isn't about a Scottish parliament – we have that. It isn't about a shared currency – we have that already. The nationalists' aim is to break every constitutional link with the UK – and we will not have that. We are a nation, yesterday, today and tomorrow."
An Ipsos-MORI poll tonight suggested that Scotland would reject independence by the smallest of margins, with 51 per cent of people intending to vote No and 49 per cent Yes, excluding undecided voters.
A separate Panelbase survey had very similar findings, with 52 per cent saying they favoured keeping the union and 48 per cent keen to go it alone. Both polls suggested that about five per cent of voters – or one in 20 – remain undecided and could swing the result.
Scottish Independence: For and against
Scottish Independence: For and against
1/23 Vivienne Westwood

YES: "I hate England. I like Scotland because somehow I think they are better than we are. They are more democratic."

Getty

2/23 Bob Geldof

NO: "This argument needs to be had among us all, you can't selfishly resolve it amongst yourselves by taking an easy opt-out clause."

Getty

3/23 Leonard Cohen

UNDECIDED: "People are trying to make their lives significant," he said. "[They] are engaged in a struggle for self-respect and significance."

Getty

4/23 James McAvoy

UNDECIDED: "If you vote for continued unification or independence there is no protest vote – that's it. And that could be it for decades, for centuries. There's no going back from it."

Getty

5/23 Bill Clinton

NO: "Unity with maximum self-determination sends a powerful message to a world torn by identity conflicts that it is possible to respect our differences while living and working together. This is the great challenge of our time. The Scots can show us how to meet it."

Getty

6/23 George Galloway

NO: "There will be havoc if you vote Yes in September. Havoc in Edinburgh and throughout the land and you will break the hearts of many others too… I know which side I'm on. I'm with JK Rowling. Just say No."

Getty

7/23 David Beckham

NO: "We want to let you know how very much we value our relationship and friendship. Of course regardless of your decision that will never change, however, my sincere hope is that you will vote to renew our historic bond which has been such a success over the centuries and the envy of the entire world. What unites us is much greater than what divides us. Let's stay together."

Getty

8/23 David Bowie

NO: "Scotland stay with us"

Rex Features

9/23 Eddie Izzard

NO: "You can be Scottish, you can be British and you can be European. We can have that. "I say have the parliament, have the more power, but be with us. Like David Bowie said, 'Stay with us Scotland' and I'm saying the same – don't go."

Getty

10/23 Frankie Boyle

YES: "It's an 'aye' (for Independence) from me, man."

Association of Online Publishers

11/23 Andy Murray

NO: "I started competing for Great Britain when I was 11. A lot of people forget that. I didn't like it when Salmond got the Scottish flag up at Wimbledon"

GETTY IMAGES

12/23 The Proclaimers

YES: 'Scotland has huge national resources, with its people, its wave power – all the possibilities that this country has...we need to take charge of our own affairs'

Gary Calton

13/23 Susan Boyle

NO: "I am a proud, patriotic Scot, passionate about my heritage and my country. But I am not a nationalist."

Rex Features

14/23 Chris Hoy

NO: "It will weaken the British team obviously if Scotland went separately, and it would be harder for the Scottish athletes, initially, to establish themselves in a new training environment, with new coaches, with a different environment altogether."

15/23 Alan Cumming

YES: "The evidence is clear - in the past 15 years we have become stronger economically, socially, culturally and globally. The world is waiting for us and I know Scotland is ready."

Kalpesh Lathigra

16/23 Emma Thompson

NO: "Why insist on building a new border between human beings in an ever-shrinking world where we are still struggling to live alongside each other?"

Carlo Allegri, Reuters

17/23 Billy Bragg

YES: Independence would "create a new settlement that puts people before profit. Those in England who believe that our own society needs to be rebalanced along similar lines should wake up and join the debate"

Getty Images

18/23 Marcus Brigstocke

NO: "If Scotland go their own way (based on fingers crossed, f**k the Tories, William Wallace bollocks it'll be a damn shame. Still wish 'em well"

19/23 Rod Stewart

NO: "I'd hate to see the union broken after all these years. It's always been a spiritual home - but as I don't live there I shouldn't comment on independence. If it's good for the Scots I'm happy."

PA

20/23 Sean Connery

YES: "As a Scot and as someone with a lifelong love for both Scotland and the arts, I believe the opportunity of independence is too good to miss"

Rex Features

21/23 Al Kennedy

NO: "Salmond has the warm potato head of a man who is Scottish and – we hope – no threat"

Rex Features

22/23 Annie Lennox

YES: "There is an opportunity for something innovative and visionary. Scotland could have some kind of new, ethical, visionary stance and it could take on some fresh ideas. That could be amazing, really amazing."

Getty Images

23/23 Morrissey

YES: "They must cut ties with the United King-dumb. I love Scotland, and I love the Scottish spirit and they do not need Westminster in the least."

Getty Images
In a YouGov poll for The Times, as little as four per cent didn't know which way they would vote – around 170,000 of those who have registered.
Blair Jenkins, the chief executive of Yes Scotland, said the polls demonstrated that the campaign for independence was within "touching distance" of victory, adding that he believed the expected record voter turnout would favour his side.
The aggressive tactics of some Yes supporters came in for further criticism, with a succession of politicians suggesting that the tone of the debate had not reflected well on Scotland. Nick Clegg, the Deputy Prime Minister, said the campaign had seen some "pretty nasty incidents", while Ukip leader Nigel Farage accused Mr Salmond of fuelling "vitriol" on the streets.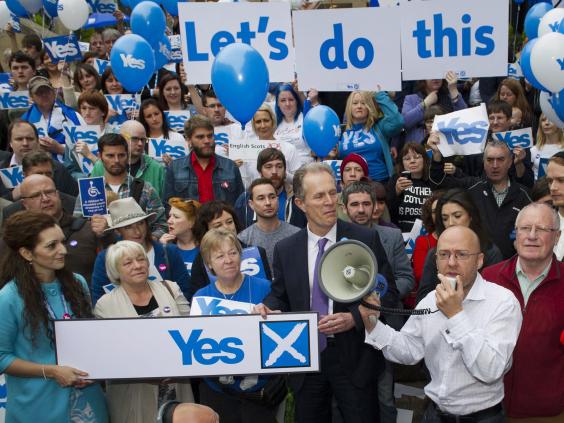 "We are now seeing intimidation and a growing anti-English sentiment," he wrote on Twitter. "We are also seeing the sort of abhorrent behaviour that could lead to rioting. It's a sorry situation when politics plunges to these depths."
Lord McConnell, the country's former First Minister, said police should be blamed for a "shocking" lack of effort at preventing intimidation on the campaign trail. "The level of shouting-down at public meetings, people's cars and houses being threatened and aggression in town centres and public places was preventable," he said.
"I'm shocked that there hasn't been more of a conscious effort by Police Scotland. More presence at the weekends, at public meets and one or two symbolic arrests of people would have set the right tone early on."

But in response the Scottish Police Federation said the extent of the aggression faced on the streets by politicians had be exaggerated. "The referendum debate has been robust but overwhelmingly good natured," said Brian Docherty, its chairman. "Any neutral observer could be led to believe Scotland is on the verge of societal disintegration, yet nothing could be further from the truth."
Meanwhile, Mr Salmond's claims that an independent Scotland would be rapidly admitted to the European Union were flatly contradicted by the Spanish Prime Minister.
Mariano Rajoy claimed it could take up to eight years for Scotland to go through the process of applying for membership of the EU, claiming that breaking away from the rest of the UK would represent a "torpedo in the waterline of the European Union".
Mr Salmond has previously insisted that an independent Scotland would be welcomed into the bloc, an assertion he repeated today, saying it held a "huge amount of attractiveness" due to its oil reserves and other natural resources.
Reuse content