David Cameron made an emotional plea to Scots to save the union by voting "no" in Thursday's referendum, warning there is "no going back" from independence.
Speaking in Aberdeen on Monday, the Prime Minister argued that separation would mean a new currency for Scotland, families separated, pensions sliced up and a border created with England.
It was a key address before the vote and Alex Salmond is expected to issue his own "letter to the people of Scotland" on Wednesday morning.
The debate has focused on the Scottish economy in recent days, with pro-independence politicians accusing Westminster of "scaremongering" over the future of the pound and funding for the NHS and pensions.
Pro-union politicians say they are raising only genuine concerns based on the figures available that must be considered.
David Cameron's full speech
We meet in a week that could change the United Kingdom forever.
Indeed, it could end the United Kingdom as we know it.
On Thursday, Scotland votes, and the future of our country is at stake.
On Friday, people could be living in a different country, with a different place in the world and a different future ahead of it.
This is a decision that could break up our family of nations, and rip Scotland from the rest of the UK.
And we must be very clear.
There's no going back from this. No re-run. This is a once-and-for-all decision.
If Scotland votes yes, the UK will split, and we will go our separate ways forever.
When people vote on Thursday they are not just voting for themselves, but for their children and grandchildren and the generations beyond.
So I want to speak directly to the people of this country today about what is at stake.
I speak for millions of people across England, Wales and Northern Ireland – and many in Scotland, too who would be utterly heart-broken by the break-up of the United Kingdom.
Utterly heart-broken to wake up on Friday morning to the end of the country we love, to know that Scots would no longer join with the English, Welsh and Northern Irish in our Army, Navy and Air Force, in our UK-wide celebrations and commemorations, in UK sporting teams from the Olympics to the British Lions.
The United Kingdom would be no more. No UK pensions, no UK passports, no UK pound.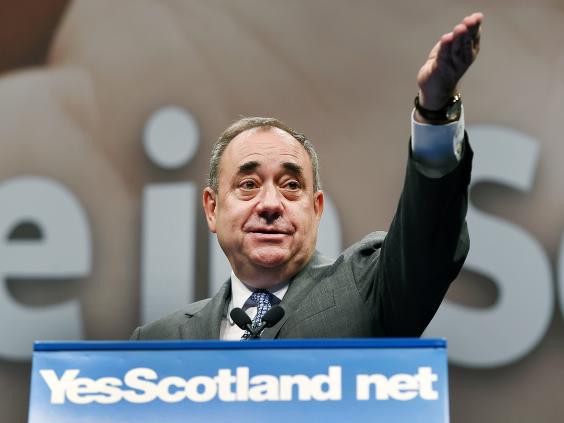 The greatest example of democracy the world has ever known, of openness, of people of different nationalities and faiths coming together as one, would be no more.
It would be the end of a country that launched the Enlightenment, that abolished slavery, that drove the industrial revolution, that defeated fascism. the end of a country that people around the world respect and admire the end of a country that all of us call home.
And we built this home together.
It's only become Great Britain because of the greatness of Scotland.
Because of the thinkers, writers, artists, leaders, soldiers, inventors who have made this country what it is.
It's Alexander Fleming and David Hume; J.K. Rowling and Andy Murray and all the millions of people who have played their part in this extraordinary success story, the Scots who led the charge on pensions and the NHS and on social justice.
We did all this together.
For the people of Scotland to walk away now would be like painstakingly building a home – and then walking out the door and throwing away the keys.
So I would say to everyone voting on Thursday, please remember.
This isn't just any old country. This is the United Kingdom. This is our country.
And you know what makes us truly great?
It's not our economic might or military prowess – it's our values.
British values. Fairness. Freedom. Justice.
The values that say wherever you are, whoever you are, your life has dignity and worth.
Video: Cameron's speech
The values that say we don't walk on by when people are sick, that we don't ask for your credit card in the hospital, that we don't turn our backs when you get old and frail.
that we don't turn a blind eye or a cold heart to people around the world who are desperate and crying out for help.
This is what Britain means. This is what makes us the greatest country on earth.
And it's why millions of us could not bear to see that country ending – for good, for ever – on Friday.
Now I know that there are many people across Scotland who are planning to vote Yes.
I understand why this might sound appealing. It's the promise of something different.
I also know that the people who are running the Yes campaign are painting a picture of a
Scotland that is better in every way, and they can be good at painting that picture.
But when something looks too good to be true – that's usually because it is.
And it is my duty to be clear about the likely consequences of a Yes Vote.
Independence would not be a trial separation, it would be a painful divorce.
And as Prime Minister I have to tell you what that would mean.
Scottish Independence: For and against
Scottish Independence: For and against
1/23 Vivienne Westwood

YES: "I hate England. I like Scotland because somehow I think they are better than we are. They are more democratic."

Getty

2/23 Bob Geldof

NO: "This argument needs to be had among us all, you can't selfishly resolve it amongst yourselves by taking an easy opt-out clause."

Getty

3/23 Leonard Cohen

UNDECIDED: "People are trying to make their lives significant," he said. "[They] are engaged in a struggle for self-respect and significance."

Getty

4/23 James McAvoy

UNDECIDED: "If you vote for continued unification or independence there is no protest vote – that's it. And that could be it for decades, for centuries. There's no going back from it."

Getty

5/23 Bill Clinton

NO: "Unity with maximum self-determination sends a powerful message to a world torn by identity conflicts that it is possible to respect our differences while living and working together. This is the great challenge of our time. The Scots can show us how to meet it."

Getty

6/23 George Galloway

NO: "There will be havoc if you vote Yes in September. Havoc in Edinburgh and throughout the land and you will break the hearts of many others too… I know which side I'm on. I'm with JK Rowling. Just say No."

Getty

7/23 David Beckham

NO: "We want to let you know how very much we value our relationship and friendship. Of course regardless of your decision that will never change, however, my sincere hope is that you will vote to renew our historic bond which has been such a success over the centuries and the envy of the entire world. What unites us is much greater than what divides us. Let's stay together."

Getty

8/23 David Bowie

NO: "Scotland stay with us"

Rex Features

9/23 Eddie Izzard

NO: "You can be Scottish, you can be British and you can be European. We can have that. "I say have the parliament, have the more power, but be with us. Like David Bowie said, 'Stay with us Scotland' and I'm saying the same – don't go."

Getty

10/23 Frankie Boyle

YES: "It's an 'aye' (for Independence) from me, man."

Association of Online Publishers

11/23 Andy Murray

NO: "I started competing for Great Britain when I was 11. A lot of people forget that. I didn't like it when Salmond got the Scottish flag up at Wimbledon"

GETTY IMAGES

12/23 The Proclaimers

YES: 'Scotland has huge national resources, with its people, its wave power – all the possibilities that this country has...we need to take charge of our own affairs'

Gary Calton

13/23 Susan Boyle

NO: "I am a proud, patriotic Scot, passionate about my heritage and my country. But I am not a nationalist."

Rex Features

14/23 Chris Hoy

NO: "It will weaken the British team obviously if Scotland went separately, and it would be harder for the Scottish athletes, initially, to establish themselves in a new training environment, with new coaches, with a different environment altogether."

15/23 Alan Cumming

YES: "The evidence is clear - in the past 15 years we have become stronger economically, socially, culturally and globally. The world is waiting for us and I know Scotland is ready."

Kalpesh Lathigra

16/23 Emma Thompson

NO: "Why insist on building a new border between human beings in an ever-shrinking world where we are still struggling to live alongside each other?"

Carlo Allegri, Reuters

17/23 Billy Bragg

YES: Independence would "create a new settlement that puts people before profit. Those in England who believe that our own society needs to be rebalanced along similar lines should wake up and join the debate"

Getty Images

18/23 Marcus Brigstocke

NO: "If Scotland go their own way (based on fingers crossed, f**k the Tories, William Wallace bollocks it'll be a damn shame. Still wish 'em well"

19/23 Rod Stewart

NO: "I'd hate to see the union broken after all these years. It's always been a spiritual home - but as I don't live there I shouldn't comment on independence. If it's good for the Scots I'm happy."

PA

20/23 Sean Connery

YES: "As a Scot and as someone with a lifelong love for both Scotland and the arts, I believe the opportunity of independence is too good to miss"

Rex Features

21/23 Al Kennedy

NO: "Salmond has the warm potato head of a man who is Scottish and – we hope – no threat"

Rex Features

22/23 Annie Lennox

YES: "There is an opportunity for something innovative and visionary. Scotland could have some kind of new, ethical, visionary stance and it could take on some fresh ideas. That could be amazing, really amazing."

Getty Images

23/23 Morrissey

YES: "They must cut ties with the United King-dumb. I love Scotland, and I love the Scottish spirit and they do not need Westminster in the least."

Getty Images
It would mean we no longer share the same currency.
It would mean the armed forces we have built up together over centuries being split up forever.
It would mean our pension funds sliced up – at some cost.
It would mean the borders we have would become international and may no longer be so easily crossed.
It would mean the automatic support that you currently get from British embassies when you're travelling around the world would come to an end.
It would mean over half of Scottish mortgages suddenly, from one day to the next, being provided by banks in a foreign country.
It would mean that interest rates in Scotland are no longer set by the Bank of England – with the stability and security that promises.
It would mean - for any banks that remain in Scotland – if they ever got in trouble it would be Scottish taxpayers and Scottish taxpayers alone that would bear the costs.
It would mean that we no longer pool resources across the whole of the UK to pay for institutions like the NHS or our welfare system.
This is not guesswork. There are no question marks, no maybe this or maybe that.
The Nationalists want to break up UK funding on pensions, the UK funding of healthcare, the UK funding and comprehensive protection on national security.
These are the facts. This is what would happen. An end to the things we share together.
And the people of Scotland must know these facts before they make this once-and-for-all decision.
To warn of the consequences is not to scare-monger it is like warning a friend about a decision they might take that will affect the rest of their lives – and the lives of their children.
I say all this because I don't want the people of Scotland to be sold a dream that disappears.
Now I know that some people say: we've heard about the risks and the uncertainties but we still want change.
Look. The United Kingdom is not a perfect country - no country is. Of course we must constantly change and improve people's lives.
No-one is content while there are still children living in poverty. No-one is content while there are people struggling, and young people not reaching their potential.
Yes, every political party is different.
But we are all of us – Conservatives, Labour, Lib Dems, Nationalists – on a constant mission to change our country for the better.
The question is: how do you get that change? For me it's simple.
You don't get the change you want by ripping your country apart.
You don't get change by undermining your economy and damaging your businesses and diminishing your place in the world.
But you can get real, concrete change on Thursday: if you vote No.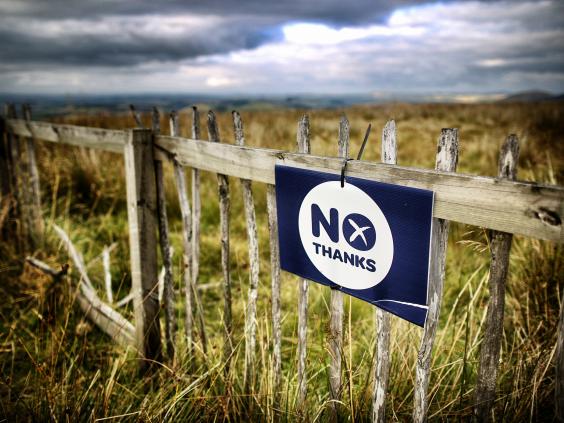 'Business as usual' is not on the ballot paper.
The status quo is gone. This campaign has swept it away. There is no going back to the way things were.
A vote for No means real change and we have spelled that change out in practical terms, with a plan and a process.
If we get a No vote on Thursday, that will trigger a major, unprecedented programme of devolution with additional powers for the Scottish Parliament.
Major new powers over tax, spending and welfare services.
We have agreed a timetable for that stronger Scottish Parliament: a time-table to bring in the new powers that will go ahead if there is a No vote...a White Paper by November, put into draft legislation by January.
This is a timetable that is now agreed by all the main political parties and set in stone and I am prepared to work with all the main parties to deliver this during 2015.
So a No vote actually means faster, fairer, safer and better change.
And this is a vital point: Scotland is not an observer in the affairs of this country.
Scotland is shaping and changing the United Kingdom for the better – more so today than at any point in the last three hundred years and will continue to help shape the constitution of our country.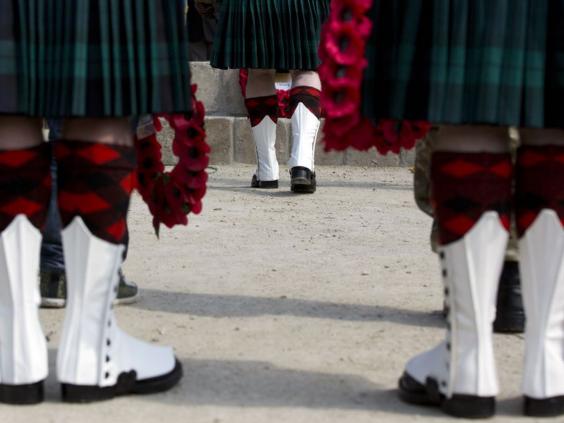 And Scottish people can enjoy the additional powers its Parliament gives without losing the UK pension, the UK pound or the UK passport.
Real change is Scotland's for the taking.
The power to set your own course and make your own decisions with the security of being in the UK without the risks of going it alone.
It's the best of both worlds.
Scotland's identity is already strong strong Scottish culture, strong Scottish arts, a strong Church of Scotland and in the last 15 years you have built a strong Scottish Parliament not a fleeting institution but a permanent one.
So the vote on Thursday is not about whether Scotland is a nation.
Scotland is a proud, strong, successful nation.
The vote on Thursday is about two competing visions for Scotland's future.
The Nationalists' vision of narrowing down, going it alone, breaking all ties with the UK.
Or the patriotic vision of a strong Scottish nation allied to the rest of the United Kingdom with its own stronger Scottish Parliament at its heart and with the benefits of working together in the UK on jobs, pensions, healthcare funding, the currency, interest rates.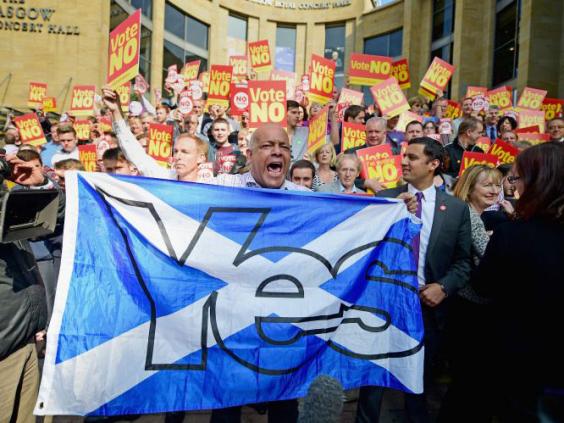 It really is the best of both worlds and it's the best way to get real change and secure a better future for your children and grandchildren.
And speaking of family – that is quite simply how I feel about this.
We are a family. The United Kingdom is not one nation. We are four nations in a single country.
That can be difficult but it is wonderful. 
Scotland, England, Wales and Northern Ireland different nations, with individual identities competing with each other even at times enraging each other while still being so much stronger together.
We are a family of nations.
Why should the next generation of that family be forced to choose whether to identify only with Edinburgh or only with London choose which embassy they want to go to when they are in trouble abroad or pack their passport when they're going to see friends and loved ones.
A family is not a compromise, or a second best, it is a magical identity, that makes us more together than we can ever be apart so please – do not break this family apart.
In human relations it's almost never a good thing to turn away from each other, put up walls, score new lines on the map.
Why would we take one Great Britain and turn it into separate smaller nations?
What is that an answer to?
How will that help the ambitious young people who want to make their mark on the world or the pensioner who just wants security or the family relying on jobs make in the UK?
Let no-one fool you that 'Yes' is a positive vision. It's about dividing people, closing doors, making foreigners of our friends and family.
Scottish independence: What will happen to key British institutions?
Scottish independence: What will happen to key British institutions?
1/7 The 2015 General Election

If it votes for independence, Scotland won't leave the union until 2016 meaning, under current arrangements, that if Scots decide to go it alone they will still vote in the 2015 general election. The possibility of Scotland swinging the vote in favour of the government with which it will negotiate their independence has led some to call for the elections to be delayed. Downing Street has said, however, that it has no plans to postpone the election despite claims a yes vote could lead to a constitutional crisis.

AFP

2/7 The NHS

Alex Salmond has said a Yes vote in the referendum is the only way to save Scotland's National Health Service. This claim was undermined, however, yesterday when research published by the Institute for Fiscal Studies determined that Scotland's devolved government spent less in real terms on its health service than England. Despite this, the splitting up of the NHS would be more straightforward than other institutions, as it is already managed from Holyrood.

Getty Images

3/7 The BBC

The Licence fee in Scotland currently raises around £230m which the Yes campaign says it would use, along with the assets of BBC Scotland, to create a Scottish Broadcasting Service or SBS. It says the SBS would continue to provide original content to the BBC and Scotland would receive access to all current programming, including BBC1, BBC2 and national radio stations. The government has said since February that an independent Scotland would lose any automatic rights to BBC programming.

4/7 The Pound

The No Campaign is hoping that doubts over whether or not Scotland will be able to keep the pound will sway the referendum in its favour. George Osborne has said that the UK will not let Scotland keep the pound if it votes to leave the union and the leader of the Better Together coalition, former Chancellor Alistair Darling, has called the Yes campaign's suggestion that it keep the currency "mad". Alex Salmond has claimed repeatedly that Scotland will be able to retain the pound and has said speculation to the contrary is little more than fear mongering.

Getty

5/7 The Army

Britain's involvement in the Iraq war and the stationing of the Trident Nuclear fleet north of the border are unpopular in Scotland. The Scottish Nationalists have railed against the war saying they would scrap Trident and create a new Scottish defence force based on existing Scottish regiments.

6/7 The Royal Family

Scotland would keep the Queen as a head of state under current plans proposed by the Yes campaign, as Elizabeth Queen of Scots.  It would also remain part of the Commonwealth. However a second referendum could be held to determine what form a new Scottish state would take.

Getty Images

7/7 Sport

Scotland's Rugby and Football teams would remain as they are if Scotland voted to leave the UK but the British and Irish Lions could be forced into a name change. What would happen to the British Olympic Association also remains up for debate. Scotland's most successful Olympian Sir Chris Hoy has said he is wary of independence because of the number of Scottish athletes living and training in England and what their status would be.

Getty Images
T
his isn't an optimistic vision.
The optimistic vision is of our family of nations staying together there for each other in the hard times coming through to better times.
We've just pulled through a great recession together.We're moving forward together.
The road has been long but it is finally leading upwards and that's why I ask you to vote No to walking away.
Vote No – and you are voting for a bigger and broader and better future for Scotland and you are investing in the future for your children and grandchildren.
So this is our message to the people of Scotland: We want you to stay. Head and heart and soul, we want you to stay.
Please don't mix up the temporary and the permanent.
Don't think: "I'm frustrated with politics right now, so I'll walk out the door and never come back."
If you don't like me – I won't be here forever. If you don't like this Government – it won't last forever. But if you leave the UK – that will be forever.
Yes, the different parts of the UK don't always see eye-to-eye.
Yes, we need change – and we will deliver it but to get that change, to get a brighter future, we don't need to tear our country apart.
In two days, this long campaign will be at an end.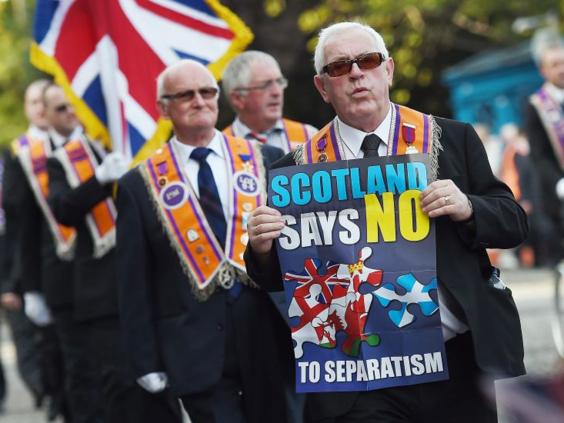 And as you stand in the stillness of the polling booth, I hope you will ask yourself this.
Will my family and I truly be better off by going it alone? Will we really be more safe and secure?
Do I really want to turn my back on the rest of Britain, and why is it that so many people across the world are asking: why would Scotland want to do that? Why?
And if you don't know the answer to these questions – then vote No.
At the end of the day, all the arguments of this campaign can be reduced to a single fact: we are better together.
So as you reach your final decision, please  don't let anyone tell you that you can't be a proud Scot and a proud Brit.
Don't lose faith in what this country is – and what we can be.
Don't forget what a great United Kingdom you are part of.
Don't turn your backs on what is the best family of nations in the world and the best hope for your family in this world.
So please, from all of us: Vote to stick together, vote to stay, vote to save our United Kingdom.