On the morning after the election, David Cameron promised to make Britain "a place where a good life is in reach for everyone who is willing to work and do the right thing".
The Government's newly released Social Mobility and Child Poverty Commission has revealed just how far from achieving that aim the country currently is.
The report suggests which areas in England were the best and worst to bring up children and get a good job.
In estimating levels of social mobility - or  measure of opportunity-  the report puts a number on how easy or difficult it is in each area to get a good education, attend university, and pursue well-paid career paths.
Offering yet more evidence than London is markedly different tothe rest of the UK, the capital was revealed to be the most socially mobile region of the country.
Here's an at-a-glance look at the entire country. The green areas are more socially mobile and the bluer ones are less mobile.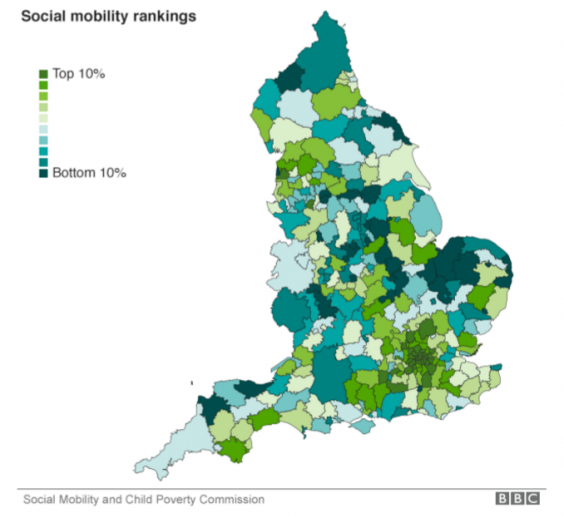 As the map above shows, many of the least mobile areas are in the Midlands and parts of the north.
A closer look at the data reveals that not a single local authority in the West Midlands, North East, or Yorkshire & the Humber, is among the areas of England in the top 20 per cent of those most socially mobile.
In contrast, 94 per cent of London's local authorities are among the most socially mobile areas.
The East Midlands has four areas with high social mobility – North Kesteven, Rushcliffe, South Holland and South Northamptonshire – but many more (17) with very low mobility. The entire region, therefore, rates quite poorly.
All 324 English local authorities have been ranked, apart from the City of London and Isles of Scilly.
West Somerset was revealed to be the least mobile area in England, with Norwich, Waveney, Scarborough, Blackpool, Breckland in Norfolk, and Torridge in North Devon, among the others which rated very poorly.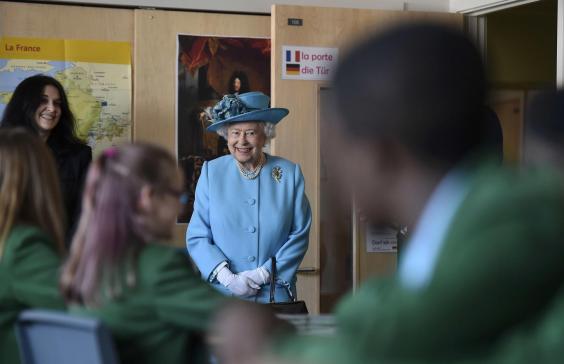 These areas are said to offer both poor educational opportunities and poor work opportunities for adults.
The best performing areas at offering both decent schooling and jobs were parts of south London, such as Richmond and Kingston upon Thames, and Wandsworth.
Others areas in and around London, like Islington, Redbridge and St Albans, also did well by both measures, along with places as varied as Rushcliffe, Hart, Elmridge and East Hertfordshire.
Some areas, such as Oxford and South Cambridgeshire, offer a decent shot at a good job, but scant opportunities for children - despite the world-leading universities and public schools in the area.
Many inner-city areas in London, like Newham, Westminster, Hackney, Ealing, Waltham Forest, Brent, and Kensington & Chelsea, have very high levels of educational opportunity but offer poor job prospects.
The Commission's official measure prioritises pre-adult opportunites, so many London areas perform very well even though work opportunities are, in many cases, limited.
Mobility and deprivation
The capital's schooling, often highlighted as a success story of the past 15 years, means mobility in London is far higher than its levels of deprivation imply it will be.
The graph below a link between how deprived an area is and its level of social mobility across much of England.
That's what the red line shows. Areas to the top left of the line are both less deprived and more mobile, with areas to the bottom right of the area being both relatively deprived and immobile.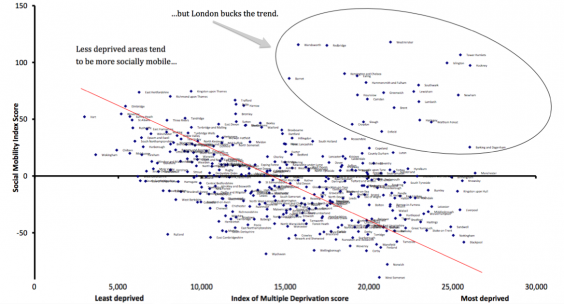 But many areas in London have high levels of social mobility despite being among the most deprived areas of the country.
These areas are circled in the top right in the graphic above.
Another finding unearthed by the study is stark.
Old industrial towns, like Doncaster, Barnsley, Stoke-on-Trent, Oldham, Carlisle and Derby, and abandoned seaside resorts,  such as Blackpool, Lowestoft, Scarborough and Great Yarmouth, are struggling to provide a wide range of opportunities for children or adults.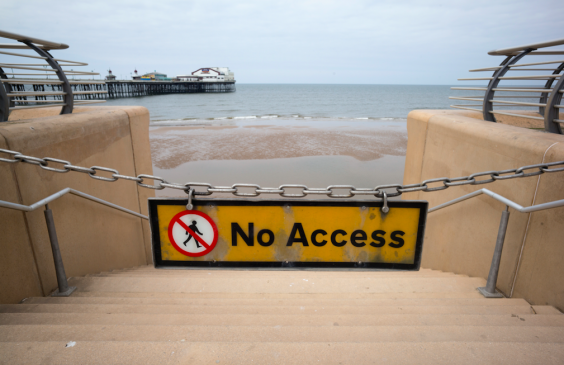 Decades after these towns and resorts started to decline, government after government has proven either unwilling or unable to help these places.
The latest findings offer yet more evidence of the divide such neglect is creating.
You can find your area by following this link and clicking on the "data" tab.