Frederic Gautier has been thinking a lot about death recently. The miner, from South Kivu, in eastern Democratic Republic of Congo (DRC), thought about it as he cowered under his bed to escape a deadly ambush at his mine. The thought returned when he was subsequently captured by armed men and forced to carry stolen minerals on his back through the forest.
The father-of-six survived but others were not so lucky. Four miners reportedly lost their lives in the same attack at Lukoma cassiterite mine two months ago, as well as a pregnant woman who sold merchandise near the site. The perpetrators, believed to be affiliated with local armed groups known as the 'Raia Mutomboki', reportedly stole everything they could find, including clothes, food, and solar panels. They also stole cassiterite - a valuable tin ore that that can be traded internationally for use in products, such as phones, laptops and cars. 
This is not uncommon. Armed groups have preyed on eastern DRC's mineral sector for more than fifteen years. They have taxed and traded minerals - such as the cassiterite found in Lukoma, and tungsten, tantalum and gold - to help fund brutal violence. Millions of people have been displaced within the country due to armed conflict in the east.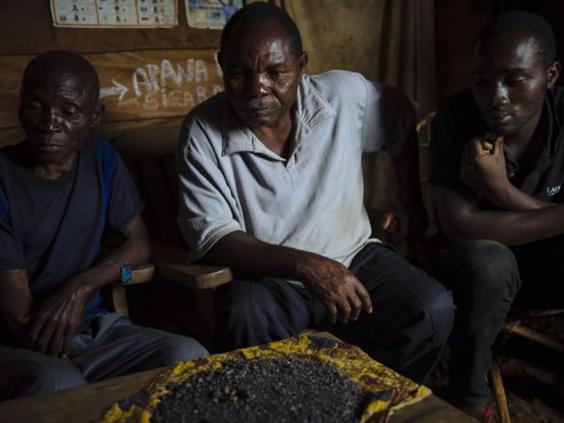 The European Parliament is set to vote on its first conflict minerals regulation aimed at cleaning up the trade this coming week. The European Union accounted for more than  15 per cent of global imports in tin, tungsten, tantalum and gold in 2013, an amount valued at around €22.9bn. Yet it currently has no legislation compelling companies to check if their mineral purchases fund conflict or human rights abuses overseas.
This risk is all too real for many. It took Mr Gautier 16 hours to travel from the armed group's camp to a small town in Walungu territory. He remembered the moment when the armed men arrived at his mine, at about 5am, vividly. "They came and encircled the camp where we were and they began firing bullets… I was under my bed for one hour. During this time I was thinking about death. No one thought they'd come out alive," he said.
"Afterwards, we carried packages of the [pillaged] goods into a place in the forest. I had to transport cassiterite…They made us walk very fast because they were frightened that [another armed group] would come after them... they told us that if their injured member died during the walk then they'd kill us too."
Mr Gautier did not want to disclose his real name, or be photographed, fearing consequences. In the town he arrived in, there were several other people who escaped the attack at Lukoma. Women, who sold merchandise at the mine, told me that they huddled together in the nearby forest to avoid the armed men. One hid deep in the pits. Some saw the bodies of those killed.
Europe is not the first market to turn its attention to the conflict minerals trade. The United States requires publicly-listed companies to report on their mineral supply chains, if sourcing from DRC or neighbouring countries. Twelve African countries have endorsed mandatory reporting, while China has just introduced voluntary guidelines promoting a clean trade.
Sulpher mining in the Ijen volcano complex
Sulpher mining in the Ijen volcano complex
1/12 Traditional sulphur mining is a major industry in the Banyuwangi region in East Java, Indonesia.

Ulet Ifansasti/Getty Images

2/12 The mining work is made possible by an active vent at the edge of the lake that sits in the volcanic crater.

Ulet Ifansasti/Getty Images

3/12 When it is molten the sulphur is red, but it soon cools and hardens into a yellow solid.

Ulet Ifansasti/Getty Images

4/12 The work is dangerous. The acidity of the water in the crater is high enough to dissolve clothing and cause breathing problems.

Ulet Ifansasti/Getty Images

5/12 The miners funnel the smoke through pipes to allow it condense - first into a red liquid, and then into a yellow solid.

Ulet Ifansasti/Getty Images

6/12 Miners carry the solidified yellow sulphur blocks from the crater floor to the rim for as many hours a day as they can tolerate, paid by the kilogram of sulphur they extract.

Ulet Ifansasti/Getty Images

7/12 The average wage is USD $.05 per kilogram of sulphur and a worker, depending on his strength and stamina, carry on average 3 baskets of 70-80kg per day, earning him around USD $11.

Ulet Ifansasti/Getty Images

8/12 The physical toll of the work is visible on the miners' backs - the scars have been left by carrying the heavy loads of sulphur.

Ulet Ifansasti/Getty Images

9/12 A miner carries two baskerloads of sulphur. It will be used for various industrial processes, including vulcanizing rubber and bleaching sugar.

Ulet Ifansasti/Getty Images

10/12 Solid chunks of sulphur are seen waiting to be carried away from the volcano.

Ulet Ifansasti/Getty Images

11/12 The Ijen crater rises to 2,386m, with a depth of over 175m, making it one of the world's largest craters.

Ulet Ifansasti/Getty Images

12/12 A miner carry a goats head for burial in the crater as part of an annual offering ceremony on the volcano. The ritual is performed by the sulfur miners who slaughter a goat and then bury the head in the crater. The sacrifice is performed to ward off potential disasters for the next year.

Ulet Ifansasti/Getty Images
Michael Gibb, from campaigns group Global Witness, said Europe needed to take this opportunity to level the playing field. "In the Central African Republic, Colombia, and the DRC, the mineral trade has been partly responsible for fuelling deadly conflicts that have displaced 9.4 million people," he said. "This is a historic opportunity to bring in binding legislation that ensures companies can continue to source minerals from high-risk areas while cutting out harmful parts of the trade."
The European proposals – which allow companies to "opt-in" to responsible mineral sourcing – have come under attack from a coalition of politicians and NGOs for being largely voluntary and covering only a tiny proportion of the trade.
Iuliu Winkler, a centre-right Romanian MEP, who is leading the bill through Parliament, said the disagreement over a mandatory or voluntary approach was a "false dilemma," stating that "the real challenge is that of elaborating an efficient, workable regulation." He added that regulation has to avoid the risks of "disengagement from conflict areas."
That, at least, is one issue all sides of the debate seem to agree on.
David Martin, Labour MEP for Scotland and the trade policy coordinator of the Socialist and Democrat Group, said the law must be strengthened. "This proposed legislation has the potential to drastically improve human rights around the world," he said. "[But] European companies have had five years of voluntary guidelines and 80 per cent have failed to publish any information on supply chain due diligence. A mandatory system is absolutely vital."
Hundreds of thousands of miners rely on the mineral trade in eastern Congo. Over half of them are thought to work in mines where armed groups are present.
Patrique Kapita, a 20-year-old from South Kivu, has been transporting jerry cans of alcohol to Lukatu cassiterite mine since she was 15-years-old. She said she is taxed 2000 Congolese Francs (£1.38) every day she works by the Raia Mutomboki. This is more than one seventh of her weekly income.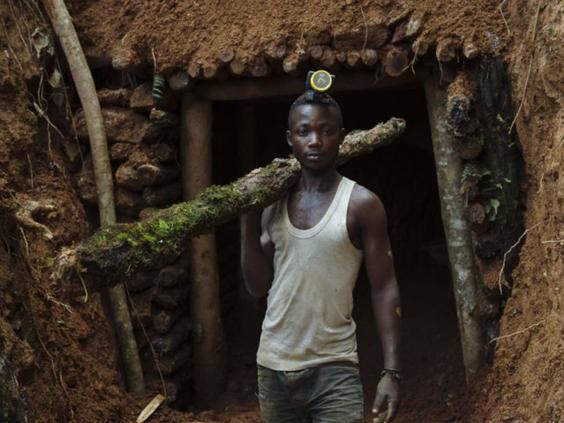 "We'd often spend nights in the bush because the Raia Mutomboki could attack at any moment… When they come to loot at night, they injure people, fire some gun shots, and can even kill people. I've even seen someone that that has been killed there and I've seen injured people," she said, adding that her husband, also a digger, had left his mine recently because he and other miners heard the Raia Mutomboki had threatened to "cut off their ears."
Strong conflict minerals legislation in Europe will not end conflict in DRC campaigners say. But stopping the minerals trade from benefitting parties in a conflict could reduce their access to funding. The DRC government's efforts to reform the trade, through validating certain mine sites and tagging batches of minerals as 'conflict-free', are falling short, campaigners believe.
For miners like Mr Gautier, a life free from insecurity is a distant hope. The armed men who attacked his mine stole 300kg of his cassiterite, worth around $1500 (£959). He cannot return to his mine while armed groups surround it. "I am in a pitiable state because I wanted to sell that 300 kilos and send the money to my family. Now there's nothing I can do," he said. "I feel really distressed because I worked for two months and now my family will have nothing. They have nothing to eat, they're ill… I don't know what to do anymore."
*Some names have been changed in this report for security reasons.
Sarah Morrison works in Global Witness' conflict and fragile states team