A lion has been saved from death at the hands of poachers after a photo of the dying animal trapped in a snare was shared on Facebook.
Tourists spotted the wounded beast lying in the road with a bloodied neck from the trap inside Kruger National Park (KNP) in South Africa on Monday. 
They alerted the authorities and posted the images of the young male on Facebook. 
Critically endangered species
Critically endangered species
1/10 Yangtze Finless Porpoise

There are as few as 1,000 of this highly intelligent dolphin from the Chinese river of Yangtze.

Wikmedia

2/10 Cross River Gorilla

There are around 200-300 left in the wild.

Wikmedia

3/10 The Amur Leopard

There are only around 30 left, exclusively in the Russian Far East.

Wikmedia

4/10 Black Rhino

Improving numbers, but with fewer than 5,000 left in central Africa, it is critically endangered.

Wikmedia

5/10 Hawskbill Sea Turtle

Mostly threatened by wildlife trade; their shells highly valued.

Wikmedia

6/10 Javan Rhino

The most threatened rhino species - there are as few as 35 in Ujung Kulon National Park in Java, Indonesia.

Wikmedia

7/10 Leatherback Turtle

Having lost many of its habitable beaches, and impacted by fishing operations, this seaturtle is considered by WWF to be 'critically endangered'.

Wikmedia

8/10 South China Tiger

It is believed to be 'functionally extinct', with none of the species left in the wild.

Wikmedia

9/10 Sumatran Elephant

There are between 2,400 - 2,800 of this elephant native to Borneo and Sumatra.

Wikmedia

10/10 Sumatran Orangutan

There are an est. 7,300 but the gradual deforestation of their Sumatran habitat may threaten further.

Wikmedia
The pictures were quickly shared on all groups associated with KNP and users began to criticise the perceived slowness of the park rangers' response. 
One said: "I would like to see what SANPark's reply on this is ... if they are going to reply at all. They are just getting money from visitors and donors, but do not care about the animals.
Rangers found the lion on Tuesday morning and after removing it from the snare a vet said the wounds were not as severe as had previously been thought.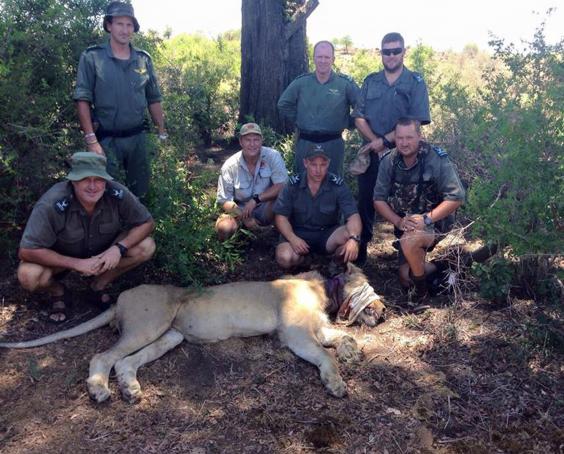 In a statement on Facebook, a spokesman for the park Lesley Nyawo said: "The snared lion is relieved of the snare, the wound has been treated.
"The lion has been released into the area where it was darted. Upon assessment of the wound by the vets, it appeared not to be as bad as anticipated and displayed by images."
He thanked social media users for their help in finding the lion and said it was recovering well.