assailants
The two attackers wounded two Austrian tourists and a Swedish tourist at the four-star beachside Bella Vista Hotel in the Red Sea resort city, according to Egypt's Interior Ministry.
Officials say police opened fire at the attackers, killing at least one.
Egypt's Interior Ministry identified the slain attacker as 21-year-old Mohammed Hassan Mohammed Mahfouz, a student from Cairo's neighborhood of Giza. It said both attackers carried knives and pellet guns.
All three wounded tourists have been taken to hospital, where one was treated and discharged, a ministry statement said.
#Hurghada Egyptian State TV: security forces 'repelled' attack at Bella Vista hotel, 1 gunman killed, 2 tourists inj pic.twitter.com/teMVcbTL0T

— Rod McLeod (@rm867) January 8, 2016
The condition of the other two tourists was not made clear, however Health Ministry spokesman, Khaled Megahed, described the condition of all three as "not serious".
A member of the hotel's management staff, who witnessed the incident, said the attackers entered the Bella Vista from a hotel next door, accessing the facility from the beach.
He added the slain attacker attempted to take a female tourist hostage by dragging her into the hotel's lobby with his knife held against her neck, before he was shot dead by police.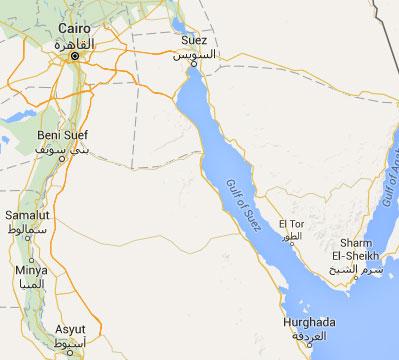 Security sources previously said the two attackers were armed with a gun, knife and a suicide belt, injuring one tourist from Denmark and one from Germany.
It comes after the militant group Isis said on Friday that an attack on Israeli tourists in Cairo on Thursday was carried out by its fighters in response to a call by the group's leader, Abu Bakr al-Baghdadi, to target Jews "everywhere".
Security sources said those tourists were Israeli Arabs. No one was was hurt and Egyptian authorities said the attack was focused on security forces.
Tourism, which is a cornerstone of the Egyptian economy, has been badly hit by years of political turmoil.
A Russian passenger plane crashed in Sinai on 31 October, killing all 224 people on board, most of whom were tourists returning home from the Red Sea resort of Sharm al-Sheikh.
Cairo says it has found no evidence of terrorism in the crash. Russia and Western governments have said the airliner was probably brought down by a bomb, and Islamic State said it had smuggled explosives on board.
Additional reporting by various agencies