Initial examinations of black boxes from Metrojet flight 9268 show that it was not struck by a missile, a source on the investigating team handling the recorders has claimed.
Terrorism has not officially been ruled out by investigators determining the cause of Saturday's disaster but Egyptian and Russian politicians quickly rejected Isis' claim of responsibility.
The group's Egyptian affiliate, Wilayat Sinai, said it downed the plane in revenge for Russian air strikes in Syria but experts pointed out missile systems controlled by the militants only have a range of 15,000ft – half the plane's altitude.
Tensions are growing over opposing accounts offered by Egytian investigators pointing to an internal problem and Metrojet bosses claiming there could have been no fault with the plane or the crew's actions.
Officials from Metrojet said that the crash could only have been caused by an "external impact", fuelling speculation about a rocket strike or bomb planted on board. At a press conference in Moscow the deputy head of Metrojet, Alexander Smirnov, told journalists that the company has "completely excluded technical error and an error on the part of the pilot" as possible causes for the crash.
"The only conceivable reason for the crash was an external impact on the plane," Mr Smirnov said, but added that the investigation would establish the true cause of the crash.
His claims were swiftly dismissed by Russia's air transport chief, who said they were baseless given the lack of data available to investigators before a complete analysis of the black boxes. Alexander Neradko told the press that Metrojet's statement was "unnecessary and not based on any real facts".
"There is still a lot of work and detailed study of the structural elements of the aircraft, decoding and analysis of flight recorders to do," Mr Neradko said from Cairo. "To draw any findings or conclusion on the destruction of the aircraft… is premature and needless."
Robert Galan, a French aviation expert, said a possible "external impact" mentioned by Mr Smirnov could point to two possibilities: a bomb or sabotage. 
Sabotage would require familiarity with the electrical or fuel systems of the Airbus A321 but he said hiding a bomb would need less knowledge, adding that dozens of mechanics and technicians can have access to each plane.
Abdel Hamid, a spokesperson for Cairo's Civil Aviation ministry said: "They can make announcements as they want, but they will all remain speculation only.
"The ministry is not going to respond to each and every allegation until we finish the investigation. Once we do, we will be able to deny any speculation standing on a concrete ground and supported by evidence we found."
He added that an "external impact" could refer to many things "not only a bomb or a terrorist attack", the Telegraph reported.
A source on the committee analysing flight recorders, which contain audio and data, told Reuters that the plane was not struck from the outside and the pilot did not make a distress call before it disappeared from radar.  Experts have since guessed that a sudden technical failure in the plane is a likely explanation. 
The 18-year-old plane was in excellent condition, according to Mr Smirnov, and was only halfway thorough its 120,000-hour lifespan. In 2001, the plane suffered a tail strike as a result of a botched landing, but was repaired. Since then, the plane has passed rigorous inspection. 
The Airbus passenger plane was travelling to St Petersburg from the Red Sea resort of Sharm el-Sheikh, a popular destination for Russians, before losing touch with air traffic control.
The US Director of National Intelligence, James R. Clapper, also said there was "no direct evidence" of terrorist involvement in the disaster, which killed 224 people.
When asked whether Isis affiliates had the capabilities to bring down a passenger jet, he added: "It's unlikely, but I wouldn't rule it out." 
Investigations using the black boxes and wreckage being collected from the Sinai desert continued today as the victims' bodies were flown home to Russia and Ukraine.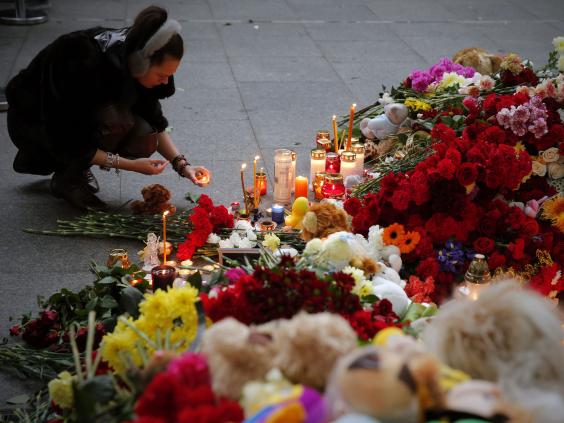 Russian President Vladimir Putin, usually a regular on state television, has not yet made a televised address to the nation. Following the crash, state media carried reports of his condolences, but it was not until Monday that a photo of Mr Putin alongside a statement appeared on the Kremlin's website, alongside Russian transport minister Maxim Sokolov, who is leading the investigation into the crash.
"Without a doubt, everything must be done to create an objective picture of what happened, so that we know what the appropriate way to respond to this is," Mr Putin's statement said.  
Flags on official buildings flew at half mast in St Petersburg on Sunday, as thousands of mourners gathered in the square of the city's Winter Palace to commemorate the victims of the crash. Grieving Russians released 36 white doves and 224 balloons – one for each of the victims – into the sky, as others lit candles in the square. At St Petersburg's Pulkovo airport, where the plane was due to land, mourners laid lowers and left cuddly toys.
An official decree signed by Mr Putin declared Sunday a day of mourning, while television channels cancelled entertainment programmes. 
In addition to the £20,000 families each victim will receive from Metrojet's primary insurance company, the governor of St Petersburg has said that relatives of each victim will be awarded an additional £10,000 as compensation. 
Early on Monday morning, bodies of the victims began to arrive in St Petersburg, with relatives preparing to identify their loved ones at a city morgue. 
Russian passenger plane crashes in Egypt
Russian passenger plane crashes in Egypt
1/20

Egyptian soldiers collect personal belongings of plane crash victims at the crash site of a passenger plane bound for St. Petersburg in Russia that crashed in Hassana, Egypt's Sinai Peninsula

2/20

Egyptian soldiers collect personal belongings of plane crash victims at the crash site of a passenger plane bound for St. Petersburg in Russia that crashed in Hassana, Egypt's Sinai Peninsula

3/20

In this Russian Emergency Situations Ministry photo, made available on Monday, Nov. 2, 2015, showing Metrojet Airbus A321-200 flight 7K9268 flight recorder on display at an undisclosed location in Egypt

4/20

Mourners lay flowers at Pulkovo International Airport outside St. Petersburg. Russia on 1 November mourned its biggest ever air disaster after a passenger jet full of Russian tourists crashed in Egypt's Sinai, killing all 224 people on board. Flags were at half mast on the parliament building, in the Kremlin, and on other official buildings in honour of the victims, most of whom were from Russia's second-largest city of Saint Petersburg

5/20

People pay their respects at the entrance of Pulkovo airport outside St. Petersburg, during a day of national mourning for the plane crash victims

6/20

Debris from the plane crash in Egypt

7/20

A piece of an engine of Russian MetroJet Airbus A321 at the site of the crash in Sinai,

8/20 The crash site debris

Flight 7K9268 crashed in the Sinai peninsula, in all probability killing every one of the 224 people on board

AFP/Getty

9/20 The crash site debris

Debris lies strewn across the sand at the crash site

EPA

10/20 Relatives in St Petersburg

Relatives react after a Russian airliner with 217 passengers and seven crew aboard crashed, as people gather at the Kogalymaviaís information desk at Pulkovo airport in St Petersburg on 31 October

AP

11/20 Relatives in St Petersburg

A relative of a passenger of MetroJet Airbus A321 at Pulkovo II international airport in St Petersburg, Russia, 31 October 2015.

EPA

12/20 The plane's journey

The plane's last recorded radar position above the northern Sinai peninsula

Flightradar24

13/20 Where it crashed

A satellite view from Google Maps of the rough area where the plane crashed, in the mountainous Hassana region of the Sinai peninsula.

Google Maps

14/20 The plane

The Metrojet's Airbus A-321 with registration number EI-ETJ that crashed in Egypt's Sinai peninsula

REUTERS/Kim Philipp Piskol

15/20 The plane

The crashed Airbus A321 at Domodedovo international airport, outside Moscow,, on 20 October

16/20 Relatives at in St Petersburg

A relative of a passenger on MetroJet Airbus A321 at Pulkovo II international airport in St Petersburg

EPA

17/20 Relatives at in St Petersburg

Relatives of passengers of MetroJet Airbus A321 at the Crown Plaza hotel in St Petersburg

EPA

18/20 Bodies being repatriated

An Egyptian soldier prays as emergency workers prepare to unload bodies of victims from a police helicopter to ambulances at Kabrit military airport on 31 October.

AP

19/20 Bodies being repatriated

Ambulances line up as emergency workers unload bodies at Kabrit military airport, 20 miles north of Suez, on Saturday

AP

20/20 Bodies being repatriated

Egyptian paramedics load the corpses of victims into a military plane at Kabrit military air base by the Suez Canal on October 31, 2015

AFP/Getty Images
Following the crash, Russia's transport safety watchdog reportedly ordered Metrojet to ground its flights pending a probe. Metrojet said it would check each aircraft one by one.  
Russia and other former Soviet countries have some of the worst air safety records in the world, with reputations for ageing aircraft, as well as poor crew training and lax government controls.
Although theories attempting to explain the cause of the plane crash have circulated in Russian media, authorities have been reluctant to get behind any version of the event before the investigation is complete. 
In 2010, one of Metrojet's Tupolev planes leased to an Iranian carrier made a hard landing and broke up and caught fire, injuring 46 passengers, according to the AFP news agency. Russian aviation over the past 20 years has had an  average of one fatal accident annually.
Egyptian officials said the pilot had previously radioed to report technical difficulties and planned an emergency landing at the nearest airport before losing contact with air traffic controllers. 
Reuse content