A 70-year-old Christian woman has been stripped naked, beaten and paraded through the streets by a mob of around 300 Muslim men in a village in southern Egypt.
The mob also burned down seven homes belonging to Christian families, according to an unusually outspoken statement issued by the local Orthodox Coptic church, after rumours circulated in the village that a Christian man was having a relationship with a Muslim woman.
The violence started at around 8pm on 20 May, and the local diocese said it was two hours before police responded, by which point the mob had already dispersed.
The woman who was stripped naked was reported to be the mother of the man involved in the rumoured affair. She has since met with church leaders, the Diocese of Minya and Abu Qirqas said.
The violence is representative of the tensions between the two religions in the province south of Cairo, where extra-marital affairs between Muslims and Christians are strictly taboo.
But it appears the Coptic church has finally had enough of what they say is unfair treatment from the authorities over such cases. Christians only make up around 10 per cent of Egypt's population, the majority being Muslim.
Human rights attacks around the world
Human rights attacks around the world
1/10 China

Escalating crackdown against human rights activists including mass arrests of lawyers and a series of sweeping laws in the name of 'national security'.

Getty Images

2/10 Egypt

The arrest of thousands, including peaceful critics, in a ruthless crackdown in the name of national security, the prolonged detention of hundreds without charge or trial and the sentencing of hundreds of others to death.

Getty Images

3/10 Gambia

Torture, enforced disappearances and the criminalisation of LGBTI people; and utter refusal to co-operate with the UN and regional human rights mechanisms on issues including freedom of expression, enforced disappearance and the death penalty.

Getty Images

4/10 Hungary

Sealing off its borders to thousands of refugees in dire need; and obstructing collective regional attempts to help them.

Getty Images

5/10 Israel

Maintaining its military blockade of Gaza and therefore collective punishment of the 1.8 million inhabitants there, as well as failing, like Palestine, to comply with a UN call to conduct credible investigations into war crimes committed during the 2014 Gaza conflict.

Getty Images

6/10 Kenya

Extrajudicial executions, enforced disappearances and discrimination against refugees in its counter-terrorism operations; and attempts to undermine the International Criminal Court and its ability to pursue justice.

Getty Images

7/10 Pakistan

The severe human rights failings of its response to the horrific Peshawar school massacre including its relentless use of the death penalty; and its policy on international NGOs giving authorities the power to monitor them and close them down if they are considered to be "against the interests" of the country.

Getty Images

8/10 Russia

Repressive use of vague national security and anti-extremism legislation and its concerted attempts to silence civil society in the country; its shameful refusal to acknowledge civilian killings in Syria and its callous moves to block Security Council action on Syria.

Getty Images

9/10 Saudi Arabia

Brutally cracking down on those who dared to advocate reform or criticise the authorities; and committing war crimes in the bombing campaign it has led in Yemen (pictured) while obstructing the establishment of a UN-led inquiry into violations by all sides in the conflict.

Getty Images

10/10 Syria

Killing thousands of civilians in direct and indiscriminate attacks with barrel bombs and other weaponry and through acts of torture in detention; and enforcing lengthy sieges of civilian areas, blocking international aid from reaching starving civilians.

Getty Images
And speaking in an uncharacteristically candid TV interview on Wednesday night, Minya's most senior cleric Anba Makarios said the response if it had been a Muslim man having an affair with a Christian woman "would not have been anything like what happened".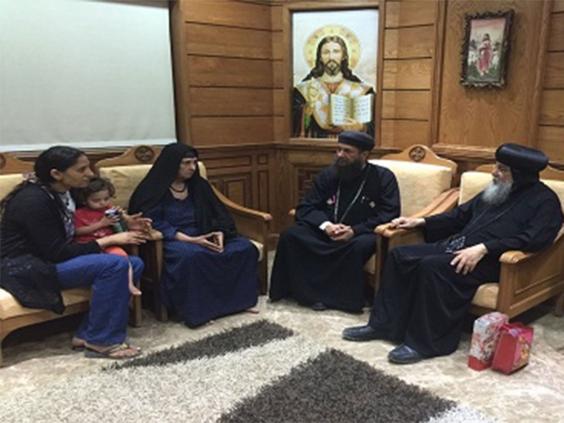 He said police had been warned the day before of threats towards the Christian family from villagers, yet gave the mob "ample time" to do whatever they wanted.
"No one did anything and the police took no pre-emptive or security measures in anticipation of the attacks," he said. "We are not living in a jungle or a tribal society. It's incorrect for anyone to declare himself judge, police and ruler."
The local governor in Minya, Tarek Nasser, has tried to play down the incident, despite multiple security officials confirming to the Associated Press that a woman was beaten and insulted while being paraded through the village.
Mr Nasser denied the elderly woman was stripped naked, and accused the Muslim Brotherhood of "exploiting" the situation which, he said, was always going to be "sensitive" when it involved an alleged relationship between a Muslim and a Christian.
"Some irrational youths threw flammable missiles at the houses of Christians in the village and some women ran away in their nightgowns," he said, adding that the matter was being resolved.
The incident took place in the village of Al-Karm where, according to local media, similar violence has flared up in recent years.
In his TV interview, Makarios despaired that he knew exactly how officials would handle the new case, and how little difference it would make. He said the crisis in the village would most likely be handled through a government-sponsored meeting of the two sides, in which the Christians would be forced to accept "humiliating" conditions for reconciliation. 
Christians in Egypt have long complained about discrimination and victimisation when involved in disputes with Muslims.
Since taking power in 2014, President Abdel-Fattah el-Sissi has changed some laws to ease restrictions on Christians building churching and entering politics, but many grievances remain.