Jacob Zuma, the South African President, has faced potentially career-killing scandals before: taxpayer-funded upgrades to his private estate, corruption allegations linked to an arms deal, and a rape charge, on which he was acquitted after arguing he had unprotected but consensual sex with an HIV-positive woman.
Throughout it all, his powerful position within the African National Congress has carried him through. But Mr Zuma's latest scandal, the sacking of a respected minister of finance – followed by an embarrassing reversal – may have put him on the back foot, a year into his second term as president.
The tide may be turning for Mr Zuma. People once loyal to the nation's leader are abandoning him. This week, thousands of South Africans took to the streets demanding he step down. 
In a shock move last week, Mr Zuma sacked Nhlanhla Nene, who had opposed profligate state spending including by the ailing South African Airways, of which Mr Zuma's close friend, Dudu Myeni, is the board's chair. The presidency has denied claims Ms Myeni is Mr Zuma's mistress. "Rumours about a romance and a child are baseless and are designed to cast aspersions on the President," the presidency said.
Mr Nene had also warned that South Africa could ill-afford a trillion-rand Russian nuclear deal said to have been brokered by Mr Zuma. He also, much to the presidency's ire, vetoed plans for a new presidential jet. 
Mr Nene was replaced by a virtually unknown backbencher, Des van Rooyen, who many feared would be unable to say no to the President. The move triggered fears among investors just days after credit rating agencies moved South Africa a step closer to "junk" status, and sent the rand into a tailspin. Critics called the decision "an act of wilful sabotage" and "grotesquely irresponsible". And then, just as unexpectedly, Mr Zuma announced that he had changed his mind, and instead named Pravin Gordhan as Finance Minister. The appointment of Mr Gordhan, who served in that position from 2009-2014, has calmed investors and halted the currency's slide, but lasting concerns about Mr Zuma's meddling with the treasury continue. South Africa, on its third finance minister in a week, has been left reeling. 
Thousands of mainly middle-class South Africans marched in Johannesburg, Pretoria and Cape Town on Wednesday as part of a #ZumaMustFall campaign, while more than 175,000 have signed an online petition against him. While Mr Zuma remains powerful within the ANC leadership, he has become increasingly unpopular among South Africans, including rank and file members of his own party.
World news in pictures
World news in pictures
1/30 30 September 2016

Yael Pedazur, who works at the Peres Center for Peace, mourns besides the grave of former Israeli president Shimon Peres during his burial ceremony at Jerusalem's Mount Herzl national cemetery

AFP/Getty Images

2/30 30 September 2016

Children play with water from a burst water pipe at a site hit yesterday by an air strike in Aleppo's rebel-controlled al-Mashad neighbourhood, Syria

REUTERS

3/30 30 September 2016

Fighters supporting Libya's Tripoli-based Government of National Accord (GNA), set up drones in the coastal Libyan city of Sirte. Fighters use drones with camaras to spot Islamic State (IS) group positions in the District 3 neighbourhood of the city

AFP/Getty Images

4/30 29 September 2016

People are treated for their injuries outside after a NJ Transit train crashed in to the platform at Hoboken Terminal in New Jersey. Dozens are reported injured from the rush hour accident in the terminal that handles up to 50,000 passengers a day

Getty Images

5/30 29 September 2016

A rescue worker is seen next to an overturned car at the site of a landslide caused by heavy rains brought by Typhoon Megi, in Sucun Village, Lishui, Zhejiang province, China

REUTERS

6/30 29 September 2016

About 23 giant pandas born in 2016 are seen on a display at the Chengdu Research Base of Giant Panda Breeding in Chengdu, Sichuan province, China

REUTERS

7/30 29 September 2016

A man takes a photograph of a portrait of former Israeli President Shimon Peres, as he lies in state at the Knesset plaza, the Israeli parliament, in Jerusalem

REUTERS

8/30 28 September 2016

Rescuers evacuate residents through floodwaters brought by typhoon Megi in Ningde, eastern China's Fujian province. Typhoon Megi smashed into the Chinese mainland, killing one person, after leaving a trail of destruction and four people dead in Taiwan

AFP/Getty Images

9/30 28 September 2016

A CalFire firefighter surveys a hot spot in the Santa Cruz Mountains near Loma Prieta, California. The Loma Fire has charred more than 2000 acres and burned multiple structures in the area

AFP/Getty Images

10/30 28 September 2016

A civil police officer carries a girl to a safe place during the demolition of over 300 settlements of the Bukit Duri neighbourhood located on the Ciliwung river banks, in order to improve the riverside infrastructure planned by the government in Jakarta. Authorities ordered the slum residents to vacate their settlements built on riverbanks and for the residents to relocate to new flats, as the government is trying to clear the flood-prone area, where more than 900 homes were demolished a year earlier

AFP/Getty Images

11/30 27 September 2016

A woman eats and struggles with her umbrella against powerful gusts of wind generated by typhoon Megi across the the island in Taipei, Taiwan. Schools and offices have been closed on Taiwan and people in dangerous areas have been evacuated as a large typhoon with 162 kilometers- (100 miles-) per-hour winds approaches the island

AP

12/30 27 September 2016

Alstom employees stage a protest in front of its headquarters in St Ouen, north of Paris, asking not to close a plant in Belfort, eastern France, which employs 400 people. Alstom's situation is considered by many French politicians as symbolic of France's difficulty of keeping a strong industry at home

AP

13/30 26 September 2016

A man poses as he gathers with others at Bogota's Bolivar main square, to celebrate the historic peace agreement between the Colombian government and the Revolutionary Armed Forces of Colombia (FARC). Colombia will turn the page on a half-century conflict that has stained its modern history with blood when the FARC rebels and the government sign a peace deal. President Juan Manuel Santos and the leader of the FARC, Rodrigo Londono, better known by his nom de guerre, Timoleon "Timochenko" Jimenez, are set to sign the accord at 2200 GMT in a ceremony in the colorful colonial city of Cartagena on the Caribbean coast

AFP/Getty Images

14/30 26 September 2016

Tourists pose in front of the illuminated Eiffel Tower during an event to mark the Breast Cancer Awareness month in October in Paris

AFP/Getty Images

15/30 26 September 2016

A nail house is seen in the middle of an area covered by a dust screen in Hangzhou, Zhejiang province, China

REUTERS

16/30 26 September 2016

Students at the Durban University of Technology march as countrywide protests demanding free tertiary education continue, in Durban, South Africa

REUTERS

17/30 26 September 2016

Palestinian women throw sweets at the militants from the al-Nasser Brigades, an armed wing of the Popular Resistance Committees (PRC), while marching on their vehicles during a rally to commemorate the 16th anniversary of their group in Gaza

AP

18/30 26 September 2016

A supporter of Awami Ittihad Party (AIP), a pro-India party, is detained by Indian police during a protest demanding to hold a plebiscite, in Srinagar

REUTERS

19/30 25 September 2016

A dog wipes out during the Surf City Surf Dog competition in Huntington Beach, California

REUTERS

20/30 25 September 2016

Indian folk dancers from the Panghat Group of Performing Arts perform during a dress rehearsal for an event to mark the forthcoming Hindu festival 'Navaratri', or the Festival of Nine Nights, in Ahmedabad

AFP/Getty Images

21/30 25 September 2016

An artisan hangs decorative pieces at a pandal, or a temporary platform, for the upcoming Hindu festival of Durga Puja, in Kolkata, India

REUTERS

22/30 25 September 2016

Runners take the start of the 43rd Berlin Marathon in Berlin

AFP/Getty Images

23/30 25 September 2016

The Five-hundred-metre Aperture Spherical Radio Telescope (FAST) is seen on its first day of operation in Pingtang, in southwestern China's Guizhou province. The world's largest radio telescope began operating in southwestern China, a project which Beijing says will help humanity search for alien life

AFP/Getty Images

24/30 25 September 2016

Australian knight Philip Leitch (R) has a floral basket on his helmet smashed by an opponent at the St Ives Medieval Fair in Sydney, one of the largest of its kind in Australia

REUTERS

25/30 25 September 2016

A security guard working at the Cascade Mall places flowers at a makeshift memorial in Burlington, to the five victims killed in a shooting at the mall. The 20-year-old man suspected of killing the five people with a rifle at a Macy's makeup counter had a string of run-ins with the law in recent years, including charges he assaulted his stepfather

AP

26/30 25 September 2016

A man works in a rice field where rice crop is planted in a shape which looks like a map of China, ahead of China's National Day, in Shanghai, China

REUTERS

27/30 25 September 2016

Law enforcement officials inspect a boat overturned on a jetty, off Miami Beach. Authorities said that Miami Marlins starting pitcher Jose Fernandez was one of three people killed in the boat crash the day before. Fernandez was 24

AP

28/30 24 September 2016

Syrians await to receive treatment at a make-shift hospital following air strikes on rebel-held eastern areas of Aleppo. Heavy Syrian and Russian air strikes on rebel-held eastern areas of Aleppo city killed at least 25 civilians, the Britain-based Syrian Observatory for Human Rights said, overwhelming doctors and rescue workers

AFP/Getty Images

29/30 24 September 2016

A fire broke out on a tanker belonging to the Mexican state oil company PEMEX, causing no injuries, according to a company official, in the Gulf of Mexico off the coast of Boca del Rio in Veracruz state, Mexico

AFP/Getty Images

30/30 24 September 2016

Participants attend a competition of the 2016 XTRAIL Expedition at Kanas National Geological Park in Altay, China's Xinjiang Uygur Autonomous Region

REUTERS
A recent survey found that public approval of Mr Zuma's performance had dropped from 64 per cent in 2011 to just 36 per cent. "A majority of citizens of all race groups disapprove of his performance in the past year," it said.
"People are just pissed off," said Mpho Lekota, 60, who joined the anti-Zuma march across Johannesburg's Nelson Mandela Bridge. "The ANC is shooting itself in the foot because they are uniting people in opposition."
Zwelinzima Vavi, former general secretary of Cosatu, the trade union federation allied with the ANC, decried the "corrupt hyenas that are ripping our society apart". Mr Vavi, who was expelled from Cosatu last month, said the top-level ANC officials who support Mr Zuma are also to blame. "The people who are giving him a round of applause don't deserve our trust any more," he said. "We are tired of crooks who are hiding behind the legacy of the ANC."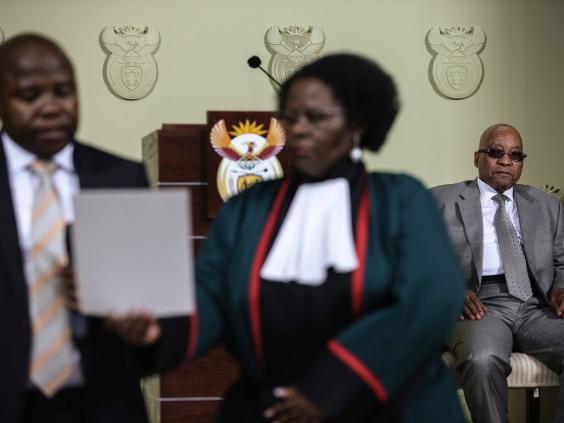 The political discontent comes amid frustration about the lack of change in the country more than 20 years after apartheid. The country's GDP is expected to grow by just 1.4 per cent this year. One in four are unemployed. "This is not what Mandela spent 27 years in jail for," Mr Vavi said. "If they continue doing what they are doing then we will be in the same position as Zimbabwe is today."
Several ANC stalwarts have spoken out against Mr Zuma. Barbara Hogan, a former Health Minister, said that Mr Zuma had "crossed a line" by firing Mr Nene.
"Ordinary citizens must rise up and say enough is enough," Ms Hogan told Ground Up, a community news organisation. "We do not have the power to recall the President. Only the ANC has the power to recall. This man is creating economic sabotage."
Mosiuoa Lekota, leader of the Congress of the People, an ANC splinter party, said that corruption is the most urgent problem in South Africa today. "The only way to eliminate it is to get rid of the source of the corruption, which is Jacob Zuma and the ANC," he said.
"The international community has lost confidence," he added. "It's not a question of tomorrow, it's a question of now. Zuma must go and the ANC leadership must act."
Susan Booysen, author of Dominance and Decline: The ANC in the Time of Zuma, said that Mr Zuma's reversal of his decision and appointment of Mr Gordhan shows pushback by other ANC executives. "He has definitely been called to task and cut down to size," she said. "He had become deluded." She thinks this will be a boost to Mr Zuma's deputy, Cyril Ramaphosa, one of the leading candidates to succeed him as President. 
Mr Zuma, in his final term as President, has been promoting his ex-wife Nkosazana Dlamini-Zuma, the current African Union chairwoman, as a successor (she is thought unlikely to want to see the father of her children put in prison). While there is no formal campaigning within the ANC, the other main contender to succeed in the presidency is Mr Ramaphosa, a former union leader.
In Mr Zuma's home province and stronghold, KwaZulu-Natal, ANC conferences have turned into battlegrounds over succession, with the recently elected provincial chair a supporter of Ms Dlamini-Zuma. Municipal elections next year are expected to be a major test for the ANC, which may dip below 50 per cent support in several major cities. 
The leftist Economic Freedom Fighters, led by Julius Malema, a former ANC youth league leader who was turfed out of the party after a spectacular fallout with Mr Zuma, described "a serious pathological crisis in the leadership and direction of the country". Mmusi Maimane, leader of the liberal opposition Democratic Alliance, said that Mr Zuma was "playing Russian roulette" with the economy. He is demanding that a no-confidence motion be debated when Parliament reopens in the new year.
Reuse content