Jacob Zuma, the South African President, has faced potentially career-killing scandals before: taxpayer-funded upgrades to his private estate, corruption allegations linked to an arms deal, and a rape charge, on which he was acquitted after arguing he had unprotected but consensual sex with an HIV-positive woman.
Throughout it all, his powerful position within the African National Congress has carried him through. But Mr Zuma's latest scandal, the sacking of a respected minister of finance – followed by an embarrassing reversal – may have put him on the back foot, a year into his second term as president.
The tide may be turning for Mr Zuma. People once loyal to the nation's leader are abandoning him. This week, thousands of South Africans took to the streets demanding he step down. 
In a shock move last week, Mr Zuma sacked Nhlanhla Nene, who had opposed profligate state spending including by the ailing South African Airways, of which Mr Zuma's close friend, Dudu Myeni, is the board's chair. The presidency has denied claims Ms Myeni is Mr Zuma's mistress. "Rumours about a romance and a child are baseless and are designed to cast aspersions on the President," the presidency said.
Mr Nene had also warned that South Africa could ill-afford a trillion-rand Russian nuclear deal said to have been brokered by Mr Zuma. He also, much to the presidency's ire, vetoed plans for a new presidential jet. 
Mr Nene was replaced by a virtually unknown backbencher, Des van Rooyen, who many feared would be unable to say no to the President. The move triggered fears among investors just days after credit rating agencies moved South Africa a step closer to "junk" status, and sent the rand into a tailspin. Critics called the decision "an act of wilful sabotage" and "grotesquely irresponsible". And then, just as unexpectedly, Mr Zuma announced that he had changed his mind, and instead named Pravin Gordhan as Finance Minister. The appointment of Mr Gordhan, who served in that position from 2009-2014, has calmed investors and halted the currency's slide, but lasting concerns about Mr Zuma's meddling with the treasury continue. South Africa, on its third finance minister in a week, has been left reeling. 
Thousands of mainly middle-class South Africans marched in Johannesburg, Pretoria and Cape Town on Wednesday as part of a #ZumaMustFall campaign, while more than 175,000 have signed an online petition against him. While Mr Zuma remains powerful within the ANC leadership, he has become increasingly unpopular among South Africans, including rank and file members of his own party.
World news in pictures
World news in pictures
1/30 24 May 2016

An Indian policeman uses a baton to disperse demonstrators during a protest by government employees demanding their long pending arrears and a regularisation of their temporary jobs, according to protesters, in Srinagar

Reuters

2/30 23 May 2016

Confiscated rare and protected wildlife products such as these stuffed Sumatran tiger skins are burned and destroyed during a ceremony by government forestry and wildlife officials in Banda Aceh, Indonesia

Reuters

3/30 23 May 2016

A woman leads a school pupil away from tear gas and a burning barricade in Kibera slum, during a demonstration of opposition supporters protesting for a change of leadership ahead of a vote due next years in Nairobi

Getty Images

4/30 23 May 2016

A crane destroys over one million pirated music, movie and software CDs and DVDs in a campaign against piracy organised by the government in Algiers, Algeria

Reuters

5/30 23 May 2016

Shi'ite fighters forces launch a rocket towards Islamic State militants on the outskirts Falluja, Iraq

Reuters

6/30 22 May 2016

Yemenis take part in celebrations marking the 26th anniversary of Yemen's 1990 reunification in the capital Sanaa

Getty Images

7/30 22 May 2016

Indonesian soldiers carry resident's belongings as they aid in evacuation efforts from a village impacted by the Mount Sinabung eruption at Gamber Village in North Sumatra. At least six people were killed and two others were seriously wounded after the Mount Sinabung volcano in North Sumatra province of western Indonesia erupted

EPA

8/30 21 May 2016

Demonstrators clash with riot police in the surroundings of the Congress in Valparaiso, while Chilean President Michelle Bachelet delivers her annual message to the nation

Getty Images

9/30 21 May 2016

The Egyptian military spokesman released pictures of debris that the search teams found in the sea after the EgyptAir Airbus A320 crashed in the Mediterranean

Getty Images

10/30 21 May 2016

Sri Lankan flood victims push a trishaw through floodwaters in the Kolonnawa suburb of Colombo

Getty Images

11/30 20 May 2016

A protester write on the facade of the Ministry of Justice building with color spray during an anti-government protest in Skopje, in a series of protests dubbed Colourful Revolution. Crisis-hit Macedonia postponed elections due next month, after the European Union called on Skopje to delay the polls to ensure they could take place freely and fairly

Getty Images

12/30 20 May 2016

Members of the Ukrainian national guard "Azov" regiment and activists of the Azov civil corp take part in a protest against local elections in pro-Russian rebel-held areas of eastern Ukraine under the Minsk peace agreement, in Kiev

Reuters

13/30 19 May 2016

Families of passengers who were flying in an EgyptAir plane that vanished from radar en route from Paris to Cairo react as they wait outside a services hall at Cairo airport

Getty Images

14/30 18 May 2016

A man clashes with policemen during a protest against new emergency powers decreed this week by President Nicolas Maduro in Caracas. Public outrage was expected to spill onto the streets of Venezuela, with planned nationwide protests marking a new low point in Maduro's unpopular rule

Getty Images

15/30 18 May 2016

A police car explodes after being set on fire during an unauthorized counter-demonstration against police violence in Paris, as Police across France demonstrate today against the "anti-cop hatred" they say they have endured during a wave of anti-government protests since early March

Getty Images

16/30 18 May 2016

Sri Lankan military personnel take part in relief and rescue efforts following a landslide in the village of Bulathkohupitiya. Rescue workers recovered the bodies of 17 villagers buried in landslides in Sri Lanka after three days of torrential rain. The disaster hit two small villages in Kegalle, a mountainous area northeast of Colombo, and takes the overall death toll from flooding and landslides in recent days to 36

Getty Images

17/30 18 May 2016

A protester against visiting Zhang Dejiang, the chairman of China's National People's Congress, confronts police in Hong Kong

Reuters

18/30 18 May 2016

Chicks dyed to draw attention are offered for sale at a small poultry market in Jakarta, Indonesia

Reuters

19/30 17 May 2016

A man throws a fire extingusher at Parliamentary security behind a closed door after members of Julius Malema's Economic Freedom Fighters (EFF) were evicted from Parliament during President Jacob Zuma's question and answer session in Cape Town, South Africa

Reuters

20/30 17 May 2016

Supporters of Federal Alliance, a coalition of Madhes-based parties and other ethnic political parties and organizations, protest against the constitution near the Prime Minister's official residence in Kathmandu, Nepal

Reuters

21/30 17 May 2016

Members of a Sri Lankan Army rescue team carry a woman to safety through floodwaters in the suburb of Kaduwela in capital Colombo. Emergency workers in Sri Lanka found the bodies of a woman and two children killed in a landslide, taking the toll from two days of heavy rain to 11, with thousands more forced to flee their homes

Getty Images

22/30 16 May 2016

Protesters light flares and wave flags marching through a street, during an anti-government protest in Skopje, in series of protests dubbed "Colorful Revolution". Macedonia has been politically gridlocked for two years but the crisis rose a notch on 12 April when President Gjorge Ivanov halted a probe into more than 50 public figures suspected of involvement in corruption and a wire-tapping scandal. The move triggered street protests against Ivanov and the ruling party's leader, Nikola Gruevski. Fresh demonstrations drew several thousand, mostly young people who demanded Ivanov resignation

Getty Images

23/30 16 May 2016

Kenyan riot police officers raise batons over a man during a demonstration of Kenya's opposition supporters in Nairobi. Opposition protestors led by former Prime Minister Raila Odinga gathered outside the Indepedent Electoral and Boundaries Comission building to demand the dismissal of IEBC commissioners, after alleged bias towards the ruling Jubillee Alliance Party

Getty Images

24/30 16 May 2016

Pilgrims gather around an statue of the virgin Mary as it is carried during a procession in the village of El Rocio, southern Spain. El Rocio pilgrimage, the largest in Spain, gathers hundreds of thousands of devotees in traditional outfits converging in a burst of colour as they make their way on horseback and onboard decorated carriages across the Andalusian countryside

Getty Images

25/30 15 May 2016

A clothing shop displays its merchandise beside a damaged building in the rebel-controlled area of Maaret al-Numan town in Idlib province, Syria

Reuters

26/30 15 May 2016

A police dog jumps through a burning ring during a show in Guiyang, China

Reuters

27/30 14 May 2016

Participants march during the Belgian Gay Pride parade in Brussels

AP

28/30 14 May 2016

An Iraqi boy walks past the blood stains and debris at a cafe, that was popular with local fans of Spain's Real Madrid football club, in the Balad area, north of the capital Baghdad, a day after a deadly raid claimed by Islamic State group militants. At least 16 people were killed and 30 wounded, including several members of the security forces, in the attack in the town of Balad and the ensuing chase

Getty Images

29/30 13 May 2016

A visitor takes a picture of a display bearing hand prints of war heroes from the War of Resistance against Japan, at Jianchuan Museum Cluster in Anren, China

Reuters

30/30 13 May 2016

Black clouds of smoke are produced by tyres burning in an uncontrolled dump near the town of Sesena, Spain

Reuters
A recent survey found that public approval of Mr Zuma's performance had dropped from 64 per cent in 2011 to just 36 per cent. "A majority of citizens of all race groups disapprove of his performance in the past year," it said.
"People are just pissed off," said Mpho Lekota, 60, who joined the anti-Zuma march across Johannesburg's Nelson Mandela Bridge. "The ANC is shooting itself in the foot because they are uniting people in opposition."
Zwelinzima Vavi, former general secretary of Cosatu, the trade union federation allied with the ANC, decried the "corrupt hyenas that are ripping our society apart". Mr Vavi, who was expelled from Cosatu last month, said the top-level ANC officials who support Mr Zuma are also to blame. "The people who are giving him a round of applause don't deserve our trust any more," he said. "We are tired of crooks who are hiding behind the legacy of the ANC."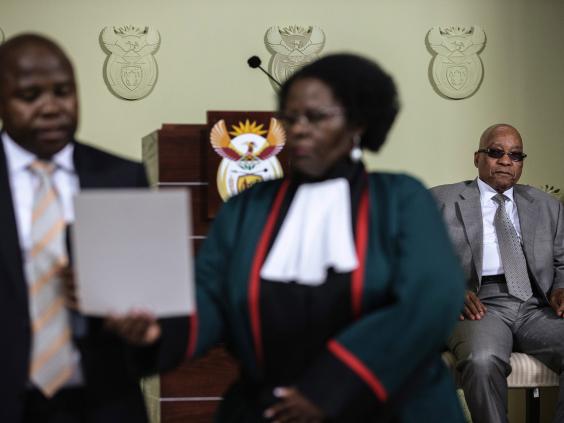 The political discontent comes amid frustration about the lack of change in the country more than 20 years after apartheid. The country's GDP is expected to grow by just 1.4 per cent this year. One in four are unemployed. "This is not what Mandela spent 27 years in jail for," Mr Vavi said. "If they continue doing what they are doing then we will be in the same position as Zimbabwe is today."
Several ANC stalwarts have spoken out against Mr Zuma. Barbara Hogan, a former Health Minister, said that Mr Zuma had "crossed a line" by firing Mr Nene.
"Ordinary citizens must rise up and say enough is enough," Ms Hogan told Ground Up, a community news organisation. "We do not have the power to recall the President. Only the ANC has the power to recall. This man is creating economic sabotage."
Mosiuoa Lekota, leader of the Congress of the People, an ANC splinter party, said that corruption is the most urgent problem in South Africa today. "The only way to eliminate it is to get rid of the source of the corruption, which is Jacob Zuma and the ANC," he said.
"The international community has lost confidence," he added. "It's not a question of tomorrow, it's a question of now. Zuma must go and the ANC leadership must act."
Susan Booysen, author of Dominance and Decline: The ANC in the Time of Zuma, said that Mr Zuma's reversal of his decision and appointment of Mr Gordhan shows pushback by other ANC executives. "He has definitely been called to task and cut down to size," she said. "He had become deluded." She thinks this will be a boost to Mr Zuma's deputy, Cyril Ramaphosa, one of the leading candidates to succeed him as President. 
Mr Zuma, in his final term as President, has been promoting his ex-wife Nkosazana Dlamini-Zuma, the current African Union chairwoman, as a successor (she is thought unlikely to want to see the father of her children put in prison). While there is no formal campaigning within the ANC, the other main contender to succeed in the presidency is Mr Ramaphosa, a former union leader.
In Mr Zuma's home province and stronghold, KwaZulu-Natal, ANC conferences have turned into battlegrounds over succession, with the recently elected provincial chair a supporter of Ms Dlamini-Zuma. Municipal elections next year are expected to be a major test for the ANC, which may dip below 50 per cent support in several major cities. 
The leftist Economic Freedom Fighters, led by Julius Malema, a former ANC youth league leader who was turfed out of the party after a spectacular fallout with Mr Zuma, described "a serious pathological crisis in the leadership and direction of the country". Mmusi Maimane, leader of the liberal opposition Democratic Alliance, said that Mr Zuma was "playing Russian roulette" with the economy. He is demanding that a no-confidence motion be debated when Parliament reopens in the new year.