"I think it's amazing. Only Nelson Mandela could do something like this," explained the model Naomi Campbell. "He is the only person who could do this."
There were presidents and kings, actresses and bishops. There were men in military uniforms whose bemedalled chests shone like stupas and there were women in dark glasses and high fashion, despite the gloomy rain. And there were lots of security men with pieces of wire in their ears.
It was always clear that Mr Mandela's memorial service would one of the heavily-attended in the last half-a-century and that up to 100 prime ministers or heads of state would attend. But what only became apparent once the memorial event got underway, was that the VIP list would consist of such mixed bag of people and create such unlikely photo opportunities.
In a reception lounge in the upper reaches of the FNB stadium, Ms Campbell, who has long supported the Nelson Mandela Children's Fund and once called him her honorary godfather, told The Independent that the eclectic guest-list underscored the late president's ability to connect with people from all walks of life.
Since arriving in South Africa, said she, she had been spending time with Mr Mandela's family, sharing their different memories. "I have many great memories," she said, leaning back on a table. "It has just been nice sitting with the family and having a cup of tea and talking with them."
As was always likely to be the case, it was the politicians who outnumbered the super-models. From Britain were David Cameron and his predecessors as prime minister, Tony Blair, Gordon Brown – accompanied by his wife Sarah - and John Major. "Sorry, I almost bumped into you," said Mr Major, as he emerged from a corridor.
From the US came Barack Obama and his predecessors George W Bush, Jimmy Carter and Bill Clinton. Mr Clinton took his seat in the stadium to enormous cheers along with former Secretary of State Hilary Clinton and their daughter Chelsea, only to find himself shaking hands with Britain's Deputy Prime Minister, Nick Clegg.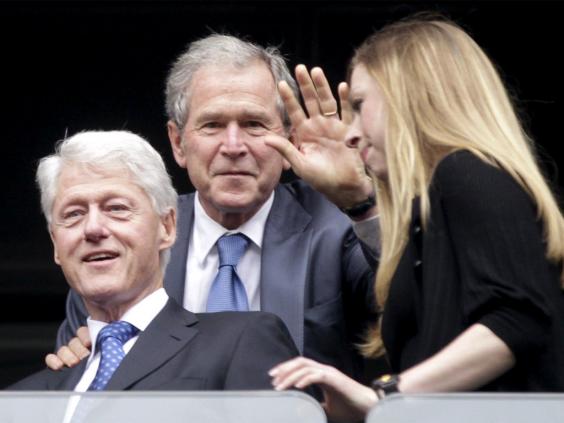 French President Francois Hollande and his predecessor and rival, Nicolas Sarkozy, arrived together and left together, walking down a flight of stairs that led to to the basement area from where such figures were being driven away. Neither stopped to talk to a bank of television cameras, though many of the politicians present did stop and talk to the media.
There had been reports that Oprah Winfrey and Richard Branson might travel to South Africa. As it was neither was spotted. However the South African actress Charlize Theron was seen in the VIP seats, sitting next to Bono, who for years spoke out against apartheid.
The Irish singer, dressed in a black shirt and tie, said he believed that Mr Mandela would have enjoyed the service, during which several people including South Africa's current president were loudly booed.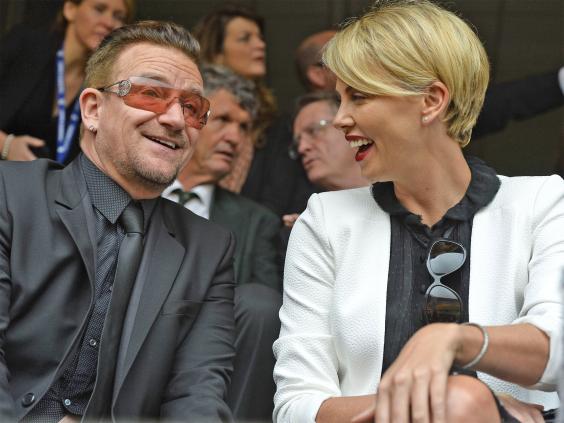 "Perhaps a little more ordering of the chaos might have helped. But despite all the difficulties, there was some real communication with the crowd," he said. "If they did not like some they were telling them. I think he would have liked that."
He said he was honoured to have been invited to attend the memorial though he said there was "no appropriate send-off" for Mandela. "There is no door big enough for him to step through."
And the singer said he had been struck by the way the people of South Africa had responded to the 95-year-old death. There had been tears, but also thanks and celebration.
"I was getting a little melancholy until I realised that is an Irish response, he added. "The African response is singing and dancing."
Reuse content