A US task force set up to help find the 276 schoolgirls abducted by the Islamist militant group Boko Haram has arrived in Nigeria to assist with the hunt.
Military, law-enforcement and development experts, including some skilled in hostage negotiations, also plan to tackle the rising threat from Boko Haram. France, Britain and China have also offered help.
The US Secretary of State John Kerry said: "Our inter-agency team is hitting the ground in Nigeria now and they are going to be working in concert with President Goodluck Jonathan's government to do everything we can to return these girls to their families and their communities.
"We are also going to do everything possible to counter the menace of Boko Haram."
In pictures: Nigeria kidnapped schoolgirls
In pictures: Nigeria kidnapped schoolgirls
1/19 Nigeria

A total of 276 girls were abducted from the northeastern town of Chibok, in Borno state, which has a sizeable Christian community. Some 223 are still missing

2/19 Nigeria

One of the kidnapped girls looks into a camera

3/19 Nigeria

One of the missing girls talking to the camera

4/19 Nigeria

The missing Nigerian schoolgirls, wearing the full-length hijab and praying in an undisclosed rural location. Boko Haram alleging they had converted them to Islam

5/19 Nigeria

Girls wearing the full-length hijab holding a flag reading "There is no god, but Allah" and "Mohammed is Allah's prophet"

6/19 Nigeria

A man claiming to be the leader of Nigerian Islamist extremist group Boko Haram Abubakar Shekau

7/19 Nigeria

Abubakar Shekau speaks on the video

8/19 Nigeria

Girls, wearing the full-length hijab and praying are filmed by an unidentified man (R) in an undisclosed rural location

9/19 Nigeria

People carry signs as they attend a protest demanding the release of abducted secondary school girls in the remote village of Chibok in Lagos

10/19 UK

A protester demonstrates against the kidnapping of school girls in Nigeria, outside the Nigerian Embassy in London

11/19 UK

Chief International Correspondent Christiane Amanpour and Prime Minister David Cameron appearing on the BBC1 current affairs programme

12/19 USA

People participate in a "Bring Back Our Girls" campaign demonstration and candlelight vigil in Los Angeles

13/19 USA

Girls holding heart shaped banners in a "Bring Back Our Girls" campaign demonstration and candlelight vigil in Los Angeles

14/19 South Africa

South Africans protest in solidarity against the abduction of hundreds of schoolgirls in Nigeria by the Muslim extremist group Boko Haram and what protesters said was the failure of the Nigerian government and international community to rescue them, during a march to the Nigerian Consulate in Johannesburg

15/19 USA

Karilyn Coates (10) joins others in a candlelight vigil for the more than 300 girls abducted by Boko Haram in Nigeria, at All Souls Unitarian Church in Colorado Springs

16/19 Nigeria

Mothers of the missing Chibok school girls abducted by Boko Haram Islamists gather to receive informations from officials. Nigeria's president said that Boko Haram's mass abduction of more than 200 schoolgirls would mark a turning point in the battle against the Islamists, as world powers joined the search to rescue the hostages

17/19 Nigeria

Former Nigerian Education Minister and Vice-President of the World Bank's Africa division (3rd L) Obiageli Ezekwesilieze speaks as she leads a march of Nigeria women and mothers of the kidnapped girls of Chibok, calling for their freedom in Abuja

18/19 Bring Back Our Girls

Kelly Hoppen tweeted: 'Please make sure you do this, we must stand together and not forget them'

19/19 Bring Back Our Girls

E.L. Rock Star tweeted: 'Join The Movement'
The latest developments follow a request by Nigerian President Jonathan to Barack Obama for help, with the US President vowing to "do to everything we can" to help find the girls, whose abduction from a secondary school on 14 April triggered international outrage.
A social media campaign, using the hashtag #BringBackOurGirls, has been credited with highlighting the Nigerian government's response to the kidnappings and on Boko Haram's other attacks and kidnappings, which have terrorised local communities.
US First Lady Michelle Obama and human rights campaigner Malala Yousafzai are among high-profile figures to join worldwide calls for the return of the schoolgirls on Twitter.
UN envoy Angelina Jolie today said the culture of impunity was to blame for the kidnappings.
"I'm actually sickened by it," she said. "And the thought of them out there now, terrified and being abused and sold.
"It's infuriating and it kind of goes beyond understanding that someone could do this.
"I think it speaks of a bigger problem which is that because of the lack of impunity and because people believe they can get away with this people will commit these kind of crimes.
Earlier, President Jonathan said he hoped a 'turning point" had been reached with the ongoing threat of terrorism in the country and the battle against Boko Haram.
Speaking at the World Economic Forum being hosted in the capital, Abuja, he said: "I believe that the kidnap of these girls will be the beginning of the end of terror in Nigeria."
In a video earlier this week, the leader of Boko Haram, Abubakar Shekau, admitted to carrying out the kidnappings and threatened to "sell" the students at a market.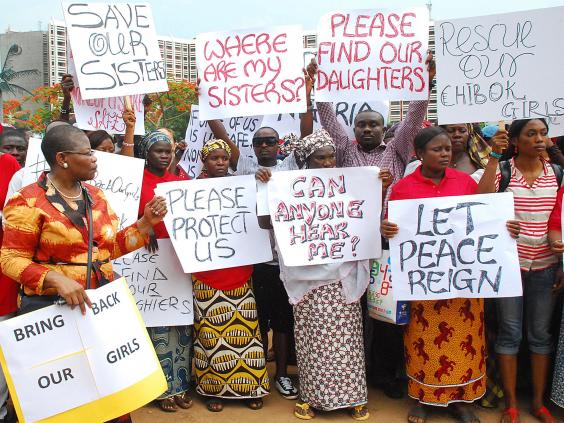 While Nigeria has sought help from the United States, the government had often been reluctant to take the advice, according to US officials. Cooperation has also been complicated by international concerns about human rights abuses by Nigerian security forces in the north-east of the country.
Human rights groups have highlighted illegal detentions, torture and deaths of prisoners at Giwa Barracks where the Nigerian military has imprisoned young men accused of being Boko Haram members in the past several years. Many prisoners held were bystanders rounded up in mass sweeps, rights groups say.