It is a painful irony that Comrade President Robert Gabriel Mugabe of Zimbabwe celebrates reaching the age of 92 tomorrow. Though not as robust as he was – he has had a couple of public stumbles which, naturally, he has tried to suppress – he shows no sign of giving up and may well turn out to be the world's first centenarian dictator.
As he put it at the African Union conference last month: "I will be there until God says come, but as long as I am alive I will head the country, forward ever, backwards never." 
His longevity is in stark contrast to the life expectancy of the average Zimbabwean. That stood at 59 years in 1980, when Mr Mugabe took over as the first and only leader of free Zimbabwe; a baby born now in Mr Mugabe's republic can expect to get to 58.
Much of that is down to the Aids epidemic that has damaged so many lives in sub-Saharan Africa; but has also to do with food shortages and a collapse in health, sanitation and other public services during Mr Mugabe's rule. In the mid-2000s, at the height of the economic dislocation and one of the worst episodes of hyperinflation ever experienced anywhere, life expectancy dropped to 43, among the lowest in the world.  
And all this, as has been well chronicled, in a country rich in agricultural potential, natural resources, hydro-electric power and a neglected tourist trade. It was the second-richest place on the continent, after South Africa but Mr Mugabe's policies – most famously the dispossession of white farmers but much else besides – has wrecked it. 
The last banknote the Reserve bank of Zimbabwe printed, with a face value of Z$100,000,000,000,000 or one hundred trillion Zimbabwe dollars, was worth about a quid (at independence the British pound and Zim dollar stood at parity).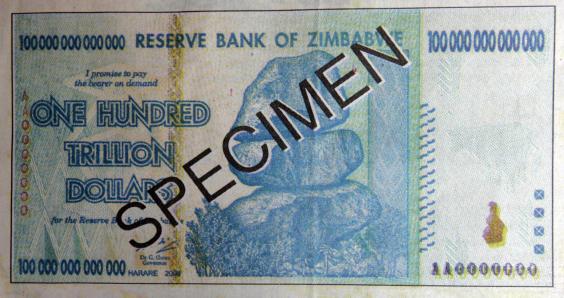 Only a politician of exceptional ability – even dictators need brains and cunning to survive – could manage to get through that. Indeed Mr Mugabe has seen off all his rivals, and the only one he has created (sort of) – the sybaritic Grace Mugabe – he is married to. In reverse order he managed to outmanoeuvre Morgan Tsvangirai and the Movement for Democratic Change at the most perilous moment for his presidency, when he, astonishingly, contrived to lose a couple of contrived ballots, a presidential election in 2008 and a constitutional referendum in 2000 that would have given him unlimited powers. 
Through that decade Mr Mugabe's hold on power occasionally weakened, but never for long. Today he is as much in control of his state as he was when he installed his Zanu-PF grouping as custodians of a one-party state in 1987, and swept away most constitutional safeguards built into the 1980 constitution. 
He saw off men who might once have counted him a friend, names familiar enough to anyone who followed the news in the 1970s and 1980s, but pretty obscure now – Joshua Nkomo, the leader, of the rival Ndebele people (Mr Mugabe being a Shona), who was hounded out of the country he helped liberate. 
Most proudly, Mr Mugabe of course managed to prise control of what was Rhodesia – named after racist imperialist Cecil Rhodes, whose statues no longer adorn Harare and Bulawayo as they do the University of Oxford – from the white community who had founded the place in 1890. When this self-governing community – a sort of Surrey with elephants – was threatened with black majority rule they declared independence unilaterally. In doing so they defied the British, who nominally ruled the colony, the UN and the black African presidents who surrounded them, especially Tanzanian President, Julius Nyerere, Mr Mugabe's mentor, protector and tutor. And, indeed, the "terrorists" or freedom fighters such as Mr Mugabe, though he was never properly a military leader. 
Under Prime Minister Ian Smith, the Rhodesians survived for 15 years, preserving racial supremacy against the winds of change that had become increasingly violent. Oddly, Mr Mugabe has more in common with his last white predecessor than one might think. He inherited all the infrastructure of Rhodesia's police state, including a law that allowed an official to kill someone if they had a "sincere belief" that they had harmful intent. Mr Mugabe himself spent more than eight years in Salisbury (now Harare) prison, during which time he acquired degrees by correspondence from the University of London, in economics and law, strangely enough. 
In prison he endured the nasty reality behind the "civilised values" of Rhodesia, prosperous and well-ordered as it was, at least for some. Serving time for political dissent – more ironies rattle down half a century – Mr Mugabe was sent to an interview room. There was his sister, Sabina, and a Rhodesian special branch man. He was told that his recently born son, living with his first wife, Sally, in Ghana, had died. The tough conditions the Smith regime had imposed on them may have contributed to the infant's death. It radicalised Mr Mugabe further. Despite assurances from churchmen and others, the Rhodesians refused to allow Mr Mugabe to visit Ghana to comfort his wife and bury his son.
World news in pictures
World news in pictures
1/30 27 May 2016

An aerial picture shows firefighters spraying foam at the engine of a Korean Air Lines plane after smoke rose from it at Haneda airport in Tokyo, Japan

Reuters

2/30 26 May 2016

A man walks his donkey and its load through flooded streets Beledweyne, north of Mogadishu. Hundreds of families have been forced out of their homes following flash floods in Beledweyne after torrential rains pounded the area in the last few days. The heavy rains led to the bursting of River Shabelle which caused massive floods in residential areas along the river

Getty Images

3/30 26 May 2016

A worker checks a mask of U.S. Republican presidential candidate Donald Trump at Jinhua Partytime Latex Art and Crafts Factory in Jinhua, China

Reuters

4/30 26 May 2016

Estonia's olympic team female marathon runners triplets (L-R) Leila, Liina and Lily Luik pose for a picture after a training session in Tartu

Reuters

5/30 25 May 2016

Lightning from a severe storm fills the sky behind a grain elevator in Bellevue, Kansas

AP

6/30 25 May 2016

Riot police stand guard behind a fire as refinery workers hold a blockade of the oil depot of Douchy-Les-Mines to protest against the government's proposed labour reforms

Getty

7/30 25 May 2016

Vehicles are stuck in a sinkhole near Ponte Vecchio. A sinkhole measuring about 200 meters long and seven meters wide opened up in central Florence

EPA

8/30 24 May 2016

Protesters picket outside the event site before Republican U.S. presidential candidate Donald Trump begins a rally with supporters in Albuquerque, New Mexico

Reuters

9/30 24 May 2016

An Indian policeman uses a baton to disperse demonstrators during a protest by government employees demanding their long pending arrears and a regularisation of their temporary jobs, according to protesters, in Srinagar

Reuters

10/30 23 May 2016

Confiscated rare and protected wildlife products such as these stuffed Sumatran tiger skins are burned and destroyed during a ceremony by government forestry and wildlife officials in Banda Aceh, Indonesia

Reuters

11/30 23 May 2016

A woman leads a school pupil away from tear gas and a burning barricade in Kibera slum, during a demonstration of opposition supporters protesting for a change of leadership ahead of a vote due next years in Nairobi

Getty Images

12/30 23 May 2016

A crane destroys over one million pirated music, movie and software CDs and DVDs in a campaign against piracy organised by the government in Algiers, Algeria

Reuters

13/30 23 May 2016

Shi'ite fighters forces launch a rocket towards Islamic State militants on the outskirts Falluja, Iraq

Reuters

14/30 22 May 2016

Yemenis take part in celebrations marking the 26th anniversary of Yemen's 1990 reunification in the capital Sanaa

Getty Images

15/30 22 May 2016

Indonesian soldiers carry resident's belongings as they aid in evacuation efforts from a village impacted by the Mount Sinabung eruption at Gamber Village in North Sumatra. At least six people were killed and two others were seriously wounded after the Mount Sinabung volcano in North Sumatra province of western Indonesia erupted

EPA

16/30 21 May 2016

Demonstrators clash with riot police in the surroundings of the Congress in Valparaiso, while Chilean President Michelle Bachelet delivers her annual message to the nation

Getty Images

17/30 21 May 2016

The Egyptian military spokesman released pictures of debris that the search teams found in the sea after the EgyptAir Airbus A320 crashed in the Mediterranean

Getty Images

18/30 21 May 2016

Sri Lankan flood victims push a trishaw through floodwaters in the Kolonnawa suburb of Colombo

Getty Images

19/30 20 May 2016

A protester write on the facade of the Ministry of Justice building with color spray during an anti-government protest in Skopje, in a series of protests dubbed Colourful Revolution. Crisis-hit Macedonia postponed elections due next month, after the European Union called on Skopje to delay the polls to ensure they could take place freely and fairly

Getty Images

20/30 20 May 2016

Members of the Ukrainian national guard "Azov" regiment and activists of the Azov civil corp take part in a protest against local elections in pro-Russian rebel-held areas of eastern Ukraine under the Minsk peace agreement, in Kiev

Reuters

21/30 19 May 2016

Families of passengers who were flying in an EgyptAir plane that vanished from radar en route from Paris to Cairo react as they wait outside a services hall at Cairo airport

Getty Images

22/30 18 May 2016

A man clashes with policemen during a protest against new emergency powers decreed this week by President Nicolas Maduro in Caracas. Public outrage was expected to spill onto the streets of Venezuela, with planned nationwide protests marking a new low point in Maduro's unpopular rule

Getty Images

23/30 18 May 2016

A police car explodes after being set on fire during an unauthorized counter-demonstration against police violence in Paris, as Police across France demonstrate today against the "anti-cop hatred" they say they have endured during a wave of anti-government protests since early March

Getty Images

24/30 18 May 2016

Sri Lankan military personnel take part in relief and rescue efforts following a landslide in the village of Bulathkohupitiya. Rescue workers recovered the bodies of 17 villagers buried in landslides in Sri Lanka after three days of torrential rain. The disaster hit two small villages in Kegalle, a mountainous area northeast of Colombo, and takes the overall death toll from flooding and landslides in recent days to 36

Getty Images

25/30 18 May 2016

A protester against visiting Zhang Dejiang, the chairman of China's National People's Congress, confronts police in Hong Kong

Reuters

26/30 18 May 2016

Chicks dyed to draw attention are offered for sale at a small poultry market in Jakarta, Indonesia

Reuters

27/30 17 May 2016

A man throws a fire extingusher at Parliamentary security behind a closed door after members of Julius Malema's Economic Freedom Fighters (EFF) were evicted from Parliament during President Jacob Zuma's question and answer session in Cape Town, South Africa

Reuters

28/30 17 May 2016

Supporters of Federal Alliance, a coalition of Madhes-based parties and other ethnic political parties and organizations, protest against the constitution near the Prime Minister's official residence in Kathmandu, Nepal

Reuters

29/30 17 May 2016

Members of a Sri Lankan Army rescue team carry a woman to safety through floodwaters in the suburb of Kaduwela in capital Colombo. Emergency workers in Sri Lanka found the bodies of a woman and two children killed in a landslide, taking the toll from two days of heavy rain to 11, with thousands more forced to flee their homes

Getty Images

30/30 16 May 2016

Protesters light flares and wave flags marching through a street, during an anti-government protest in Skopje, in series of protests dubbed "Colorful Revolution". Macedonia has been politically gridlocked for two years but the crisis rose a notch on 12 April when President Gjorge Ivanov halted a probe into more than 50 public figures suspected of involvement in corruption and a wire-tapping scandal. The move triggered street protests against Ivanov and the ruling party's leader, Nikola Gruevski. Fresh demonstrations drew several thousand, mostly young people who demanded Ivanov resignation

Getty Images
That is part of the key to Mr Mugabe; the other is the Roman Catholic Church and Marxism. Mr Mugabe was born and brought up in the "Christian village" at Kutama Mission in the Zvimba district near Salisbury. Like many in that era he was given a basic education by the Jesuits. Both parents were mission trained, his father Gabriel as a carpenter, while his mother taught catechism and the Bible. His classmates remember him as a boy whose "only friends were books", and, despite the opulence of his life as President – including a 37-acre plot with a new three-storey mansion – he has mostly followed an ascetic lifestyle.
During his thirties, in the 1950s, he did not drink or smoke. He went to Fort Hare University in South Africa to study to be a teacher. He found work in newly independent Ghana in 1958. Observing the first experiment in African socialism, conducted by Kwame Nkrumah, Mr Mugabe later remarked: "I went as an adventure. I wanted to see what it would be like in an independent African state. It was there I accepted the general principles of Marxism." This disciple of Marxist-Jesuitism was fired by anger at injustices of the racist regime around him. An intelligent man unable to develop personally, professionally or politically in his own land; hence the anger.
But why didn't Mr Mugabe follow the example of Nelson Mandela? For all his smartness he lacked the confidence, perhaps charisma, perhaps leadership qualities of Mr Mandela. He soon embarked on a genocide of the Ndebele – 20,000 to 30,000 were murdered in a campaign by a special army group trained by the North Koreans and personally loyal to Mugabe. If not genocide, it was certainly ethnic terror. He interfered in the economy, and, when the money ran out, tried to pay for his rash promises to "war veterans" (some born after the liberation struggle) by stealing white farmers' land. The only service Mr Mugabe rendered his corner of Africa was to act as a warning to the South Africans about the dangers of following his example – as if three million Zimbabwean economic refugees was not sufficient reminder. 
When Mugabe took power in 1980, Nyerere, told him: "You have inherited a jewel. Keep it that way." His jewel has long since become badly tarnished, not least by the diamond wars in the Congo he sent his army, disastrously, to fight in. It was just one of a long litany of vain, badly judged, deluded projects Mr Mugabe has indulged himself in. His mental faculties may be at last failing too – he read the same page of a speech twice last year. But, be in no doubt, Mr Mugabe, even at 92, is nobody's fool.