On 14 April 2014, a group of militants from the notoriously brutal group Boko Haram broke into a school in Chibok, Nigeria, and kidnapped nearly 300 schoolgirls. More than 200 remain missing a year after their abduction.
The girls were taken in the dead of the night and militants, who in recent years have understood and capitalised on the power of social media, posted footage of their hostages online within a propaganda video soon after. Boko Haram's leader Abubakar Shekau vowed to marry off the girls to fighters or sell them as slaves. There are fears he has since carried out his pledge.
The world responded to the video on social media with the viral hashtag #bringbackourgirls. The hashtag, started by Nigerian lawyer Ibrahim M Abdullahi, was tweeted by Michelle Obama and other influential persons of note across the world. It became something the desperate mothers of the missing girls adopted and splashed on their posters, banners, and anything else that was likely to be photographed and appear in the news.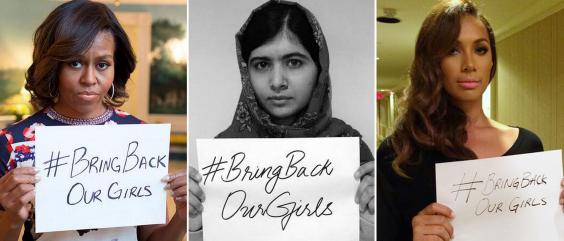 In the immediate weeks after their disappearance the hashtag was shared almost one million times. Boko Haram had committed a number of equally appalling atrocities before but this was the first to so vigorously capture the attention of most people outside of Nigeria, and this fact gave some hope in an increasingly bleak situation.
In pictures: Nigeria kidnapped schoolgirls
In pictures: Nigeria kidnapped schoolgirls
1/19 Nigeria

A total of 276 girls were abducted from the northeastern town of Chibok, in Borno state, which has a sizeable Christian community. Some 223 are still missing

2/19 Nigeria

One of the kidnapped girls looks into a camera

3/19 Nigeria

One of the missing girls talking to the camera

4/19 Nigeria

The missing Nigerian schoolgirls, wearing the full-length hijab and praying in an undisclosed rural location. Boko Haram alleging they had converted them to Islam

5/19 Nigeria

Girls wearing the full-length hijab holding a flag reading "There is no god, but Allah" and "Mohammed is Allah's prophet"

6/19 Nigeria

A man claiming to be the leader of Nigerian Islamist extremist group Boko Haram Abubakar Shekau

7/19 Nigeria

Abubakar Shekau speaks on the video

8/19 Nigeria

Girls, wearing the full-length hijab and praying are filmed by an unidentified man (R) in an undisclosed rural location

9/19 Nigeria

People carry signs as they attend a protest demanding the release of abducted secondary school girls in the remote village of Chibok in Lagos

10/19 UK

A protester demonstrates against the kidnapping of school girls in Nigeria, outside the Nigerian Embassy in London

11/19 UK

Chief International Correspondent Christiane Amanpour and Prime Minister David Cameron appearing on the BBC1 current affairs programme

12/19 USA

People participate in a "Bring Back Our Girls" campaign demonstration and candlelight vigil in Los Angeles

13/19 USA

Girls holding heart shaped banners in a "Bring Back Our Girls" campaign demonstration and candlelight vigil in Los Angeles

14/19 South Africa

South Africans protest in solidarity against the abduction of hundreds of schoolgirls in Nigeria by the Muslim extremist group Boko Haram and what protesters said was the failure of the Nigerian government and international community to rescue them, during a march to the Nigerian Consulate in Johannesburg

15/19 USA

Karilyn Coates (10) joins others in a candlelight vigil for the more than 300 girls abducted by Boko Haram in Nigeria, at All Souls Unitarian Church in Colorado Springs

16/19 Nigeria

Mothers of the missing Chibok school girls abducted by Boko Haram Islamists gather to receive informations from officials. Nigeria's president said that Boko Haram's mass abduction of more than 200 schoolgirls would mark a turning point in the battle against the Islamists, as world powers joined the search to rescue the hostages

17/19 Nigeria

Former Nigerian Education Minister and Vice-President of the World Bank's Africa division (3rd L) Obiageli Ezekwesilieze speaks as she leads a march of Nigeria women and mothers of the kidnapped girls of Chibok, calling for their freedom in Abuja

18/19 Bring Back Our Girls

Kelly Hoppen tweeted: 'Please make sure you do this, we must stand together and not forget them'

19/19 Bring Back Our Girls

E.L. Rock Star tweeted: 'Join The Movement'
On 14 April 2015, the one-year anniversary of their disappearance, media organisations briefly put the Chibok schoolgirls back at the top of the news agenda.
Malala penned an open letter on the same day slamming world leaders for not doing enough to secure their release. Outlets ran interviews with witnesses to the abduction and #Bringbackourgirls was tweeted 37,000 times. It is now trending once again.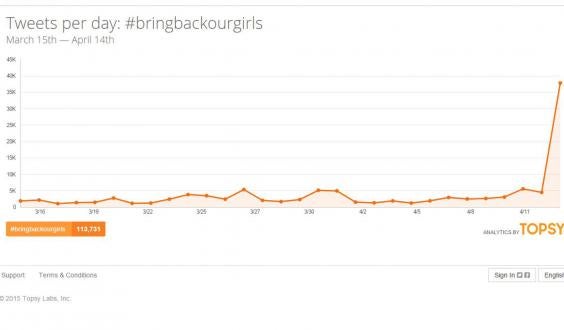 But, as this chart showing related searches in the 12 months up until early April demonstrates, our interest in the campaign is as quick to drop as it is to peak. Based on the weeks and months in the year before it, our already waning interest will have soon all but disappeared.  The biggest problem the campaign now faces, like most of those promoted by a hashtag, is preventing it from slipping off the radar as rapidly as it was propelled to the top.
Reuse content