The fingers of Justin Ochan delicately trace the names of the dead. Crouched by the memorial in Lukodi, where many of his relatives died, he gestures helplessly around him, pointing out the lack of development, the signs of poverty and neglect everywhere.
With Uganda's elections only days away – polling day is set for 18 February – Mr Ochan, 50, a survivor of one of the worst massacres by the Lord's Resistance Army (LRA) in these parts, will not be voting for President Yoweri Museveni. Mr Ochan blames the government for allowing the brutal 20-year insurgency to take hold in northern Uganda.
Cracks are starting to appear in Mr Museveni's monolithic 30-year rule as he seeks another five-year term. Three-quarters of Ugandans have never known another leader, and many young Ugandans believe now is the time for change. They question his record on education, health, employment and democracy. 
But it is in the north that the President's bitterest legacy lingers. Since he rose to power in 1986, the people here have been unsure who they feared more: the government that committed atrocities here, or the LRA with its child abductors.
The war may have ended a decade ago with the LRA's departure from Uganda, but the conflict has left deep psychological scars. Mr Museveni's critics say he has abandoned a lost generation to its fate. There is widespread unemployment, little investment in infrastructure, only rudimentary counselling programmes and scant funding to help those looking to start life afresh. "People in this area don't vote for Museveni," Mr Ochan says. "He has abandoned the north. Whatever development you see here comes from NGOs."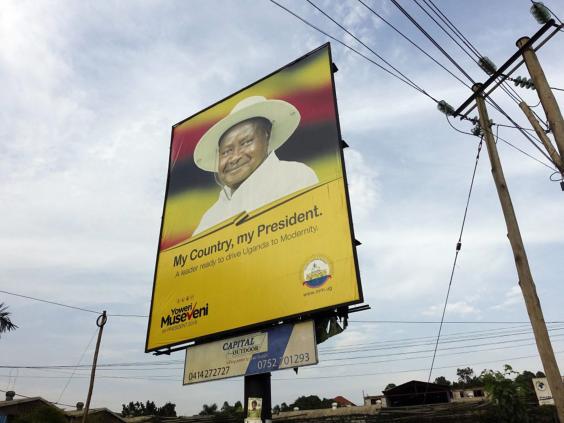 For the first time, Mr Museveni looks vulnerable. Kizza Besigye, a serial presidential contender, is his biggest rival. But the entrance of a third viable candidate – Amama Mbabazi, a former prime minister and member of the President's inner circle – has raised hopes of a stronger opposition showing this time round.
Yet nobody really expects Mr Museveni to lose this election, which has been marred by intimidation of opposition supporters, and a muzzling of the press, particularly the vernacular radio stations that speak directly to the President's core rural support. 
The longer he clings to power, however, the more endangered his gains, which include bringing peace after the murderous tyrannies of Milton Obote and Idi Amin, and a revival of the economy. 
In the mid-1990s, the West feted him as a new breed of enlightened African leader. By the end of that decade, however, Mr Museveni's credentials were tarnished by misadventures such as that in DR Congo, where he backed anti-government rebels raping and killing villagers, and allowed the looting of the country's mineral riches.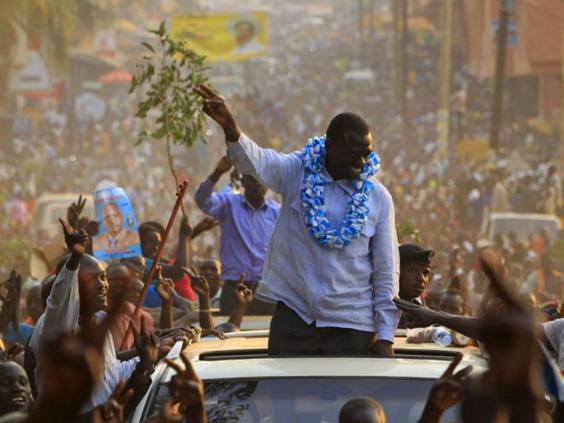 In 2005, he abolished presidential term limits, securing his membership of a tiny club of African leaders who refuse to relinquish power, such as Zimbabwe's Robert Mugabe.
Analysts say his rule has become more authoritarian, dissent less tolerated, corruption more entrenched, and wealth creation benefiting the few. The West has largely overlooked his strongman tendencies, given Uganda's importance in the "war on terror", its troops in Somalia, and helping to hunt a weakened LRA in central Africa.
Elisha, owner of a small business in Kampala, echoes a common sentiment when he says: "Museveni is really not a bad man. It's just that he has stayed in power too long." Mr Museveni – father figure, benefactor, guarantor of peace – is liked, even loved, by many Ugandans, but it is, a growing body believes, time for the "old man" to go.
It is a sympathetic view of the regime not shared by those in the north, their lives shaped not only by the horrors of the LRA, but also by the abuses of the Ugandan army and a decade in the camps. The LRA's defeat, when it came, had taken too long.
The military piled into this region after Mr Museveni toppled Tito Okello, a northerner, from power. As anti-government rebellion took root, the army executed and detained en masse suspected collaborators, and committed isolated atrocities. 
Meanwhile, Joseph Kony, the leader of the LRA, had tapped into local anger and feelings of marginalisation before his own brand of brutality, which included cutting off hands, lips and noses of his victims and forcing child abductees to murder their families, turned many of his natural supporters against him.
After the exodus: 40 years on from Amin's terror offensive against Asians in Uganda
After the exodus: 40 years on from Amin's terror offensive against Asians in Uganda
1/8

Tororo, 1965: Nina's mother and father (seated) with her aunt Indu (top right), their friend Muktaben Paw (top left) and her boy Paresh (far right)

2/8

General Idi Amin expelled more than 70,000 Asians as part of his incoherent, sadistic plans that he claimed would make Uganda thrive

Getty Images

3/8

Nina's mum (centre) with friends Hira and Kusum, whose families had shops on Tororo's main street

4/8

The first Asian immigrants arrive at a wet Stansted

Getty Images

5/8

Anti-immigrationists demonstrate with a banner that reads: 'Stop the Asian invasion'

Getty Images

6/8

Nina's mum (left) with her sister-in-law Indu and the children Sunil and Jamini on the veranda of 2 Nile Gardens, 1967

7/8

Nina with her mum in the back garden of 2 Nile Gardens in 2012

8/8

Some of the children who now live at 2 Nile Gardens
In a move reminiscent of British internment camps during the Boer War, the government shunted nearly two million northerners into squalid camps for internally displaced people to cut off the LRA's access to supplies and recruits. But in the process it impoverished the population and condemned thousands to death from disease. 
At Lukodi, a small detachment of soldiers protected the camp, but civilian huts encircling the military base formed the front line. When the rebels came on 19 May 2004, the soldiers quietly fled. Mr Ochan escaped to a nearby hill, where he watched as the camp was set ablaze, the screams of the dying seared into his consciousness. He returned the next day to sift through charred remains, and identify those abducted by the rebels. "You couldn't hear a sound, just people moving this way and that," he recalls. "We were burying people all day." Of the 45 who died that day, 21 were close relatives.
Dominic Ongwen, the LRA commander who allegedly led the massacre, is now facing trial at the International Criminal Court on charges of war crimes and crimes against humanity – charges he denies. However, many in the north of the country think the Ugandan state should atone for its alleged crimes. Mr Museveni offered an apology in 2012 for the army's crimes during the counterinsurgency campaign, but what is needed, survivors say, is money, not words.
Post-conflict life has been hard. Survivors come to Pamela Angwech, head of a local NGO in Gulu, with thoughts of suicide, or in need of physical rehabilitation, such as prosthetic limbs or surgery from festering war wounds. She helps where she can, but it is overwhelming. "It should be the government doing this," she says. "It's the best way they can say sorry for not protecting us."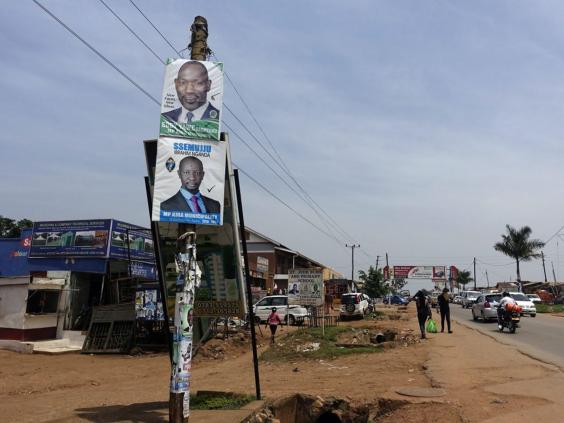 Northern Uganda has the worst indicators for the country: the highest rate of HIV and Aids, the highest illiteracy rate. Nearly half the population lives in poverty. 
In a strange paradox, the President is making gains in the north this time round, a reversal of previous elections, where Mr Besigye has fared much better. 
"It is not because Museveni is loved, but because people are desperate," says Nicholas Opiyo, head of Chapter Four Uganda, a human rights group. "They look to the government as the only means of survival. They know that those who vote for the government tend to get better services."
What might work in the north could be wrong for the rest of Uganda. "We will see Uganda becoming more autocratic," says Mr Opiyo. "A continued five years of Museveni in power will only be bad for Uganda and … dash any hope of a peaceful transfer of power."
Reuse content