A group of American Muslims have made a stand against rising anti-Islamic sentiment in the country by donating 30,000 bottles of water to a donation drive.
An organisation called Who is Hussain? made the pledge of Sunday to help citizens in the city of Flint, Michigan, which President Barack Obama declared as being in a federal state of emergency thanks to a water contamination crisis.
Michigan Department of Environmental Quality (DEQ) stands accused of ignoring months of negative reports on the amount of lead in Flint's drinking water.  The water is now considered so contaminated with man-made materials that the city has now had to switch its supply source to the corrosive and polluted Flint River.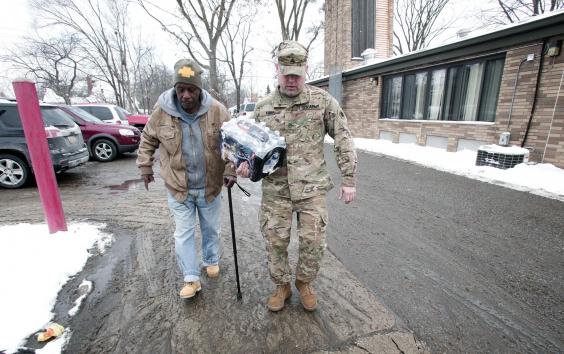 At this point members of Who is Hussain? decided to do their bit to help alleviate the crisis, collecting donated bottles of water from the communities across the United States and raising funds to purchase more through an online charity appeal.
Speaking of the campaign, Dr Aziza Askari, head of the Michigan chapter of the Who is Hussain?, told the Washington Times: "We saw what needed to be done and we decided to do it. We reached out to schools, neighbours, friends, mosques, anyone and everyone to help us by donating a case of water, or money towards a case."
In pictures: Flint water crisis
In pictures: Flint water crisis
1/10

Anthony Fordham picks up bottled water from the Food Bank of Eastern Michigan to deliver to a school after elevated lead levels were found in the city's water in Flint

Reuters

2/10

Michigan National Guard Staff Sergeant William Phillips (L) assists a Flint resident with bottled water at a fire station in Flint

Reuters

3/10

Flint residents Arthur Woodson, left, and Tony Palladino Jr. protest the arrival of Flint native and filmmaker Michael Moore as Moore accuses Gov.Rick Snyder of poisoning Flint water during a rally outside of city hall in Flint

AP

4/10

Flint residents pick up bottled water and water filters at a fire station in Flint. Michigan National Guard members were set to arrive in Flint to join door-to-door efforts to distribute bottled water and other supplies to residents coping with the city's crisis over lead-contaminated drinking water

Reuters

5/10

Soldiers from the Michigan Army National Guard Flint prepare to give Flint residents bottled water at a fire station in Flint

Getty Images

6/10

Justin Roberson (L), age 6, of Flint, Michigan and Mychal Adams, age 1, of Flint wait on a stack of bottled water at a rally where the Rev. Jesse Jackson was speaking about about the water crises at the Heavenly Host Baptist Church in Flint

Getty Images

7/10

A man sits next to a stack of bottled water at the Heavenly Host Baptist Church in Flint

2016 Getty Images

8/10

The top of a water tower is seen at the Flint Water Plant. President Barack Obama declared a state of emergency in Michigan and ordered federal aid to be used to help state and local response efforts to an area affected by contaminated water

Reuters

9/10

Rosie Wright, center, rallies with the crowd over Flint's water crisis in Ann Arbor, Michigan

AP

10/10

Rick Catherman participates in a rally around Flint's water crisis in Ann Arbor, Michigan

AP
Mohammed Almawla, who works as a filmmaker and volunteer for the organization, added: "Prophet Mohammed taught us 'Your neighbour comes before your own household'. As a resident of Detroit this is not only a Flint problem this is a Michigan problem and I feel obligated to help to the best of my ability."
Who is Hussain? was founded in 2012 as tribute to the Prophet Muhammad's grandson, Hussain ibn Ali, who was murdered after being denied water for several days. The organisation, which now has 60 representatives around the world, argues that the denial of water to anybody at any time is immoral and as such promotes water distribution around the world. 
On Saturday Obama declared a state of emergency in Flint, which automatically freed up to $5 million in federal aid to assist with the public health crisis. He refused calls to make a disaster declaration, however, even though doing so would have provided a larger war chest.
The Detroit Free Press explained that Obama's hands were tied in the situation, as a disaster declaration can only be issued on natural occurrences, such as hurricanes or floods, whereas the crisis engulfing Flint is man-made.
Reuse content