Huge crowds filled a square in the Salvadoran capital today for a ceremony to beatify Roman Catholic Archbishop Oscar Romero, who was cut down by an assassin's bullet 35 years ago and declared a martyr for his faith this year by Pope Francis.
It is the first step toward possible canonization, although many of the 260,000-plus faithful expected at the Saviour of the World Plaza already credit him with miracles and refer to him as "Saint Romero of the Americas."
Delegations from parishes all over the nation, many of them having come by bus from the countryside, filed into the square carrying white and yellow flags of the Roman Catholic Church.
"They can kill the prophet, but not the voice of justice," intoned pilgrims from Our Lady of the Assumption in a suburb outside San Salvador. "His words will remain for eternity," said Marlene Sanchez, 26.
In life, Archbishop Romero was loved by the poor, whom he defended passionately, and loathed by conservatives who considered him too close to left-leaning movements in the tumultuous years ahead of El Salvador's 1980-92 civil war.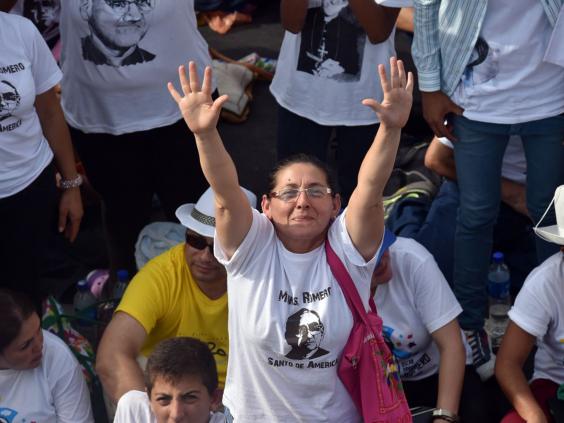 Archbishop Romero was celebrating Mass in a cancer hospital chapel on 24 March, 1980, when he was shot through the heart by a sniper who apparently fired from a car outside. The day before, Romero had delivered a strongly worded admonition to the US-backed military to stop repressing civilians.
The trigger man has never been identified, and no one has been prosecuted for the killing. Alleged paramilitary death squad leader Roberto d'Aubuisson, who was named by a U.N. truth commission after the war's end as the mastermind of the assassination, died in 1992 having maintained his innocence to the end.
Archbishop Romero's beatification was held up for years by church politics until Pope Benedict XVI "unblocked" the case in late 2012, after it was determined he had not been an adherent of revolutionary liberation theology as many claimed.
Today's ceremony constitutes official church approval of Romero's legacy, even if some conservatives in the Vatican and Salvadoran society still view his memory with distaste.
"The beatification ... is a cause for great joy for Salvadorans and for those of us who rejoice at the example of the greatest children of the church," Pope Francis said in a statement. "Monsignor Romero, who built peace from the strength of love, gave testimony of the faith with his life, committed to the very end."
US President Barack Obama, who visited Romero's tomb in 2011, called him "an inspiration for people in El Salvador and across the Americas."
"He was a wise pastor and a courageous man who persevered in the face of opposition from extremes on both sides," Mr Obama said. "He fearlessly confronted the evils he saw, guided by the needs of his beloved pueblo, the poor and oppressed people of El Salvador."
Cardinal Angelo Amato, the prefect of the Vatican's saint-making office, began the ceremony beneath a 60-foot-tall (18-metre-tall) monument depicting Christ atop a white pillar and blue globe. An urn held the shirt that Romero was wearing when he was shot.
10 countries with the highest murder rates
10 countries with the highest murder rates
1/10 1) Honduras

Homicide count: 7,172 Rate per 100,000 inhabitants: 85.5

Public Domain

2/10 2) Venezuela

Homicide count: 16,072 Rate per 100,000 inhabitants: 53.7

LUIS ROBAYO/AFP/Getty Images

3/10 3) US Virgin Islands

Homicide count: 56 Rate per 100,000 inhabitants: 52.6

Creative Commons/Old Pine

4/10 4) Belize

Homicide count: 145 Rate per 100,000 inhabitants: 44.7

Chris Jackson-Pool/Getty Images

5/10 5) Jamaica

Homicide count: 1099 Rate per 100,000 inhabitants: 40.6

MLADEN ANTONOV/AFP/Getty Images

6/10 6) El Salvador

Homicide count: 2,246 Rate per 100,000 inhabitants: 35.7

House109/Creative Commons

7/10 7) Anguilla

Homicide count: 5 Rate per 100,000 inhabitants: 35.4

Roy Googin/Creatve Commons

8/10 8) Guatemalla

Homicide count: 5,237 Rate per 100,000 inhabitants: 34.7

Rigostar/Creative Commons

9/10 9) Swaziland

Homicide count: 416 Rate per 100,000 inhabitants: 33.8

STEPHANE DE SAKUTIN/AFP/Getty Images

10/10 10) Colombia

Homicide count: 15,733 Rate per 100,000 inhabitants: 33.8

GUILLERMO LEGARIA/AFP/Getty Images
Officials closed off about two square miles of streets nearby to accommodate the crush of pilgrims and the hundreds of vendors selling commemorative T-shirts, key chains, bags, bracelets and coffee cups, as well as copies of documentaries and movies inspired by Archbishop Romero's life.
Authorities set up 27 giant screens for the benefit of those far from the stage and deployed 3,700 police and soldiers to provide security. Hotels in the capital were at capacity, and officials predicted the event would generate $31 million (£20 million) in economic activity.
Celebrations were planned in Los Angeles, which is home to about 360,000 people of Salvadoran origin. Many of them arrived in the 1980s fleeing the Central American nation's civil war, in which at least 75,000 people died and 12,000 more disappeared.
Also today, tens of thousands of people gathered in the central Kenyan town of Nyeri to attend the beatification ceremony of Sister Irene Stefani, an Italian nun who worked for many years in the East African nation.
Sister Stefani, who belonged to the Consolata Missionary Sisters, first came to Kenya in 1915 and died there in 1930 at the age of 39, according to a website dedicated to her beatification.
In her case, beatification comes after official verification of a 1989 miracle in Mozambique — a country Sister Stefani never visited — that was attributed to her.
The miracle reportedly happened when a group of about 270 people in danger of death prayed to Sister Irene "and the little water in the baptismal font, measuring between four and six litres, was multiplied to enable them to drink and wash for four days, before help arrived from outside," Kenya's Daily Nation newspaper reported, citing a priest in charge of Nairobi's Consolata Shrine.
Associated Press