According to the locals, it's the bar capital of the world, with more than 12,000 catering for the five million citizens of Brazil's third city. Others will recall Belo Horizonte as the scene of England's most humiliating football defeat, when a hearse driver and teacher from the US stunned the national team at the 1950 World Cup. But if the 5,000 or so English ticket holders expected here for England's final group game against Costa Rica in a few weeks' time look a little more closely, they may remember it for something else. As is the case across Brazil, peer behind the mask and another reality stares back at you.
In downtown Belo Horizonte are 23 brothels, known locally as zonas. They are hidden up narrow staircases between shops in the grim city centre, a place so grey, in parts, that you could be in the old Soviet Union except for the scorching sun above. Nearby, in an empty office on the top floor of a shopping centre, a handful of the 2,000 or so prostitutes who work the city are getting English classes from a volunteer in order to cash in on the six matches the city's Mineirão stadium will host (including one semi-final). All the while, tucked away at the back of an indoor car-park, is Aprosmig – a union for those within the industry in the state of Minas Gerais (the name is a contraction of the "Minas Gerais association of prostitutes"). "For sure [the city's prostitutes] will get more money with the World Cup," says the fiftysomething woman working the desk. "In the nightclubs they'll be earning a lot. It's normal for foreign guys to look for them, they always do, and now there'll be more foreign guys. They'll do very well."
Inside, pasted to a grubby wall are erotic photographs and charts of the body, notes about diseases, numbers for doctors and timetables for psychology sessions. As the woman potters about, she tells her story, a familiar narrative. Having become pregnant and seen the factory she worked in shut down, she took a job as a cleaner. But the family she worked for put pressure on, insisting they should adopt her child, and she felt she couldn't keep both job and baby, but neither could she go hungry. There was one avenue to walk down. "I prostituted when my child was sleeping," she sighs. "But it was weird, lying there in a room as guys looked in your door before deciding. I just remembered I had to bring food to my house and I had to pay bills so there was no choice. But I spent my life working in that room. I missed out on so much."
England World Cup squad - in full
England World Cup squad - in full
1/22 Joe Hart - Goalkeeper

Age – 27 Caps – 39 Goals – 0 The Manchester City Number One suffered a dip in form mid-season that saw Manuel Pellegrini drop him for understudy Costel Pantilimon. But Hart has recovered superbly to dismiss any talk that he won't be Roy Hodgson's first choice in Brazil.

GETTY IMAGES

2/22 Ben Foster – Goalkeeper

Age – 31 Caps – 6 Goals – 0 Having retired from international football, Foster was persuaded to make himself available for his country once again. The West Brom stopper made his last appearance for the Three Lions in the draw with the Republic of Ireland last May.

GETTY IMAGES

3/22 Fraser Forster - Goalkeeper

Age – 26 Caps – 1 Goals – 0 Forster made his debut in the Wembley defeat to Chile in November last year, but his form with a strong Celtic side north of the border has seen him force his way into consideration for some time. Saw of the challenge of Norwich's John Ruddy to make the squad.

Reuters

4/22 Glen Johnson – Right-back

Age – 29 Caps – 50 Goals – 1 Johnson has cemented the right-back berth as his own this season, with his main rival Kyle Walker suffering an inconsistent season that has been disrupted by injury. Has a tendency to forget his defensive duties when he marauds up the pitch, which will be a worrying sight in Brazil against the world's best.

EPA

5/22 Chris Smalling – Centre-back/Right-back

Age – 24 Caps – 10 Goals – 0 Smalling's versatility in defence stands him with a good chance of playing in Brazil, although he has not pushed on as much as was hoped when Manchester United signed him in 2010. Unlikely to start if Hodgson's preferred back-four are fully fit.

GETTY IMAGES

6/22 Phil Jones – Centre-back

Age – 22 Caps – 9 Goals – 0 Jones' inclusion had been put into question after he suffered a shoulder injury that required him to go to hospital during the victory over Hull last week. But after getting the ok for Brazil, Hodgson has decided to include the young defender, who offers a similar versatility as his club colleague Chris Smalling as well as fulfilling a role as a holding midfielder.

GETTY IMAGES

7/22 Gary Cahill – Centre-back

Age – 28 Caps – 22 Goals – 2 Cahill was a part of the standout defence this season as Chelsea's back-four conceded the least amount of goals by a considerable margin. He has solidified his selecting in the starting XI in recent years and has pace to get the side out of trouble if needed.

GETTY IMAGES

8/22 Phil Jagielka – Centre-back

Age – 31 Caps – 24 Goals - 1 Worringly for England, Jagielka missed a considerable number of games in the run-in to the end of the season, but the Everton captain made a timely return after two months out for the narrow defeat to Manchester City at the beginning of May. Likely to partner Cahill at the back as he offers experience and calmness to a young-looking defence.

GETTY IMAGES

9/22 Leighton Baines – Left-back

Age – 29 Caps – 22 Goals – 1 The set-piece master has battled past the long-serving Ashley Cole to assume the left-back role under Hodgson, and he is expected to continue in Brazil after a solid season with the Toffees which saw them challenge for the top-four.

Getty Images

10/22 Luke Shaw – Left-back

Age – 18 Caps – 1 Goals – 0 The Southampton teenager has enjoyed a tremendous year that has led to calls nationwide for his inclusion in the World Cup squad, despite his inexperience. Made his debut in the March victory over Denmark, and looks to be the ideal replacement to Ashley Cole, with the 107-cap veteran missing out on a fourth consecutive World Cup and announcing his international retirement as a result.

Reuters

11/22 Steven Gerrard - Central midfielder (Captain)

Age: 33 Caps: 109 Goals: 21 The captain of the side has enjoyed a brilliant but ultimately disappointing season with Liverpool. The Reds managed to remain in contention for the Premier League title until the last day of the season but ultimately missed out. Gerrard's costly slip in the 2-0 defeat to Chelsea is quickly becoming the defining moment of their season. Deployed in a deeper role this season.

Getty

12/22 Frank Lampard - midfielder

Age - 35 Caps - 103 Goals - 29 The Chelsea midfielder will be one of the older heads in the England squad. While unlikely to be a starter in Brazil, should he get opportunity he will want to atone for the injustice of his 'ghost goal' at the last tournament in 2010 when he scored against Germany but it wasn't given.

GETTY IMAGES

13/22 Jack Wilshere - Central midfielder

Age: 22 Caps: 15 Goals: 0 Arsenal midfielder suffered a foot injury playing for England on 5 March, but returned for the Gunners on their final game of the season. Arsenal manager Arsene Wenger claimed he would be ready to go for the start of the World Cup.

Getty Images

14/22 Adam Lallana - Central midfielder

Age – 26 Caps – 3 Goals – 0 He may be relatively inexperienced at international level, but the Southampton captain has had an extraordinary year that saw him named in the PFA Team of the Year as well as breaking into Hodgson's side. His ability to utilise both feet could prove a real threat in Brazil.

GETTY IMAGES

15/22 Ross Barkley - Central midfielder

Age: 20 Caps: Goals: 0 The Everton midfielder has burst out of the traps at Goodison Park this season, resembling Wayne Rooney in his pomp. Barkley has made 34 league appearances for Roberto Martinez this season, scoring six goals.

GETTY IMAGES

16/22 James Milner - Midfielder

Age: 28 Caps: 45 Goals: 1 Mr Dependable for both club and country. Could win his 50th cap in Brazil if England reach the quarter-finals. Has only made 12 starts for the league winners Manchester City this season mind.

GETTY IMAGES

17/22 Alex Oxlade-Chamberlain - Midfielder

Age: 20 Caps: 14 Goals: 3 Has endured a campaign blighted by injury, but manager Arsene Wenger claims that he will be ready for the World Cup. "The news is good for Alex, he should reintegrate into our squad for normal training on Wednesday. He is available to Roy," Wenger said after Arsenal's final game of the season at Norwich on Sunday.

18/22 Raheem Sterling - Midfielder

Age: 19 Caps: 2 Goals: 0 Despite Liverpool's faltering end to the season, Sterling has excelled this term for Brendan Rodgers, impressing down the wing and also through the middle. With Theo Walcott missed the finals because of injury, Sterling will offer some badly-needed pace.

GETTY IMAGES

19/22 Danny Welbeck – Striker

Age – 23 Caps – 21 Goals – 8 While Welbeck's form for Manchester United this season hasn't been the best, he remains a favourite of Hodgson's and tends to shine on the international stage, having scored in the 3-2 victory over Sweden in the 2012 European Championships with a deft back-heel flick. Has a tendency to be deployed on the left, and could be overlooked in the starting line-up for the in-form Sterling.

EPA

20/22 Daniel Sturridge – Striker

Age – 24 Caps – 10 Goals – 3 Sturridge has flourished this season in his partnership with Premier League top scorer Luis Suarez, netting an impressive 21 league goals in helping Liverpool to finish second. Hodgson has shown a preference to start Sturridge in the striker role with Wayne Rooney playing off the Reds frontman, and is likely to be one of the first names on the team-sheet come 14 June.

GETTY IMAGES

21/22 Wayne Rooney – Striker

Age – 28 Caps – 89 Goals – 38 Rooney will head to Brazil as one of England's most experienced squad members, and the United striker will once again have the weight of a nation's expectations on his broad shoulders. The forward has been given licence to roam in the Three Lions shirt, although he is yet to produce his brilliant best at a World Cup, having been to the 2006 and 2010 tournaments.

GETTY IMAGES

22/22 Rickie Lambert – Striker

Age – 32 Caps – 4 Goals – 2 Southampton favourite Lambert saw of the late challenge of West Ham's Andy Carroll to secure his place in the squad, with his inclusion capping an extraordinary rise through the ranks of English league football to the world's greatest tournament. His goals against Newcastle, Manchester City, Swansea and Manchester United late in the season only strengthened his chances, and he'll hope to continue his international strike rate of a goal every other game.

Mike Hewitt/Getty Images
Occasionally, she pauses to assist the union members coming in from the early morning to collect the unlimited condoms their £2.60 monthly membership allows them. Among them are two sisters in their thirties. At first they're wary, but they agree to talk. "We started by ourselves, nobody came to us and offered us," they say. "Since we started we can eat what we want, buy the clothes we want. That's why we do it.
"But look, why feel bad? We're not here because we like it, but it's a profession and we're not going to be grumpy and be treating people badly. If we're there working, we'll be smiling. In any profession you need to be like that. And the sex is pleasurable, honestly. So if people look down on us we don't care. And when people ask, we tell them we're prostitutes, although often they don't really believe us. In fact the worst part of it is probably that we have to pay 130 reais [£35] per day for a room each. The owner makes the most money, so many girls rent an apartment so they make more, but for us that's too dangerous. So we prefer to pay."
To reach the zonas, clients and workers alike must pass by the bouncer sitting on a bar stool on the side of the street, go through a metal detector and ascend flights of stairs; what awaits is a like a cross between a run-down prison and a hostel even the earthiest backpacker would turn away from. The floors are bare concrete, while the corridor extends past door after door into cell-like rooms where women lie. There, a girl just out of her teens confirms it's safe before noting: "It's rare but sometimes men rape."
Meanwhile, the woman back at Aprosmig tells of a 62-year-old she knew who was murdered last year. "There was another stabbed to death, too. They found her in the bedroom bleeding. She spent a week in hospital but didn't make it. It was her boyfriend but violence isn't common; it's just that girls end up with bad guys like drug dealers."
Many might wonder why women take such risks, but necessity trumps choice in a nation of close to 200 million. The statistics are stark: illiteracy averages 10 per cent, reports say 13 million are underfed, 42,785 were murdered nationwide last year and there is a national shortage of 168,000 physicians. Prostitution was legalised in 2000. At the time it was suggested there were as many as one million sex workers, and while that may have been an overestimate, prostitution is undeniably widespread. At one point, the government's own employment website offered tips for those wishing to attempt prostitution, going step by step through preparation, seduction and delivery of service. It was later toned down after much pressure from conservatives and the religious right.
There are also those completely against it as a profession. Recently the female members of Brazil's major trade union federation, Cut, debated the issue with secretary Rosane Silva saying, "What we need is to fight for politics that take women out of this condition. We have to keep pushing for this because it's basic exploitation". At the same conference, Para Cleone, a former prostitute, added: "Of course I'm against this. These women are being exploited by the people who run the zonas."

"Given the numbers and our dignity, it made sense to look for recognition," contests Cida Vieira, who is in her late thirties and chairwoman of Aprosmig (it was Vieira who was quoted widely last year in the world's press when she announced that the prostitutes of Belo Horizonte would accept payment on credit card during the World Cup). "We deserve to be treated like anyone else working. I used to work in the central bank here but different people like different things. In that other job, well, I hated the bureaucracy. It's so boring. And even before I tried this I liked reading about it and watching erotic films but I like the fetish, not the sex. Really, I love what I do, I never want to stop. Loads of the girls love what they do, they just don't tell people because of the prejudice. But I'm not ashamed. Everyone in my family knows, we talk about it openly."
Vieira mentions she has a daughter – how would she feel if her child became a prostitute? "I'd be very happy," she insists. "But she wants to be a businessperson. That's her choice and this is mine and I work the streets and prefer it there as I just like to be free. I don't like to be sitting there waiting like those in the zonas. That will never change. I don't worry about it being more dangerous on the streets either. The prostitutes have a great relationship with the police. They know us all and that makes a big difference," she insists. "Really, this is a great life."
But this life goes way beyond Belo Horizonte. With a total of 3.7 million tourists expected in the country for the World Cup, there have been lurid accounts of preparations across Brazil. In Fortaleza, a local prosecutor stated: "Foreign clients order underage prostitutes who are delivered directly by the hotels' pimps." Meanwhile, a massage house beside Congonhos airport is said to be offering a limousine service and hiring English speakers to improve service. In São Paulo, local reports have quoted a dental student who will earn $5,000 by giving exclusive attention to a German businessman for two weeks.
Back in Belo Horizonte, meanwhile, a founding member of Aprosmig, Laura Maria Do Espirito Santo, who is now in her early sixties, recounts a tale that's unlikely to feature in local headlines. "When I had my daughter, I lost my job. I told the father and he said, 'You can burn that child, throw it in a bin, kill it, whatever you want. Just don't bother me with it.' We were going out for a year and he was from the upper class. His mother was a lawyer, his father an engineer and he said I couldn't destroy his life because I was poor. I told him even if I become a prostitute, I'll have my child and raise her well, so this is what I had to do. But the first time I felt the worst humiliation, it's the worst feeling when a woman has to go to bed with a guy she doesn't want. But I had no real choice."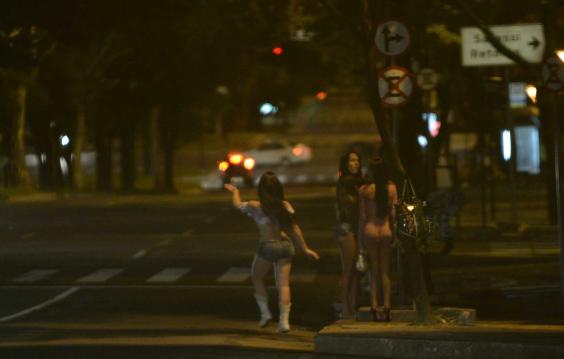 Not only was she behind the formation of the Aprosmig, Santo has been a driving force behind its initiatives and partnerships with several universities as well as the city council, which offers regular health screening. But though Brazil's anti-HIV policies were recognised globally as a success in the 1990s, there has been concern expressed recently by activist groups that the disease is far from under control in the country. Santo, however, is adamant: "Aids isn't a big deal because this job is their livelihood and they have to look after themselves or they won't have work. They are given all the medical checks they need."
Each year there's even a Miss Prostitute pageant that she hopes lessens the snobbery. "There is still much prejudice, though, especially from housewives, because their husbands come to us," she laughs. And the English classes were her idea as well after she took note of the increased sex tourism during the Copa Libertadores (South America's Champions League). "The language gets you ahead. We are learning the basics. They say there'll be 200,000 tourists in Belo Horizonte so it makes a lot of sense."
In one zona, Santo stops continually to chat with the younger girls who stand at the doors of their rooms. "Those girls when they start, they are too crazy, they start making too much money. They have sex without condoms and sometimes they get boyfriends inside of here and that's when they get pregnant. Loads work until just before they have babies. As I say, they get crazy. They also fall in love, but with the wrong guys. They could have all the businessmen and they end up marrying a builder. I'm not discriminating but they should see the prostitutes that marry a rich guy. One married a judge and lives in luxury. Another got pregnant by a guy, married him and now has eight maids in her house." How many actually attain this particular fantasy is unclear.
But perhaps it's the impressive progress of Santo's own daughter that explains the thinking behind such a lifetime of dog-hard days. Having passed through two of the major universities in the city, she's now studying to be a doctor in Portugal. "I never asked anyone for anything," Santo stresses. "And it's been worth it when I see what my child has become. She's so beautiful and so smart, so why should I be ashamed? Why should any of us?"
Reuse content