Video has emerged of an American cheerleading team performing a routine to news reports from when the Twin Towers fell.
Lumberton High school in Texas uploaded the video last week, on the anniversary of the September 11th attacks.
Attempting to be patriotic, the performance includes a dance to the song "God Bless the U.S.A." as well as including audio of how America reacted to the terrorist attacks 14 years ago.
The dance ends with the squad holding aloft an American flag and spelling out the letters "U.S.A".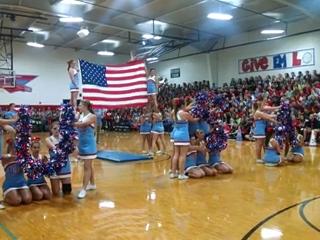 Soundbites include then-President George W. Bush addressing the nation, asserting "We will do whatever is necessary to protect America and Americans."
The squad's coach, Lauren Sheffield, is reported as saying that "We do this because we believe it is very important to honour and remember the first responders, those who gave their lives, and those who still mourn the hole left by lost loved ones."
One of the cheerleaders wrote on Twitter that the performance was an "appreciation and acknowledgement" of those who died in the attacks.
The Lumberton cheerleaders would like you to watch our appreciation & acknowledgement for the ones effected in 9/11 https://t.co/beopfL0zYs

— heather stanley (@heatherbstan) September 12, 2015
Public reaction to the routine has been mixed, some claiming it as a suitable tribute, others a distasteful one.
just watched the lumberton cheerleader's 9/11 performance and it gave me chills that was awesome

— Sydney (@sydneysatcher07) September 12, 2015
lumberton cheerleaders 9/11 performance was probably the best thing I've ever watched!

— Smalley (@_weslynsmalley) September 12, 2015
Just watched part of a video in which high school cheerleaders did a "tribute to 9/11." America, where tasteless tat passes for homage.

— Elaine Liner (@LinerElaine) September 12, 2015
Lumberton High cheerleader happy horrible 9/11 tribute using victim's voices is going viral, it's all about her. pic.twitter.com/Uw39Y1Zxk6

— Peg (@IowaPeg) September 12, 2015
Reuse content