Christopher Columbus has long been hailed as the "discoverer" of the New World.
Although Vikings got to North America first, five centuries before, his explorations opened the way for the European exploration and colonisation of the continent.
Born in 1451 in Genoa, Italy, Columbus first went to sea as a teenager and went on to become a master navigator and admiral.
In his 30s, he started trying to get support for a transatlantic voyage but he was not successful getting royal backing until King Ferdinand and Queen Isabella of Spain granted their patronage in 1492.
The voyage was intended to forge a westward sea passage to the Orient, where the settlers aimed to start a colony where they could convert people to Christianity and exploit the production of spices and other natural resources.
In August 1492, Columbus departed from Spain with three ships, including the recently discovered Santa Maria.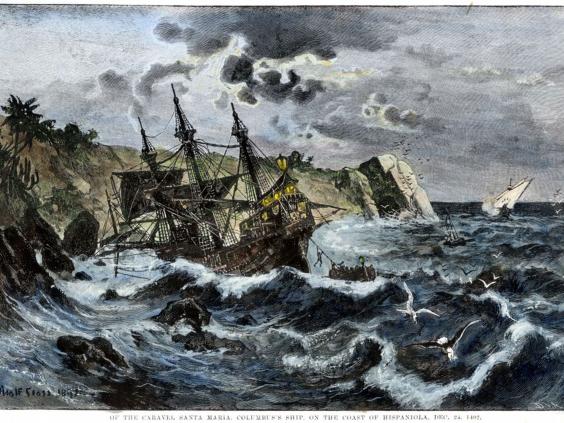 Land was not spotted until 12 October. Columbus was adamant that he was in Asia but he had in fact landed in what is now The Bahamas.
He named the first island they found San Salvador before going on to Cuba and Hispaniola, where a settlement, La Navidad, was founded with permission from the indigenous people.
On their return to Spain, the crew were received as heroes and Columbus paraded indigenous people he had captured at court along with gold, the previously unknown tobacco plant, pineapples and turkeys.
The explorer set sail again in September 1493 with a much larger fleet of 17 ships.
They explored the Caribbean and revisited La Navidad, where a new settlement was founded because the men left behind had been killed.
Hundreds of indigenous people were enslaved and many died on the journey back to Spain.
The third voyage did not start until 1498, when Columbus took six ships to Trinidad, Venezuela and started the exploration of mainland South America.
Still convinced that the lands he visited were parts of Asia, despite mounting evidence to the contrary, he returned to dry land and was made the "Viceroy and Governor of the Indies".
But accusations of tyranny and incompetence had reached the Spanish court and in 1500, he and his brothers were arrested and jailed for alleged atrocities.
Eventually released, Columbus made his fourth and last exploration, looking for a westward passage to the Indian Ocean, from Spain in 1502.
They sailed to Central America, landing in Honduras, Nicaragua, Costa Rica and Panama before being beached in Jamaica, where the crew were stranded for a year.
Columbus returned to Spain for the last time in 1504 and died two years later at the age of about 54 in Valladolid.
Removed from his standing as a governor and denied profits made in the new lands, he was a disappointed man.
After his death, his sons Diego and Fernando continued lengthy legal disputes with the Castilian crown trying to get the profits they believed they were owed.
In pictures: 12 amazing archaeological discoveries
In pictures: 12 amazing archaeological discoveries
1/12 Ancient forest, discovered in February 2014

Ancient forest revealed by storms. The recent huge storms and gale force winds that have battered the coast of West Wales have stripped away much of the sand from stretches of the beach between Borth and Ynyslas. The disappearing sands have revealed ancients forests, with the remains of oak trees dating back to the Bronze Age, 6,000 years ago. The ancient remains are said by some to be the origins of the legend of 'Cantre'r Gwealod' , a mythical kingdom now submerged under the waters pif Cardigan Bay

2/12 Medieval royal palaces, discovered in November 2014

Archaeologists in southern England have discovered what may be one of the largest medieval royal palaces ever found – buried under the ground inside a vast prehistoric fortress at Old Sarum. The probable 12th century palace was discovered by archaeologists, using geophysical ground-penetrating 'x-ray' technology to map a long-vanished medieval city which has lain under grass on the site for more than 700 years

3/12 The Dead Sea Scrolls, discovered ca. 1950

The Dead Sea Scrolls are almost 1,000 biblical manuscripts discovered in the decade after the Second World War in what is now the West Bank. The texts, mostly written on parchment but also on papyrus and bronze, are the earliest surviving copies of biblical and extra-biblical documents known to be in existence, dating over a 700-year period around the birth of Jesus. The ancient Jewish sect the Essenes is supposed to have authored the scrolls, written in Hebrew, Aramaic and Greek, although no conclusive proof has been found to this effect

4/12 Diamond, discovered in March 2014

This rare diamond that survived a trip from deep within the Earth's interior confirmed that there is an ocean's worth of water beneath the planet's crust

5/12 Whale skeletons, discovered in February 2014

Chilean and Smithsonian paleontologists study several fossil whale skeletons at Cerro Ballena, next to the Pan-American Highway in the Atacama Region of Chile

6/12 Complete mammoth skeleton, discovered in November 2012

The first complete mammoth skeleton to be found in France for more than a century was uncovered in a gravel pit on the banks of the Marne, 30 miles north-east of Paris. Picture shows experts at work making a silicon cast of the mammoth's tusk

7/12 Million-year-old human footprints, discovered in February 2014

Photograph of the footprint hollows in situ on the beach as Happisburgh, Norfolk

8/12 Terracotta warrior, discovered in June 2010

Chinese archaeologists unearthed around 120 more clay figures in June 2010 excavations at the terracotta army site that surrounds the tomb of the nation's first emperor in the northwestern Shaanxi Province

© Jason Lee / Reuters

9/12 Neolithic 'lost avenue' - prehistoric stone circle, discovered in September 1999

The discovery of a Neolithic 'lost avenue' was described as one of the most important finds of the last century. Since the 1700s, archeologists and historians have argued over the existence of the huge sarsen stones, which were unearthed at the site of the world's biggest prehistoric stone circle at Avebury in Wiltshire

10/12 Byzantine mosaic, discovered in February 2007

Plans for a walkway at the centre of the furious dispute over Jerusalem's holiest site were delayed by the discovery of a Byzantine mosaic

11/12 Ancient gold, discovered in March 2014

Gold fitting for a dagger sheath (around 1900 BC.) found near Stonehenge

12/12 Rosetta Stone, discovered in 1799

The Rosetta Stone is a basalt slab inscribed with a decree of pharaoh Ptolemy Epiphanes (205-180 BC) in three languages, Greek, Hieroglyphic and Demotic script. Discovered near Rosetta in Egypt
Columbus is still revered by many people and places, buildings, rivers and monuments have been named in his honour but the enslavement of native people, atrocities, exploitation of natural resources and spread of new diseases his explorations brought will always make his legacy a troubled one.
The anniversary of Columbus' 1492 landing in the Americas is still celebrated annually in Spain and throughout the Americas, except Canada.
The US marks Columbus Day in October, while in Spain it is called the Fiesta Nacional de España y Día de la Hispanidad and a number of countries in Latin America celebrate it as Día de la Raza.
Reuse content