Of the several things that US Supreme Court Justice Clarence Thomas is known for, one is his extreme reluctance to say anything in court. 
Indeed, just last week, CNN marked the 10th anniversary of the last time Mr Thomas asked a question during oral arguments. 
For those at the Supreme Court in Washington on Monday it was little less than remarkable, therefore, when Mr Thomas, 67, moved in his seat and asked a question of one of the lawyers before him.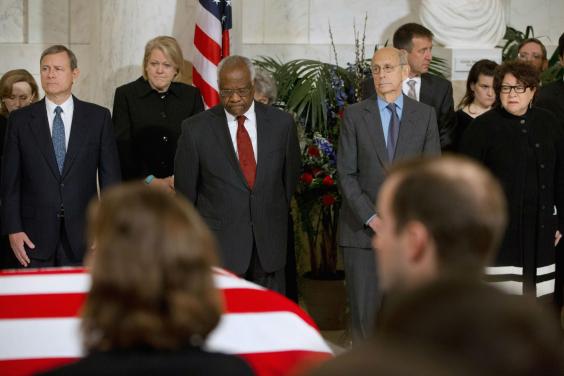 "Can you give me an area [of law] where a misdemeanor violation suspends a constitutional right," Mr Thomas asked of a government lawyer, who was arguing that people convicted of domestic should not be permitted to own firearms.
The Huffington Post reported that Ilana Eisenstein, the assistant solicitor general arguing the case, had asked if anyone had more questions for her. That was when Mr Thomas spoke up. He how long the suspension of Second Amendment rights was for persons prohibited under federal law to possess firearms.
Mr Thomas' question came just weeks after the death of Justice Antonin Scalia, Mr Thomas's ideological soul mate and who had defended his lack of questions.
"No one was more ideologically aligned with Justice Scalia than Justice Thomas, who has historically been reluctant to ask questions at oral argument because he believes his colleagues already do more than enough talking," said Steve Vladeck, a law professor at American University and a CNN contributor.
 "That he's now asking questions - for the first time in over a decade - is as powerful evidence of the impact of Justice Scalia's absence as anything we've seen from the Justices thus far."
Reuse content