President Barack Obama has turned a page in history by promising to restore diplomatic ties with Communist-led Cuba, open a US embassy in Havana and set in train multiple other measures to mend the enmity that has existed between the countries for half a century.
"To the Cuban people, America extends a hand of friendship," the US President declared, in a few words overturning the dictum of isolate-and-destroy that has guided American policy towards its near-neighbour since Fidel Castro imposed Communist rule in 1959 – before Mr Obama was born. "The policy has been rooted in the best of intentions," he offered. "It has had little effect."
The extraordinary rapprochement, which drew instant and fiery rebukes from some Republicans in Florida, came within hours of the release by the Cuban authorities of American aid worker Alan Gross, who was flown to Andrews Air Force Base near Washington, after five years' imprisonment.
Freedom for Mr Gross, 65, was part of a sweeping package of confidence-building measures unveiled jointly by Barack Obama and President Raul Castro in simultaneous statements to their nations. They were the fruit of intensive and secret diplomatic talks over the past year that were in part facilitated by Pope Francis and the Vatican. Even Cuban cigars will become legal vice in America again, within limits.
In pictures: Timeline of US and Cuba relations
In pictures: Timeline of US and Cuba relations
1/19 Cuba timeline

July 1953: Fidel Castro begins a revolutionary campaign against the regime of Cuban President Fulgencio Batista

2/19 Cuba timeline

January 1959: Castro and Che Guevara enter Havana after a successful final offensive. Batista flees, and Castro becomes prime minister, ruling by decree

3/19 Cuba timeline

October 1960: Castro's reforms sees hundreds of US businesses in Cuba nationalised and their owners not compensated. In December, US US breaks off diplomatic relations and imposes a trade embargo

4/19 Cuba timeline

April 1961: Cuban exiles launch the Bay of Pigs invasion with US backing

5/19 Cuba timeline

October 1962: A 13-day confrontation known as the Cuban missile crisis begins when Castro allows the USSR to deploy nuclear missiles on the island. Generally regarded as the closest the world has come to nuclear war

6/19 Cuba timeline

1962: US President John F Kennedy signs off a naval blockade

Getty Images

7/19 Cuba timeline

April 1980: A sharp downturn in the Cuban economy and Castro temporarily lifting restrictions sees around 125,000 people, many of them released convicts, flee to the US

8/19 Cuba timeline

February 1996: Cuba shoots down two US aircraft operated by Miami-based Cuban exiles, prompting the US to make its trade embargo permanent

9/19 Cuba timeline

June 2001: The case of the "Cuban Five" begins, as five spies in Miami are convicted of providing intelligence to the Havana government

10/19 Cuba timeline

Nov 2001: US sells $30m of food to the Cuban government to assist in the aftermath of Hurricane Michelle, which killed 22 people, the first food export between the countries for more than 40 years

11/19 Cuba timeline

Oct 2003: US President George W Bush announces fresh anti-communist measures, including tightening the travel embargo and creating a new government body, the Commission for Assistance to a Free Cuba

12/19 Cuba timeline

Aug 2006: President Bush seizes the opportunity of President Castro's illness and a handover of powers to Raul Castro, urging Cubans to work towards democratic change

13/19 Cuba timeline

Feb 2008: Raul Castro officially takes over as president. Washington responds by saying its trade embargo will remain in force unless free and fair elections are held

14/19 Cuba timeline

Dec 2008: A poll by Florida International University suggests for the first time that a majority of Cuban-Americans living in Miami want an end to the embargo

15/19 Cuba timeline

April 2009: President Obama lifts restrictions on family travel to Cuba

16/19 Cuba timeline

Dec 2009: US aid worker Alan Gross is detained in Cuba on suspicion of spying for Washington

AP

17/19 Cuba timeline

Nov 2010: American Ballet Theatre performs in Cuba for the first time in 50 years, the most high-profile in a series of cultural exchanges

18/19 Cuba timeline

Sep 2012: Cuba hints at its willingness to do a deal with Washington on the Gross case

19/19 Cuba timeline

December 2013: President Obama and Raul Castro shake hands at the memorial service for Nelson Mandela. Castro says in English: "Mr President, I am Castro." It was hailed in Cuba as "the beginning of the end" for what were then described as "US aggressions"
Cuba also agreed to the release of a US "intelligence asset", described by officials as a Cuban-born man imprisoned for 20 years who had been vital to US prosecutions of Cuban spies. In return, the US said it was freeing the three members of the so-called "Cuban Five" who still remained in prison in the US after being convicted in 2001 of illegally acting as foreign agents for Cuba.
President Castro confirmed to the Cuban people that the three prisoners, viewed as heroes of the nation, had also been released and were already on Cuban soil. While acknowledging that the two countries remained at odds in areas like foreign policy and human rights, it was time for them to live with those differences "in a civilised manner".

In his statement from the White House, Mr Obama said he was addressing what he called America's "outdated approach" to the Caribbean nation and paid direct tribute to Pope Francis, who is Argentine. "These 50 years have shown that isolation has not worked. It's time for a new approach". He added it was his intention to "help the Cuban people help themselves as they move into the 21st century".
Mr Obama is constrained, nonetheless, from lifting the economic embargo in its entirety, something that will require a change in the law by the US Congress. While he said he would be engaging with congressional leaders to try to make that happen, he will face opposition. But the steps include easing some of the restrictions on commerce, travel and currency movements.
The delicately choreographed return of Mr Gross – he was accompanied home by Democrat members of Congress and greeted at Andrews by US Secretary of State John Kerry – was the breakthrough that cleared the path for the actions.  It was finalised in a 45-minute telephone conversation between Mr Obama and Mr Castro on Tuesday, the first such US-Cuba presidential conversation since 1961.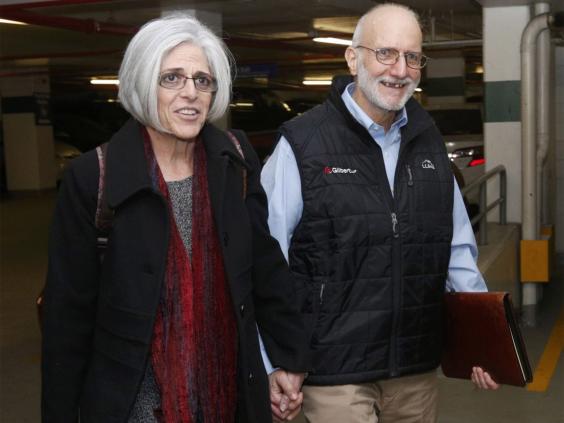 "What a blessing it is to be a citizen of this country," Mr Gross said at a brief news conference in Washington. "Thank you President Obama for everything you've done. Today and before … ultimately my release came from the Oval Office."
Among those declaring hostility to the sweeping initiative was Senator Marco Rubio, a Cuban-American from Florida with possible 2016 presidential ambitions. He said that he would "make every effort" to block it. "The President's decision to reward the Castro regime and begin the path toward normalisation of relations with Cuba is inexplicable," he said.
His comments will be reflective of reaction from old-guard Cubans in Miami who for decades have championed the embargo. Once a political force that few American politicians, including sitting presidents, cared to tangle with, their influence on national and Florida politics has been diminishing. For most younger Cuban-Americans the policy-shift was a cause for celebration.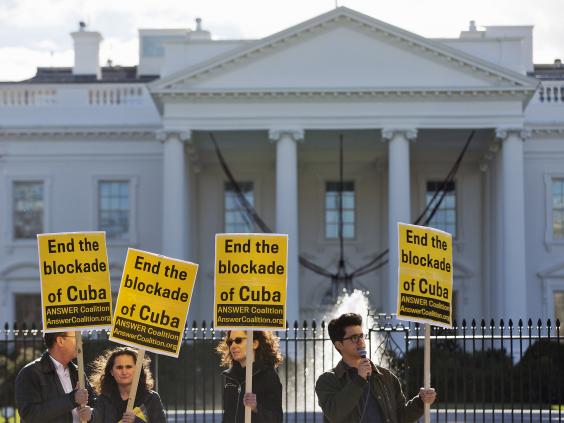 A spokesman for House Speaker John Boehner said the steps were another in a series of "mindless concessions" to dictators. But the incoming Republican chair of the Senate Foreign Relations Committee, Senator Bob Corker, was more restrained in his response. "We will be closely examining the implications of these major policy changes in the next Congress," he said.
While tourist travel to Cuba from the US remains banned, other travel restrictions will be eased thanks to Mr Obama's order, including for family visits and government business and educational activities. Those licensed to go will be able to return to the US with more Cuban goods.  Thus the outright – and infamous – ban on Cuban cigars in the US is lifted, though only a few at a time will be permitted.
Limits on the amount of money Cuban-Americans can send to the island will be relieved. Meanwhile Mr Kerry, who will take the lead for the US in upcoming normalisation talks including for the opening of the embassy, has been instructed to consider lifting the designation of Cuba as a sponsor of terrorism.
Reuse content