Donald Trump has formally nominated Rex Tillerson, CEO of oil and gas multinational ExxonMobil, as his Secretary of State.
Mr Tillerson, 64, emerged as Mr Trump's top pick for the position despite significant criticism for his apparent ties to Russian President Vladimir Putin.
The President-elect made his choice on Monday morning after a weekend of unofficial reports all but confirming the positon. 
In a statement released on Tuesday, Mr Trump said the businessman's "tenacity, broad experience and deep understanding of geopolitics make him an excellent choice for Secretary of State".
"He will promote regional stability and focus on the core national security interests of the United States," Trump said, according to his transition team.
The US Senate needs to approve Mr Tillerson's nomination before he can assume the position, raising the possibility of a confirmation fight sparked by Democrats and some Republicans alarmed by the businessman's good relationship with Mr Putin.
World reaction to President Trump: In pictures
World reaction to President Trump: In pictures
1/29

London, England

AP

2/29

London, England

Reuters

3/29

Manila, Philippines

Getty Images

4/29

Manila, Philippines

Getty

5/29

Mosul , Iraq

Getty

6/29

Manila, Philippines

AP

7/29

New Delhi, India

Reuters

8/29

Karachi, Pakistan

EPA

9/29

Jakarta, Indonesia

Reuters

10/29

Lagos, Nigeria

AP

11/29

Kabul, Afghanistan

AP

12/29

Jerusalem. Israel

Reuters

13/29

Moscow, Russia

Reuters

14/29

Seoul, South Korea

AP

15/29

Lagos, Nigeria

AP

16/29

Peshawar, Pakistan

EPA

17/29

Jakarta, Indonesia

Reuters

18/29

Hyderabad, India

AP

19/29

Kolkata, India

AP

20/29

Sydney, Australia

Getty

21/29

Sydney, Australia

AP

22/29

Aleppo, Syria

Reuters

23/29

Mexico City, Mexico

AP

24/29

Port-of-Spain, Trinidad and Tobago

Reuters

25/29

Jerusalem, Israel

EPA

26/29

Baghdad, Iraq

Rex

27/29

Gaza Strip, Palestinian Territories

Rex

28/29

Tokyo, Japan

Rex

29/29

Mexico City, Mexico

Getty
Mr Tillerson has no diplomatic experience, but he has brokered deals with foreign countries for America's largest energy company, which has operations in dozens of countries, some of them politically volatile or estranged from the US.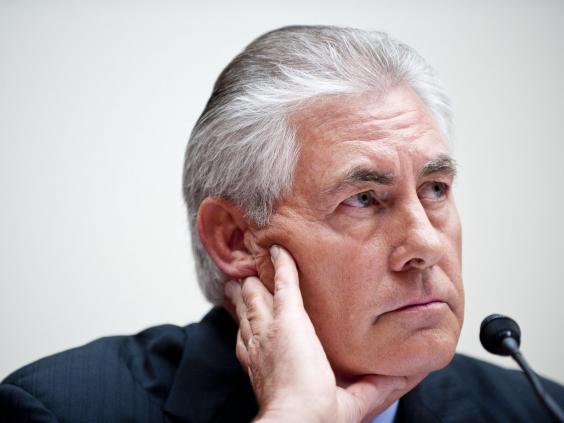 Tillerson negotiated an energy partnership with Russia in 2011. The Russian President said the could be valued at approximatly $500bn. The following year, the Kremlin awarded Mr Tillerson with the Order of Friendship, the country's highest honour for foreign nationals.
Russia faced sanctions after the illegal annexation of Crimea, and thus ExxonMobil had to cease operations in 2014. But the head of the oil giant's Russian operations, Glenn Waller, said the company would return to the project once the sanctions were lifted. Mr Tillerson could certainly expedite the lift of those sanctions as the US's top diplomat.
Mr Tillerson, from Wichita Falls in Texas, has argued against sanctions that the US and European allies imposed on Russia after it annexed the Crimea from Ukraine in 2014.
"If you are trying to lift sanctions on Russia and get back to business with Vladimir Putin, Rex Tillerson would be an excellent choice," former US ambassador to Russia for the Obama administration, Michael McFaul, told BuzzFeed News.
He also has backed free trade and an expansive US presence in the Middle East, stances at odds with the more isolationist approach Mr Trump has pitched to his supporters.
The career Exxon employee joined the company after graduating from the University of Texas in 1975 with an engineering degree.
He spent years in oil production, working in Exxon's central US, Yemen and Russian operations, and was groomed for an executive position.
Top Republican Sen John McCain called for the examination of Mr Tillerson's  relationship with Russian President Vladimir Putin. 
"I believe that Vladimir Putin is a thug and a bully and a murderer," he told reporters, "and I believe the relationship between Mr Tillerson and Vladimir Putin needs to be examined."
"[Mr Tillerson] will be a forceful and clear-eyed advocate for America's vital national interests, and help reverse years of misguided foreign policies and actions that have weakened America's security and standing in the world," Mr Trump said in his statement.
Mr Tillerson said he shared the President-elect's "vision for restoring the credibility of the United States' foreign relations and advancing our country's national security."
In a tweet, Mr Trump added: "I have chosen one of the truly great business leaders of the world, Rex Tillerson, Chairman and CEO of ExxonMobil, to be Secretary of State."
The CIA recently concluded with "high confidence" that Russia sought to influence the US election on behalf of Trump, raising red flags among lawmakers concerned about the sanctity of the voting system and potentially straining relations at the start of Trump's administration. 
Additional reporting from agencies
Reuse content