The world's most-wanted drug lord, Joaquin "El Chapo" Guzman, is reported to be suffering from injuries to his leg and face after evading an arrest attempt by Mexican security forces.
Guzman, the kingpin of the Sinalo drug cartel, was hiding at a ranch near Cosala in the rugged mountains in western Mexico, according to US media reports.
Mexcian marines, working with US drug agents, raided the ranch in helicopters but were forced to turn back after coming under fire. Marines then entered the camp on foot, but Guzman and his accomplices had already fled on ATVs.
In a statement, the Mexican government said it had worked with international agencies to capture Guzman. It said: "As a result of these actions, and to avoid his capture, in recent days, the fugitive engaged in a hasty retreat which, according to the information received, caused him injuries to one leg and the face… It's important to clarify that these injuries were not a product of a direct clash."
Guzman was listed by Forbes magazine as Mexico's 11th-richest man and one of the most powerful people in the world not long before his arrest in 2014.
Eduardo Nevarez, a 47-year-old farmer, watched the attack from a distance in the nearby village of La Calera. He told the LA Times: "We thought it was better for us to get out or they were just going to kill us right there in our home."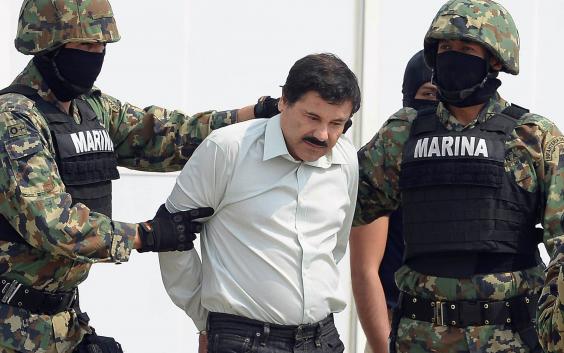 In July this year Mexican authorities were left embarrassed after Guzman escaped from a maximum security prison in Altiplano through a specially dug tunnel. 
A video of the fugitive's escape was made public on Thursday and loud hammering noise can be heard on the footage before Guzman slips through a hole in the cell floor into a tunnel beneath the prison.