The onset of autumn in the Pocono Mountains is mixed news for the hundreds hunting for Eric Frein, a survivalist accused of killing a local police officer in September who has since vanished into the forest. The falling leaves will make tracking even him harder but bring hope he might now be spotted from the sky.
More than six weeks after he allegedly picked out and killed State Trooper Bryon Dickson, 38, with a sniper rifle outside a police barracks and seriously wounded another officer who rushed to help, Mr Frein is still eluding capture. On Monday the police tried a Blimp in a Box, a giant balloon fitted with cameras that will be their eye in the sky as they try to close in on their quarry.
The capture of Mr Frein, 31, whose skill at surviving in the wild has drawn comparisons with Rambo, could not come soon enough – for the officers who have been scouring the woods since the 12 September shootings and for residents of the communities scattered through the search area, a picturesque pocket of northeastern Pennsylvania popular with tourists and weekend skiers.
Little else matters to the people of the Poconos who must live with Swat teams in camouflage tramping across the land with dogs, helicopters with thermal-imaging kit hovering overhead and news vans clogging the roads. Then there has been the intermittent closing of schools when someone thinks they might have seen him nearby. As well as all the inconvenience, there is also the not knowing whether he will strike again.
It is also hurting the local economy. Game hunting across the area has been banned for the season or for as long as Mr Frein remains on the loose. "That is a really big deal," John Jukes, whose family owns land right in the middle of the search area, explained. "Hunting is a huge thing in the area".
Mr Jukes says that while everyone understands that much of the forest is extremely dense and the work is therefore difficult, they are nonetheless "stunned" that Mr Frein has been able to stay ahead of the police for so long. "It does put a strain on people. At this point they just want it to be over."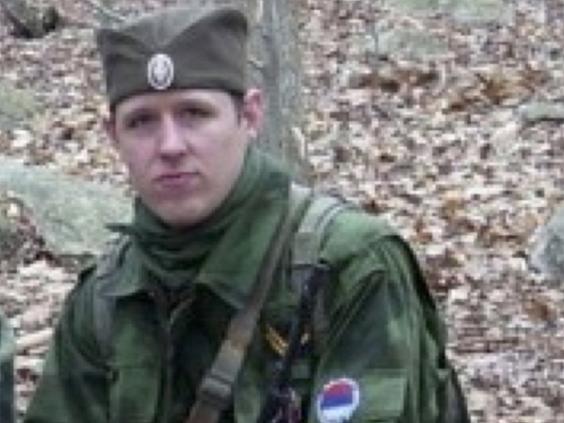 Investigators believe that Mr Frein harbours an anti-government agenda and that the shooting of a State Trooper at the county barracks and his subsequent disappearance into the woods may have been long in the planning. Mr Frein is thought to have stockpiled rations, including boil-in-the-pot noodles, in secret forest bunkers.
It's Mr Frein's intimate knowledge of the local countryside that has led investigators to surmise that he has not slipped through their net and remains close at hand. He, in the meantime, has occasionally left a trail of items for them to follow, almost as if he is trying to tease them, including stubs of a brand of cigarettes imported from Serbia and a used nappy, or diaper, suggesting he is taking his survivalist methods to far extremes. The latter has led him being called the Diaper Sniper.
But as the police move through the land searching for possible hiding places, they also know that he may be targeting them. Among other things found by police have been two fully-rigged pipe bombs that could have been fitted with a trip wire. The discovery raised fears that he may also have booby-trapped where he is hiding.
Also uncovered was what appeared to be a personal diary with a chilling description by Mr Frein of the killing of Officer Dickson. "I got a shot around 11 pm and took it," police say he wrote. "He dropped, I was surprised at how quick. I took a follow up shot on his head and neck area. He was still and quiet after that..? Another cop approached the one I just shot. As he went to kneel, I took a shot at him and then [he] jumped in the door. His legs were visible and still."
On Monday night, a local elementary school put on a special Halloween concert as a tribute to the local State Trooper division and to Officer Dickson. Among the teachers who helped organise it was Jennifer Mercereau.
"I think they're doing an absolutely wonderful job given what they are," she told a local TV news station.
"I know there have been fugitives on the run for many years and I do believe the change in weather will play a huge factor in them getting… getting their guy."
Reuse content