For so long, many of the exiles believed they would go back to Cuba in battle gear. They would vanquish Fidel Castro by any means necessary. "Next year in Cuba!" they would say when making a toast. Some trained in the Florida Everglades for the invasion that would surely liberate their homeland from the Communists.
"Unfortunately, those who trained in the Seventies and Eighties for an invasion, now they have to use a walker," Tomas Regalado Jnr said.
He is the Mayor of Miami and 67 years old, one of the many Cuban Americans for whom Mr Castro's revolution has been a multigenerational existential crisis.
Mr Regalado last saw Cuba when he was a boy, in 1962. He was put on a plane to Miami, supposedly a temporary measure while his parents stayed to fight Castro. His father, a journalist, spent two decades as a political prisoner. Father and son reunited in 1980 when Tomas Jnr was already a grown man with a wife and children. The Mayor said he would go back to the island only if the country became fully free and democratic, and he doubted it would happen in his lifetime.
In pictures: Timeline of US and Cuba relations
In pictures: Timeline of US and Cuba relations
1/19 Cuba timeline

July 1953: Fidel Castro begins a revolutionary campaign against the regime of Cuban President Fulgencio Batista

2/19 Cuba timeline

January 1959: Castro and Che Guevara enter Havana after a successful final offensive. Batista flees, and Castro becomes prime minister, ruling by decree

3/19 Cuba timeline

October 1960: Castro's reforms sees hundreds of US businesses in Cuba nationalised and their owners not compensated. In December, US US breaks off diplomatic relations and imposes a trade embargo

4/19 Cuba timeline

April 1961: Cuban exiles launch the Bay of Pigs invasion with US backing

5/19 Cuba timeline

October 1962: A 13-day confrontation known as the Cuban missile crisis begins when Castro allows the USSR to deploy nuclear missiles on the island. Generally regarded as the closest the world has come to nuclear war

6/19 Cuba timeline

1962: US President John F Kennedy signs off a naval blockade

Getty Images

7/19 Cuba timeline

April 1980: A sharp downturn in the Cuban economy and Castro temporarily lifting restrictions sees around 125,000 people, many of them released convicts, flee to the US

8/19 Cuba timeline

February 1996: Cuba shoots down two US aircraft operated by Miami-based Cuban exiles, prompting the US to make its trade embargo permanent

9/19 Cuba timeline

June 2001: The case of the "Cuban Five" begins, as five spies in Miami are convicted of providing intelligence to the Havana government

10/19 Cuba timeline

Nov 2001: US sells $30m of food to the Cuban government to assist in the aftermath of Hurricane Michelle, which killed 22 people, the first food export between the countries for more than 40 years

11/19 Cuba timeline

Oct 2003: US President George W Bush announces fresh anti-communist measures, including tightening the travel embargo and creating a new government body, the Commission for Assistance to a Free Cuba

12/19 Cuba timeline

Aug 2006: President Bush seizes the opportunity of President Castro's illness and a handover of powers to Raul Castro, urging Cubans to work towards democratic change

13/19 Cuba timeline

Feb 2008: Raul Castro officially takes over as president. Washington responds by saying its trade embargo will remain in force unless free and fair elections are held

14/19 Cuba timeline

Dec 2008: A poll by Florida International University suggests for the first time that a majority of Cuban-Americans living in Miami want an end to the embargo

15/19 Cuba timeline

April 2009: President Obama lifts restrictions on family travel to Cuba

16/19 Cuba timeline

Dec 2009: US aid worker Alan Gross is detained in Cuba on suspicion of spying for Washington

AP

17/19 Cuba timeline

Nov 2010: American Ballet Theatre performs in Cuba for the first time in 50 years, the most high-profile in a series of cultural exchanges

18/19 Cuba timeline

Sep 2012: Cuba hints at its willingness to do a deal with Washington on the Gross case

19/19 Cuba timeline

December 2013: President Obama and Raul Castro shake hands at the memorial service for Nelson Mandela. Castro says in English: "Mr President, I am Castro." It was hailed in Cuba as "the beginning of the end" for what were then described as "US aggressions"
Yet no one really knows anything for sure now. So much changed at midday on Wednesday, when Barack Obama stunned Miami's Cuban Americans by announcing the restoration of diplomatic relations with Cuba. Suddenly "next year in Cuba" isn't as implausible as it was a week ago.
The exile generation is not about to forgive the actions of the Castro regime, now led by Fidel's younger brother, Raul. Disputes over private property continue; many exiles were elites on the island and have filed legal claims over property seized by the communists.
Many older exiles view Mr Obama's actions as an appeasement and believe recognition of the Castro government will tighten the Communist grip on an oppressed populace. "Horrible. Horrible. What he did was repulsive," Ana Maria Lamar, 70, who left Cuba in 1970, said the day after Mr Obama's announcement. "Obama said Castro was no longer a terrorist. Come on!"
Miami has evolved, though, and the most prominent exile organisation, the Cuban American National Foundation (CANF), conspicuously greeted Mr Obama's announcement with mild expressions of concern but no condemnation.
"It's been gut-wrenching. It has reopened wounds in this community," Jorge Mas, the chairman of CANF, said. But then he pointed out the window of his 12th-floor office, which looks straight down SW 8th Street – Calle Ocho – to the Versailles restaurant, a landmark gathering place for Cuban exiles.
"Look at the reaction two days ago – 20 people there, protesting," he said. "[In] Hialeah, there were celebrations. Our community has changed. I never say it is divided. It has just changed.
"There are 15 to 20,000 people arriving every year who have a different life experience than my parents' generation."
People are calling him, dismayed, furious, heartbroken by the diplomatic thaw. He tries to calm them. He agrees that the diplomatic move gives Raul Castro a stature he does not deserve, but he sees positive elements in the change in policy. For example, changes in telecommunications policies will give Cubans on the island greater access to the internet.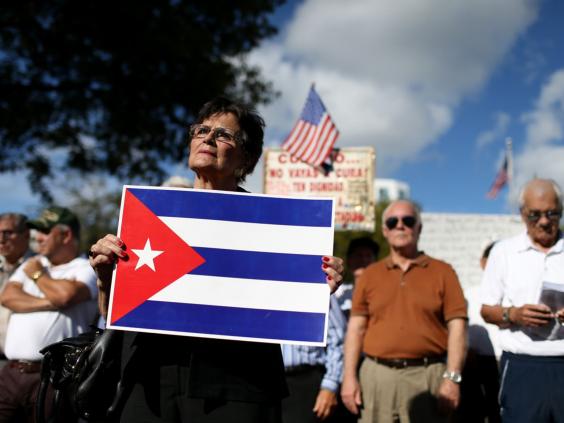 "Our tactics have to change, but the endgame doesn't change," Mr Mas said. "Ultimately, what I tell all of them is that we will prevail. We will soon be witnessing a free and democratic Cuba."
Mr Mas is 51 and was born in the US. His father was Jorge Mas Canosa, a co-founder and the chairman of CANF, and a man who under certain circumstances might have returned to the island as president of a post-Castro Cuba. The elder Mr Mas died in 1997. It was around 1995 or 1996 he realised that there would not be a sudden collapse of the Castro government, his son said.
The co-founder and president of CANF, Francisco "Pepe" Hernandez, 78, remembers travelling to Moscow with Mr Mas Canosa in December 1991, after the Communist bloc had disintegrated. Leaders of the new Russian Federation were eager to meet with the anti-Castro exiles, and they told Hernandez and Mr Mas Canosa: "Cuba is going to be next."
But Cuba wasn't next. Despite the disappearance of the Soviet Union as his patron, and despite the continued US embargo, Fidel Castro hung on to power. In 2006, ailing, he passed control of the government to his brother, Raul.
Mr Hernandez, like the Mayor, doesn't expect to go back to Cuba unless the Castros are completely gone. And the Cuban government certainly would not welcome him: he said he's considered a terrorist because of his decades of anti-Castro activism. The rapprochement between the US and Cuba caught him by surprise.
"Fidel Castro must be dead, in a coma or completely absent from reality," Mr Hernandez said. 
© Washington Post
Reuse content