The US has dropped the "mother of all bombs" - the largest non-nuclear weapon ever used in combat by the US military - on an area of eastern Afghanistan known to be populated by Isis-affiliated militants.
The Pentagon said the strike was the first time the 21,000lb weapon had been used in combat operations.
A spokesperson for the US Department of Defence confirmed to The Independent that a MC-130 aircraft dropped a GBU-43 bomb at 7pm local time.
The weapon is known in the US Air Force by its nickname MOAB, or "mother of all bombs". MOAB stands for massive ordnance air blast.
Pentagon spokesman Adam Stump said the bomb was dropped on a cave complex believed to be used by fighters affiliated to Isis in the Achin district of Nangarhar, close to the border with Pakistan.
The mission had been in the planning stages for months, the Pentagon said in a separate statement. However, they "did not have the information" on whether the mission was being planned during the previous Obama administration.
US Army General John W Nicholson, commander of the country's forces in Afghanistan, said in a written statement that the strike was designed to minimise the risk to Afghan and US forces conducting clearing operations in the Achin area "while maximising the destruction" of Isis fighters and facilities. He said Isis has been using improvised explosive devices, bunkers and tunnels to strengthen its defences.
White House press secretary Sean Spicer said the US had used a "large, powerful and accurately-delivered weapon" to disrupt the movements of militants in the country. 
Afghanistan: Between Hope and Fear
Afghanistan: Between Hope and Fear
1/16 2001

Afghans at the Killi Faizo refugee camp desperately reach for bags of rice being handed out to the thousands who escaped the bombardment in southern Afghanistan during Operation Enduring Freedom. (Chaman, Pakistan, December 4, 2001)

Paula Bronstein

2/16 2002

Mahbooba stands against a bullet-ridden wall, waiting to be seen at a medical clinic. The seven-year-old girl suffers from leishmaniasis, a parasitical infection. (Kabul, March 1, 2002)

All photos Paula Bronstein

3/16 2003

A mother and her two children look out from their cave dwelling. Many families who, fleeing the Taliban, took refuge inside caves adjacent to Bamiyan's destroyed ancient Buddha statues now have nowhere else to live. (Bamiyan, November 19, 2003)

Paula Bronstein

4/16 2007

Students recite prayers in a makeshift outdoor classroom in the Wakhan Corridor, a mountainous region in northeastern Afghanistan that extends to China and separates Tajikistan from India and Pakistan. (Northeastern Afghanistan, September 2, 2007)

Paula Bronstein

5/16 2007

Bodybuilders in the 55-60 kg category square off during a regional bodybuilding competition. Many Afghan men, like others around the world, feel that a macho image of physical strength is important. (Kabul, August 6, 2007)

Paula Bronstein

6/16 2008

A woman in a white burqa enjoys an afternoon with her family feeding the white pigeons at the Blue Mosque. (Mazar-e-Sharif, March 8, 2008)

Paula Bronstein

7/16 2009

Addicts inject heroin while trying to keep warm inside the abandoned Russian Cultural Center, which the capital city's addicts use as a common gathering point. Heroin is readily available, costing about one dollar a hit. (Kabul, February 9, 2009)

Paula Bronstein

8/16 2009

An elderly man holds his granddaughter in their tent at a refugee camp after they were forced to flee their village, which US and NATO forces had bombed because, they claimed, it was a Taliban hideout. (Surobi, Nangarhar Province, February 7, 2009)

Paula Bronstein

9/16 2009

Seven-year-old Attiullah, a patient at Mirwais Hospital, stands alongside an X ray showing the bullet that entered his back, nearly killing him. Attiullah was shot by US forces when he was caught in a crossfire as he was herding sheep. (Kandahar, October 13, 2009).

Paula Bronstein

10/16 2010

US Army Sargeant Jay Kenney (right), with Task Force Destiny, helps wounded Afghan National Army soldiers exit a Blackhawk helicopter after they have been rescued in an air mission. (Kandahar, December 12, 2010)

Paula Bronstein

11/16 2010

An Afghan National Army battalion marches back to barracks at the Kabul Military Training Center. (Kabul, October 4, 2010)

Paula Bronstein

12/16 2014

Eid Muhammad, seventy, lives in a house with a view overlooking the hills of Kabul. He and millions of other Afghans occupy land and housing without possessing formal deeds to them. (Kabul, November 21, 2014)

Paula Bronstein

13/16 2014

Razima holds her two-year-old son, Malik, while waiting for medical attention at the Boost Hospital emergency room. (Lashkar Gah, Helmand Province, June 23, 2014)

Paula Bronstein

14/16 2014

Young women cheer as they attend a rally for the Afghan presidential candidate Ashraf Ghani. (Kabul, April 1, 2014)

Paula Bronstein

15/16 2014

Burqa-clad women wait to vote after a polling station runs out of ballots. (Kabul, April 5, 2014)

Paula Bronstein

16/16 2015

Relatives, friends, and women's rights activists grieve at the home of Farkhunda Malikzada, who was killed by a mob in the center of Kabul. Farkhunda was violently beaten and set on fire after a local cleric accused her of burning a Qur'an. (Kabul, March 22, 2015)

Paula Bronstein
"This is the right munition to reduce these obstacles and maintain the momentum of our offensive against Isis," General John Nicholson, the head of US and international forces in Afghanistan, it said in a statement. 
Though the Pentagon confirmed to The Independent that the "signoff" went up to General Joseph Votel, commander of US Central Command, they could not say whether the order went all the way up to the White House.
A source said Donald Trump may have authorised the use of the bomb but he does not have to. There has been no official confirmation of the President's involvement in the strike.
Central Command approval was required because the MOAB had to be moved across theatres to prepare for the mission.
Mr Spicer avoided answering any questions on whether Mr Trump was involved in the bombing, instead deferring to the Department of Defence.
The cargo aircraft used to drop the bomb was already located in Afghanistan prior to the mission.
There have been no assessments of civilian deaths as yet and it was not immediately clear how much damage the bomb did.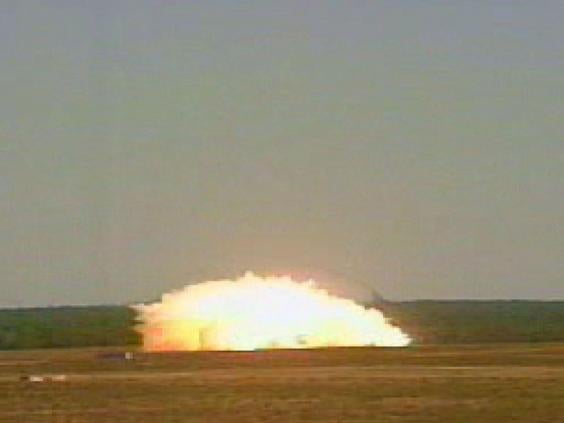 The 'mother of all bombs' was developed and tested shortly before the 2003 Iraq war.
Retired Lt. Col. Rick Francona told CNN the blast would "feel like a nuclear weapon to anyone near the area".
Veteran General Mark Hertling told the broadcaster the "Air Force must have had a good target...normally smaller artillery could have been used".
The remote border area with Pakistan has been known as a breeding ground for an Isis affiliate called IS Khorosan.
A source told The Independent that the affiliations and aims of militant groups located in the Nangarhar border area changed regularly, and it was not possible to say exactly which group may have been targeted.
Reuse content