Barack Obama has made an emotional plea for his plan to increase background checks for buyers of firearms over the internet and at gun shows.
Wiping away tears that at times streamed down his face during the address in the White House East Room, the US President said current exceptions did not make sense.
"We've created a system in which dangerous people are allowed to play by a different set of rules," he said.
Mr Obama said the new guidance is "not a plot to take away everyone's guns."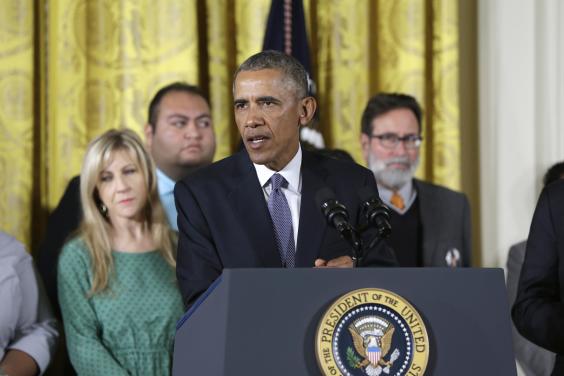 "I believe we can find ways to reduce gun violence in ways consistent with the Second Amendment."
The president has been critical of a Congress that has steadfastly refused to introduce new gun regulations over the years, despite 84 per cent of Americans saying they support background checks for gun purchases, according to research by Quinnipiac University.
Given Congress's intransigence, Mr Obama said he would use his executive authority to bypass the body.
School and University mass shootings in America
School and University mass shootings in America
1/12 Craghead County, Arkansas - 24 March, 1998

Students Mitchell Johnson,13, and Andrew Golden, 11, killed four students and one teacher, wounding ten others at Westside Middle School

Reuters

2/12 Springfield, Oregon - 21 May 1998

After killing his parents at home, 13- year-old Kip Kinkel drove to Thurston High School where he shot and killed two students and a teacher at a school dance, wounding 23 others.

Getty

3/12 Columbine, Colorado - 20 April 1999

Eric Harris, 18, and Dylan Klebold, 17, killed twelve students and one teacher at Columbine High School. They wounded 23 others before committing suicide.

Getty

4/12 Santee, California - 5 March 2001

Charles Andrew Williams, 15, opens fire on at Santana High School, killing two students and wounding thirteen others.

Getty

5/12 Red Lake, Minnesota - 24 September 2005

Jeffrey Weise, 16, kills his grandfather before driving to Red Lake Senior High School. He proceeded to shoot and kill five students, one teacher and security guard before committing suicide. Seven others were wounded.

Getty

6/12 Nickel Mines, Pennsylvania - 2 October 2006

Charles Carl Roberts IV,a 32-year-old milk truck driver, shot to death five Amish girls and wounded five more in an Amish school in the hamlet of Nickel Mines before committing suicide.

Getty

7/12 Blacksburg, Virginia - 16 April 2007

Seung-Hui Cho, 23, shot and killed 32 students and faculty members and wounded 17 others at Virgina Tech University. It is the deadliest attack by a lone gunman in US history.

Getty

8/12 DeKalb, Illinois - 14 February 2008

Steve Kazmierczak, 27, killed 6 and wounded 21 at Northern Illinois University before committing suicide.

Getty

9/12 Oakland, California - 2 April 2012

Gunman One L. Goh, 43, shot shot and killed seven students in a classroom at Oikos University, a small Christian college. Goh was deemed unfit for trial in January 2013 after being diagnosed with paranoid schizophrenia.

Getty

10/12 Newtown, Connecticut - 14 December 2012

Adam Lanza, 20, killed 26 people at Sandy Hook Elementary School. He first killed his mother before taking her guns and driving to the school. He killed 20 children in the first grade along with six adults before killing himself.

Getty

11/12 Santa Monica, California - 7 June 2013

John Zawahri, 23, shot and killed five people on, or near, the campus of Santa Monica College.

Getty

12/12 Isla Vista, California - 23 May, 2014

22 year-old-Elliott Rodger went on a stabbing and shooting rampage just outside of the main campus of University of California, Santa Barbara. He killed 7 people and wounded 13 more.

Getty
At the centerpiece of Mr Obama's plan is a more sweeping definition of gun dealers that the administration hopes will expand the number of sales subject to background checks. 
President Obama's executive orders will do nothing to improve public safety. #2A #fact

— NRA (@NRA) January 5, 2016
The Associated Press said that under current laws, only federally licenced gun dealers must conduct background checks on buyers. But at gun shows, on websites and at flea markets, sellers can often skirt that requirement by declining to register as licensed dealers.
Mr Obama became most emotional when speaking about the 20 children killed at Sandy Hook school in the 2012 mass shooting in Newtown, Connecticut.
"Every time I think about those kids it gets me mad. And by the way, it happens on the streets of Chicago every day," he said.
"So all of us need to demand that Congress be brave enough to stand up to the gun lobby's lies.
"The gun lobby may be holding Congress hostage right now, but they can't hold America hostage."
Mr Obama outlined new moves that would improve background checks and tighten the enforcement of rules.
"Instead of thinking how to solve the problem, this has become one of our most polarised, partisan debates," he said. "We do need to feel a sense of urgency about it."
Opponents were quick to criticise the measures. Republican candidate Jeb Bush said: Frankly the protection of the second amendment keeps us safe, and keeps us strong. We should do everything we can do to enhance that right.
"Law abiding citizens that are trained to protect themselves creates a safer America There's evidence to this in every possibly way but it reeks of common sense as well."
The NRA said in a tweet that Mr Obama's new steps would do nothing to improve gun safety.
Reuse content