It wasn't clear whether it was his moustache, sweater, friendly manner or name that made it happen. But by the end of the second presidential debate, the US had a new hero: Kenneth Bone.
And there is far more to the man in a red fleece than the American public ever knew, it has emerged. Behind the questions about energy and the trademark moustache, Mr Bone is a man of many interests: olive suits and disposable cameras.
During a night marked by what is the most divisive presidential debate ever to happen, Mr Bone stepped up to ask a question of Donald Trump and Hillary Clinton. He asked the candidates about their energy policies – and in doing so became the hero of what by all accounts was not a heroic evening.
"What steps will your energy policy take to meet our energy needs while at the same time remaining environmentally friendly and minimizing job loss for fossil power plant workers?" asked Mr Bone, who was referred to as Ken by moderator Anderson Cooper.
US election 2016: the race for the White House in pictures
US election 2016: the race for the White House in pictures
1/12

Republican U.S. presidential nominee Donald Trump shakes hands with Democratic U.S. presidential nominee Hillary Clinton at the conclusion of their first presidential debate at Hofstra University in Hempstead, New York

Reuters

2/12

President Barack Obama embraces Democratic nominee Hillary Clinton on stage at the party's convention in Philadelphia

3/12

Donald Trump's wife Melania delivered a speech at the GOP convention in Cleveland that was later found to have been cribbed in part from Michelle Obama's 2008 convention address

AP

4/12

Hillary Clinton talks to reporters aboard her new campaign plane on Labour Day, 5 September, her first 'press conference' since 2015

(Getty Images)

5/12

Donald Trump held a joint press conference with Mexican leader Enrique Pena Nieto in Mexico City in August, hours before reiterating his harsh immigration plans at a campaign rally in Arizona

Reuters

6/12

Bernie Sanders officially endorsed Hillary Clinton, saying his progressive vision for 'a transformed America' would be 'best served by the defeat of Donald Trump'

Reuters

7/12

Khizr and Gazala Khan appeared at the DNC to slam Trump for his stance on Muslim immigration, citing the case of their son Humayun Khan, who was killed in combat while serving as a Captain in the US Army in Iraq

8/12

Libertarian candidate Gary Johnson is doing better in polls than any third party candidate since Ross Perot, 20 years ago

Nicholas Kamm/AFP/Getty

9/12

Green Party candidate Jill Stein (centre) marches with supporters in Colorado

AP

10/12

Hillary Clinton and Virginia Senator Tim Kaine at a rally in Kaine's home state in July, days before Ms Clinton tapped him to be her running mate

Getty

11/12

Trump on the campaign trail with his vice presidential pick, Indiana governor Mike Pence

AP

12/12

Former Ukip leader Nigel Farage appears at a Trump rally in Mississippi in August, where he told the crowd that he 'wouldn't vote for Hillary Clinton if you paid me'.
But it didn't appear to be his question that won around the American and now international public. It was far more his entirely uncynical manner – asking a question with genuine interest – as well as apparently his name.
Since then, he has been tweeted about tens of thousands of times – far, far more than Justice Scalia, for instance, whose death has ignited one of the central arguments of the presidential election. And he has inspired a number of Facebook pages, many with thousands of fans of their own.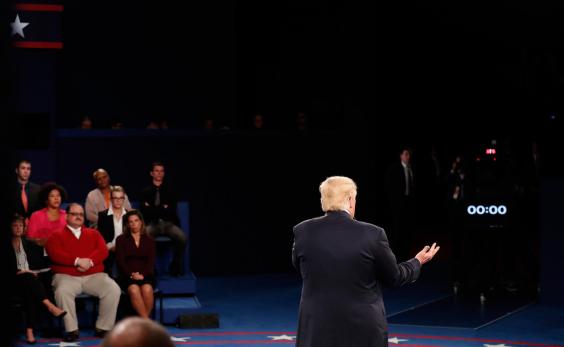 Mr Bone has said that he didn't even mean to wear the red sweater that has become his trademark, and appears to have contributed towards his new-found stardom. Instead, he'd been planning to wear an olive suit – but because of some recent weight gain, he split the trousers, and so instead swapped for his now famous woolen jumper.
Mr Bone is continuing to wear that sweater in his media appearances on the day after the debate, recognising that it has accidentally become his trademark.
He said that he recognised that the moustache was a large part of his appeal. CNN's Carol Costello read him a tweet arguing that he had become a meme because of a combination of "33% confidence, 33% calming demeanor, 33% hugability, 1% power stache."
The moustache deserved more credit, he said. "But I'm glad it got on the list."
Mr Bone said that he had headed to the debate "leaning very heavily" towards Donald Trump. But as he watched the debate he became more impressed with Hillary Clinton, he said.
That experience had made him even more undecided than ever, he said.
(An earlier version of this article, as well as a number of other outlets, referred to Mr Bone's Facebook page. That is in fact another Kenneth Bone from St Louis, who looked almost identical but confirmed that it wasn't him who'd asked the question – writing that "everyone has an evil twin somewhere".)
A Twitter account that does appear to the real Ken Bone indicated that he was from Belleville, Illinois. Before the debate, his account had seven followers – two of which were his grandparents – he said, but now it has over 7,000 and is quickly growing.
The only tweet posted from that account before the debate was a message to Ariana Grande, telling her not to worry about the effects of people who looked to discredit her.
The two public tweets that he has since sent referred to his wife. He first replied to a tweet suggesting his mother had dressed him, and wondering whether she knew he would become a living meme, to say that it was his wife but that she had apparently anticipated his going viral. He then replied to another message saying that his partner is "probably [...] hot", by confirming that he thinks so: "Yeah he does", he wrote.
Mr Bone's moment of fame at the debate didn't end at the close of his question, though. In the post-debate punditry, the TV cameras showed people getting together in the room to chat as they left.
In that melee, Mr Bone could be seen snapping a photo of the room on a disposable camera which he had to bring because no electronic devices were allowed into the room, he said on Twitter. He then left the studio.
Reuse content