The former boyfriend of a worker at Universal Studies fatally shot himself inside the Hollywood theme park yesterday.
Police in Los Angeles were called to the scene at around 2PM after park security officers were contacted by a waitress at Mel's Diner, a restaurant at the theme park.
She is reported to be the man's ex-girlfriend.
The man, whose name has not been released, had two restraining orders that barred him from contacting the woman, with whom he is said to have a child, and was approached by officers as he sat in the smoking area next to the "Despicable Me Minion Mayhem" ride.
A police officer asked the man to stand up and attempted to persuade him not to hurt himself. The man then pulled out a gun and shot himself, the Associated Press reported.
He had reportedly previously vandalised his ex-partner's car in the theme park's car park Los Angeles.
County Sheriff's Lt. Eddie Hernandez said: "She had a restraining order against him, and today she saw him outside the restaurant and she alerted security."
Hernandez said that security tracked the man to an area near to the Despicable Me ride.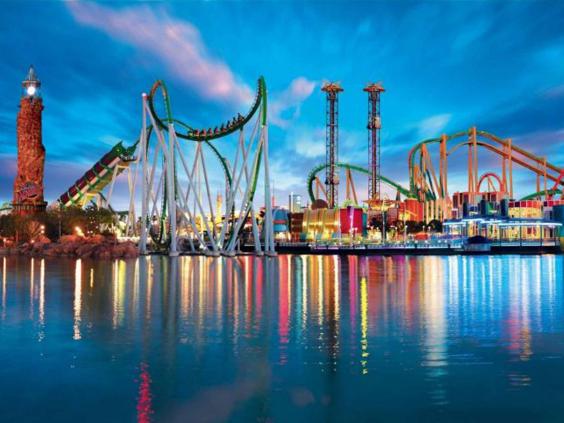 "The man then pulled out a gun from the small of his back or his back pocket," said Hernandez, and proceeded to shoot himself.
Universal Studios, which received in excess of six million visitors last year, remained open for the rest of the day whilst investigators were speaking to staff about the incident.
A spokesman for the theme park said: "The safety and security of our guests is always of the utmost importance."
Park security searches the belongings of guests but do not generally use metal detector wands, which was how the man was able to bring the gun into the park, according to Hernandez.
Additional reporting by AP
Reuse content