A week of protests has seen the residents of Ferguson – a suburb of the city of St Louis – express their anger at racial profiling, police brutality and the clampdown on recent demonstrations.
Stories of Molotov cocktails being slung at police, who in turn lob back flash grenades and tear gas, has left a community reeling.
The unrest was sparked by the 9 August death of 18-year-old Michael Brown, a black teenager fatally shot by police after what officers say was an altercation.
An autopsy found that he was shot six times – twice in the head – with eye-witnesses claiming that the teenager had had his hands above his head at the time he was killed.
Most of the protesting has been non-violent, with residents congregating almost immediately after Brown's death shouting "Don't shoot me" and "No Justice! No Peace".
Impassioned demonstrators have created heart-felt and poignant signs to supplement their chants in Ferguson and elsewhere, after protests erupted in other US cities in solidarity.
Here are some of the best signs:
A protestor holding a sign saying "praying for the lives of my unborn sons" @HowardU #Ferguson #HowardUniversity pic.twitter.com/ibDLYGc3EG

; Erykah Badont. (@VikkieNotVicky) August 15, 2014
Wow pic.twitter.com/ST8dXdL6yG

; Jaz (@JazmineJanay) August 14, 2014
This dude won sign of the decade. #ferguson pic.twitter.com/Te2asxQ0GU

; PhillyCustoms (@PhillyCustoms) August 19, 2014
This is probably the greatest thing I've seen so far #NMOS14 pic.twitter.com/GBLaGMe4p5

; cody (@codyives) August 15, 2014
Diverse group out at #NMOS14 in #NYC pic.twitter.com/gIOnqlozDn

; RT America (@RT_America) August 14, 2014
Great sign tonight at Columbia #Ferguson protest: "The revolution won't be televised. It will be tweeted." #NMOS14 pic.twitter.com/vNtlYxIMHE

; Allen Wallace (@allenwallace) August 15, 2014
Hoodies up, hands up, guns down. #NMOS14 #Ferguson Union Square pic.twitter.com/hXi9B1Ohu4

; Lainna Fader (@lainnafader) August 15, 2014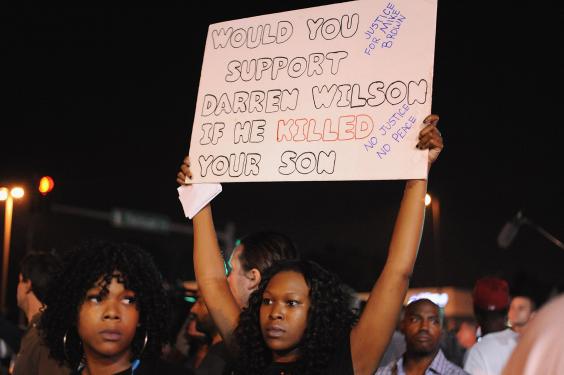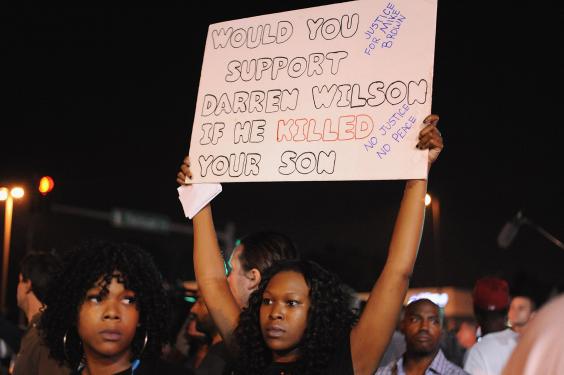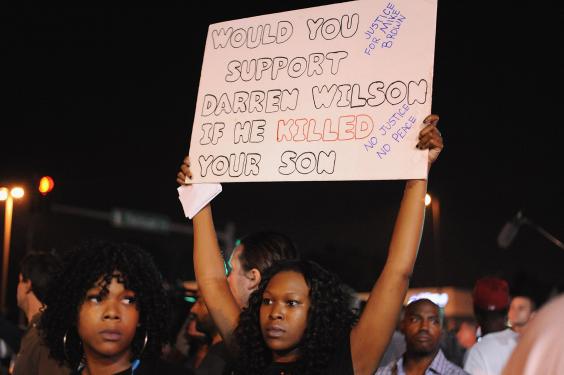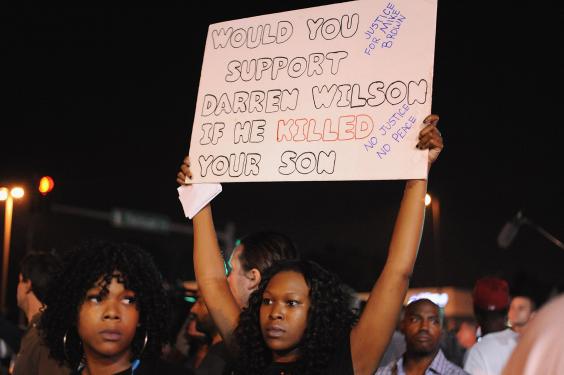 Meanwhile, a crowdfunded campaign to keep the children of Ferguson fed while the turmoil continues has attracted donations of $72,000 (£43,200).
Video: Police fire tear gas at protesters 
School teacher Julianna Mendelsohn, 33, said that when she found out that school had been cancelled for several days she became worried for the "students in households with food instability".
"Many children in the US eat their only meals of the day, breakfast and lunch, at school. With school out, kids are undoubtedly going hungry," she said.
The money will go to the St Louis Area Foodbank.