Five people have been killed and a state of emergency declared after a towering "wall of snow" buried parts of western New York yesterday.
The fifth death was reported today after the body of a 46-year-old man was found in a car in Erie County, which includes Buffalo.
County officials confirmed yesterday that there had been four snow storm-related deaths. One of the four people was killed in a traffic accident and the three others died after suffering heart problems, two of whom were believed to have been shoveling heavy snow at the time.
At least another two people are believed to have died in car accidents caused by icy conditions and decreased visibility on the roads in New Hampshire and Michigan over the past week.
The arctic storm, which is expected to get worse tomorrow, has plunged nearly half of the US into temperatures well below freezing.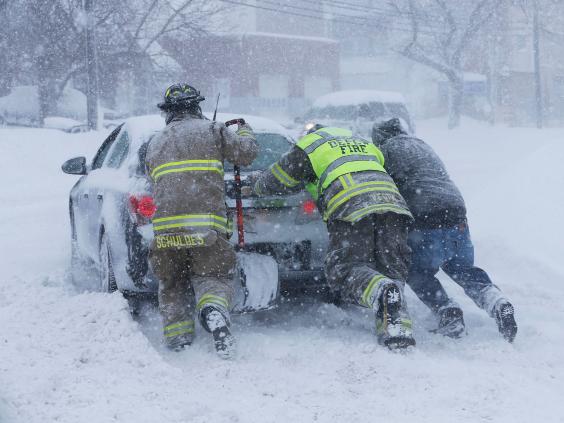 New York state has been one of the hardest hit areas, and was covered in up to six feet of snow leaving many people stranded amid the bitterly-cold weather chaos. A driving ban was enforced in some areas.
Firefighters were also spotted carrying a patient 10 blocks down the street to Mercy Hospital in South Buffalo as the blanket of snow was too thick and high to drive through.
The record-low temperatures are said to be characteristic of January rather than November and are the coldest for this time of year since 1976, according to Weather Bell Analytics, a meteorologist consulting firm.
Snow is reported to have fallen at a rate of up to five inches (13 cm) an hour and some areas approached the US record for 24-hour snowfall totals of 76 inches (193 cm).
Governor Andrew Cuomo deployed the New York State National Guard to affected areas yesterday to help residents cope with the severe weather conditions with emergency operations centres activated on Monday night.
The state has employed the use of 526 ploughs, 74 large loaders and about two-dozen large snow blowers to shift the wall of snow blocking the doors and driveways of people's homes.
In pictures: New York snowstorm
In pictures: New York snowstorm
1/22 New York

Drew Ahmed makes his way through nearly five feet of snow in the Lakeview neighborhood of Buffalo

2/22 New York

Snow drifts reaching the roof of the roof of the Eden Heights Assisted Living Facility in West Seneca, where members of the New York Air National Guard from the 107th Airlift Wing based in Niagara Falls, New York are assisting in snow removal efforts

3/22 New York

A New York Air National Guard Airman from the 107th Airlift Wing based in Niagara Falls, New York assisting in snow removal efforts from the roof of the Eden Heights Assisted Living Facility in West Seneca

4/22 New York

Homes are covered in snow in West Seneca

5/22 New York

Cars are covered in snow in Orchard Park

6/22 New York

Ralph Wilson Stadium in Orchard Park is buried in snow

7/22 New York

A frontend loader piles snow after dump trucks dropped loads of snow at the Central Terminal in Buffalo

8/22 New York

An abandon car marked by orange cones is buried under snow as a snowplow passes by in Buffalo

9/22 New York

Samantha Freeman shovels snow off the sidewalk in Public Sqaure in Watertown

10/22 New York

A man blows snow from his sidewalk in Buffalo

11/22 New York

Snow covers a street at daybreak in south Buffalo

12/22 New York

Storm clouds and snow blows off Lake Erie in Buffalo

Reuters

13/22 New York

A dog looks at the snow that was blown in the back door of the home of Chrissy Hazard in Cheektowaga. A ferocious lake-effect storm that trapped people on highways and in homes under up to 6 feet of snow continued to bear down on the Buffalo area

14/22 New York

Vehicles litter the highway in West Seneca

Reuters

15/22 New York

A band of storm clouds moves across Lake Erie and into Buffalo. Parts of New York measured the season's first big snowfall in feet, rather than inches, as 3 feet of lake-effect snow blanketed the Buffalo area and forced the closure of a 132-mile stretch of the state Thruway

16/22 New York

Lake-effect snow storm with freezing temperatures affected travel, like this plane that negotiated its way through the snow at Buffalo Greater International Airport

17/22 New York

Heavy snow covers the street in Buffalo

AP

18/22 New York

Heavy snow covers the street in Buffalo

19/22 New York

Firefighters from West End Hose Company in Depew, help a stuck motorist on Transit Road

20/22 New York

Omer Odovsc walks in front of his tractor trailer that got stuck on the 219 off ramp leading to Rt. 391 in Boston

21/22 New York

Steven Gros shovels snow from outside his home in Orchard Park

22/22 New York

A home is covered in snow in a neighborhood just south of Buffalo, New York

EPA
Parts of Erie County, western New York, had 60 inches (1.5m) of snow, with more expected to fall over today and tomorrow, said Steven Welch of the National Weather Service near Buffalo.
Concerned residents whose week has been blighted by sub-zero temperatures and disruptions posted their thoughts and pictures on social media.
This is insane! RT @SherriGrin Literally the snow is crashing through homes in Buffalo! pic.twitter.com/z6CBk1086s /via @ericfisher

; iTweetWeather (@iTweetWeather) November 19, 2014
Hope everyone is good in Buffalo, NY. That snow is looking CRAZY.

; Javi (@DJKingBori) November 19, 2014
Having lived in the south my entire life I simply can't comprehend the amount of snow in Buffalo right now...

; Brett Glover (@CBGlover) November 19, 2014
interstate 90 in buffalo this is too much snow pic.twitter.com/5GZE05rekS

; ʝαмιℓℓєвя. (@amaziiinggg) November 19, 2014
"This storm may persist until Friday morning with the potential for another two feet of snow," Cuomo said in a statement.
"New Yorkers in these areas should exercise extreme caution, and stay off the roads until conditions are clearer and safer."
States bordering the Great Lakes such as North Dakota, Minnesota, Wisconsin, Michigan, Ohio and Pennsylvania were also hit with chilling temperatures as low as -11 degrees Celsius during the night.
Reuse content