Reports that the world's oldest tree has been accidentally chopped down by loggers in Peru has sparked panic among conservationists.
Several websites carried the "news" on Wednesday, seemingly without realising the entire story appears to be a hoax.
It first appeared on the World News Daily Report on Saturday – a fake news website carrying articles including "Isis launches satellite" and "Pterodactyl sighting in New Guinea terrorises villagers".
The "Real or Satire" directory of news outlets describes it following "the old-school Tabloid-styled faux-journalism of its predecessors...you will find disclaimers neither revealing its satirical nature nor reveling in its journalistic integrity".
Its "about us" section claims: "Our News Team is composed of award winning Christian, Muslim and Jewish journalists, retired Mossad agents and veterans of the Israeli Armed Forces."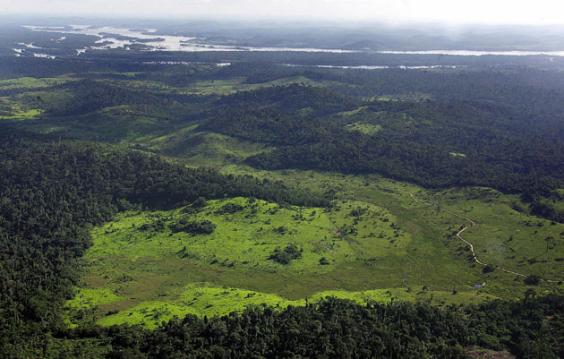 The World News Daily Report claimed that workers were logging deep in the Matsés Indigenous Reserve on the Peruvian and Brazilian border when they felled the ancient specimen.
"The giant Samauma tree that is thought to be over 5,800 years old judging on its concentric rings and estimated to be close to 40 meters in height was a major part of the native tribes cultural landscape," the report said, quoting a supposed tribe leader.
An interview with a "researcher from the Rainforest Protection Coalition" lent the story credibility, testifying that the reserve is being exploited by energy corporations at the expense of the indigenous people.
In pictures: Biggest threats to the rainforests
In pictures: Biggest threats to the rainforests
1/10 Borneo

Destruction of the rainforest, deforestation in Borneo

2/10 Brazil

Aerial view af an area devastated by clandestine gold mining in the Jamanxim National Forest, state of Para. With 1,3 million hectares, the Jamanxim National Forest is a microsm that replicates what happens in the Amazon, where thousands of hectares of land are prey of illegal woodcutters, stock breeders and gold miners

3/10 Amazon rainforest

Intensive logging makes rainforest fires more likely as the Earth warms

Rex

4/10 Peru

Miners known as "Maraqueros" ready a rustic type of hydraulic jet known locally as a "Chupadera," after hauling the device about 16-meters deep into a crater at a gold mine process in La Pampa in Peru's Madre de Dios region. A new threat now looms for the estimated 20,000 wildcat miners who toil in huge scar of denuded rainforest known as La Pampa

5/10 Peru

A rope hangs around the trunk of a tree at a illegal gold mining process in La Pampa in Peru's Madre de Dios region. An estimated 20,000 miners toil in this malarial expanse of denuded rainforest known as La Pampa

6/10 Amazon rainforest

The extent of the environmental damage in the Amazon rainforest

afp/getty images

7/10 Indonesia

Destruction remains from tropical rainforest in Kuala Cenaku in Riau Province, Sumatra. Norway entered a partnership with Indonesia to support Indonesia's efforts to reduce emissions from deforestation and degradation of forests and peat lands. The business of pulp, palm oil and wood are causing the deforestation of Sumatra, the largest island owned by Indonesia, and is contributing global climate change to the extinction of many of the world's rare species

8/10 Malaysia

An area that has been cleared of rainforest to make way for a palm oil plantation in Sabah, Malaysia

CORBIS

9/10 Indonesia

Regenerated palm oil trees are seen growing on the site of destroyed tropical rainforest in Kuala Cenaku

GETTY IMAGES

10/10 Brazil

Brazil launched the Amazon Fund, aimed at protecting the rainforest so vital to the world's climate, and at combating climate change. In December 2008 Brazil launched a national climate change plan which proposed to cut the country's deforestation rate in half by 2018

Getty Images
While logging in the Matsés Indigenous Reserve is indeed controversial and the Amazon rainforest is shrinking, the Rainforest Protection Coalition does not exist.
Neither, we suspect, does tribal leader "Tahuactep", who is quoted in the story saying: "It is the Mother spirit of the rainforest, from this spirit-tree came the life force of all things living. They have destroyed Aotlcp-Awak, they have brought darkness upon not only our people, but the whole world."