The explosion in so-called hate groups across the US in 2015 has been attributed in part to anger over Latino immigration and the fact that whites are estimated to no longer be the majority by 2040.
According to new data from the Southern Poverty Law Center (SPLC), the number of hate groups rose when President Obama took office in 2008, but had begun to decline in 2011. In 2014, the numbers sharply reversed direction.
The SPLC described 2015 as "a year awash in deadly extremist violence and hateful rhetoric from mainstream political figures."
Just one day after Democrat Hillary Clinton said there was "more segregation in schools than in 1968", the SPLC echoed her call as it announced the sense of polarization and anger in the US is "unmatched" since the era of political uprising 50 years ago.
Their statements are backed up by the increase in racist and extremist associations. In 1999 there were 457 hate groups, reacheing a peak of 1018 in 2011, three years after the global financial crash. 
The latest count in 2015 shows there are 892 hate groups, including 190 active branches of the Ku Klux Klan (in grey, below).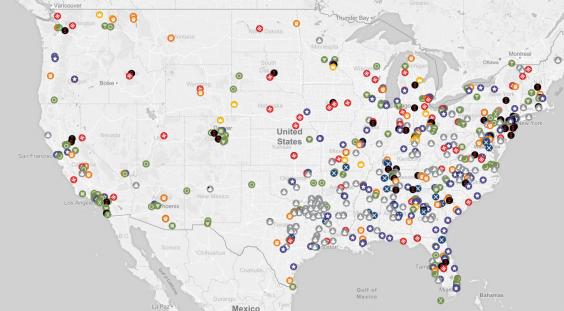 People with extremist views have wreaked havoc in the past 12 months. In Charleston, South Carolina, a white supremacist murdered nine church-goers. In December, a white anti-abortion extremist killed three people at a family planning clinic in Colorado Springs. Just days later, an Islamist radical couple killed 14 people at a work party in San Bernardino. 
Anti-Muslim groups have also risen by a whopping 42 per cent as Republicans like Donald Trump insist propose barring Syrian refugees from the US and deem Muslims as "terrorists", "rapists" and "drug dealers". Mr Trump also cited a fake poll about the rise of extremist Islamists from the Center for Security Policy - an organisation that has been deemed a hate group by the SPLC.
Anti-government or so-called "Patriot" groups also grew by 14 per cent from 2014 to 2015, evident in the recent uprising in Burns, Oregon, where a group of armed ranchers occupied a wildlife refuge in protest against federal land management laws.
"After seeing the bloodshed that defined 2015, our politicians should have worked to defuse this anger and bring us together as a nation," said Mark Potok, senior fellow at the SPLC and editor of the Intelligence Report, which first published the SPLC's annual consensus. "Unfortunately, the carnage did little to dissuade some political figures from spouting incendiary rhetoric about minorities. In fact, they frequently exploited the anger and polarization across the country for political gain."
Reuse content