If the armed wing-nuts occupying an isolated federal facility in a remote corner of rural Oregon hoped to establish a rallying point for fellow far-right "patriots", they picked an odd location. The Malheur National Wildlife Refuge is 30 miles through featureless, snow-covered fields from Burns, a small farming town of fewer than 3,000 people. It's another 200 from Boise, Idaho, the nearest medium-sized city. It's about as close as you can get to the middle of nowhere on paved roads.
In warmer months, the refuge, which is home to 58 mammal species and more than 300 types of bird, attracts twitchers, fishers, hikers and hunters. But in the depths of winter, the landscape is bleak and monochrome. Last weekend, this group of committed anti-government activists seized the deserted cluster of 19 small buildings that comprise the refuge's headquarters, manned on weekdays by employees of the US Fish and Wildlife Service.
So far, the occupiers have failed to paint an alluring picture for prospective recruits. On Monday, reporters were given a tour of parts of the compound, including a gym which the group had turned into a dorm-cum-pantry to store their tinned soup and other sparse provisions. The climate is as inhospitable as the geography. "It's freezing!" complained protester Blaine Cooper, as he blew hot air into his cupped hands. "Why couldn't this happen in Hawaii?"
World news in pictures
World news in pictures
1/30 27 May 2016

An aerial picture shows firefighters spraying foam at the engine of a Korean Air Lines plane after smoke rose from it at Haneda airport in Tokyo, Japan

Reuters

2/30 26 May 2016

A man walks his donkey and its load through flooded streets Beledweyne, north of Mogadishu. Hundreds of families have been forced out of their homes following flash floods in Beledweyne after torrential rains pounded the area in the last few days. The heavy rains led to the bursting of River Shabelle which caused massive floods in residential areas along the river

Getty Images

3/30 26 May 2016

A worker checks a mask of U.S. Republican presidential candidate Donald Trump at Jinhua Partytime Latex Art and Crafts Factory in Jinhua, China

Reuters

4/30 26 May 2016

Estonia's olympic team female marathon runners triplets (L-R) Leila, Liina and Lily Luik pose for a picture after a training session in Tartu

Reuters

5/30 25 May 2016

Lightning from a severe storm fills the sky behind a grain elevator in Bellevue, Kansas

AP

6/30 25 May 2016

Riot police stand guard behind a fire as refinery workers hold a blockade of the oil depot of Douchy-Les-Mines to protest against the government's proposed labour reforms

Getty

7/30 25 May 2016

Vehicles are stuck in a sinkhole near Ponte Vecchio. A sinkhole measuring about 200 meters long and seven meters wide opened up in central Florence

EPA

8/30 24 May 2016

Protesters picket outside the event site before Republican U.S. presidential candidate Donald Trump begins a rally with supporters in Albuquerque, New Mexico

Reuters

9/30 24 May 2016

An Indian policeman uses a baton to disperse demonstrators during a protest by government employees demanding their long pending arrears and a regularisation of their temporary jobs, according to protesters, in Srinagar

Reuters

10/30 23 May 2016

Confiscated rare and protected wildlife products such as these stuffed Sumatran tiger skins are burned and destroyed during a ceremony by government forestry and wildlife officials in Banda Aceh, Indonesia

Reuters

11/30 23 May 2016

A woman leads a school pupil away from tear gas and a burning barricade in Kibera slum, during a demonstration of opposition supporters protesting for a change of leadership ahead of a vote due next years in Nairobi

Getty Images

12/30 23 May 2016

A crane destroys over one million pirated music, movie and software CDs and DVDs in a campaign against piracy organised by the government in Algiers, Algeria

Reuters

13/30 23 May 2016

Shi'ite fighters forces launch a rocket towards Islamic State militants on the outskirts Falluja, Iraq

Reuters

14/30 22 May 2016

Yemenis take part in celebrations marking the 26th anniversary of Yemen's 1990 reunification in the capital Sanaa

Getty Images

15/30 22 May 2016

Indonesian soldiers carry resident's belongings as they aid in evacuation efforts from a village impacted by the Mount Sinabung eruption at Gamber Village in North Sumatra. At least six people were killed and two others were seriously wounded after the Mount Sinabung volcano in North Sumatra province of western Indonesia erupted

EPA

16/30 21 May 2016

Demonstrators clash with riot police in the surroundings of the Congress in Valparaiso, while Chilean President Michelle Bachelet delivers her annual message to the nation

Getty Images

17/30 21 May 2016

The Egyptian military spokesman released pictures of debris that the search teams found in the sea after the EgyptAir Airbus A320 crashed in the Mediterranean

Getty Images

18/30 21 May 2016

Sri Lankan flood victims push a trishaw through floodwaters in the Kolonnawa suburb of Colombo

Getty Images

19/30 20 May 2016

A protester write on the facade of the Ministry of Justice building with color spray during an anti-government protest in Skopje, in a series of protests dubbed Colourful Revolution. Crisis-hit Macedonia postponed elections due next month, after the European Union called on Skopje to delay the polls to ensure they could take place freely and fairly

Getty Images

20/30 20 May 2016

Members of the Ukrainian national guard "Azov" regiment and activists of the Azov civil corp take part in a protest against local elections in pro-Russian rebel-held areas of eastern Ukraine under the Minsk peace agreement, in Kiev

Reuters

21/30 19 May 2016

Families of passengers who were flying in an EgyptAir plane that vanished from radar en route from Paris to Cairo react as they wait outside a services hall at Cairo airport

Getty Images

22/30 18 May 2016

A man clashes with policemen during a protest against new emergency powers decreed this week by President Nicolas Maduro in Caracas. Public outrage was expected to spill onto the streets of Venezuela, with planned nationwide protests marking a new low point in Maduro's unpopular rule

Getty Images

23/30 18 May 2016

A police car explodes after being set on fire during an unauthorized counter-demonstration against police violence in Paris, as Police across France demonstrate today against the "anti-cop hatred" they say they have endured during a wave of anti-government protests since early March

Getty Images

24/30 18 May 2016

Sri Lankan military personnel take part in relief and rescue efforts following a landslide in the village of Bulathkohupitiya. Rescue workers recovered the bodies of 17 villagers buried in landslides in Sri Lanka after three days of torrential rain. The disaster hit two small villages in Kegalle, a mountainous area northeast of Colombo, and takes the overall death toll from flooding and landslides in recent days to 36

Getty Images

25/30 18 May 2016

A protester against visiting Zhang Dejiang, the chairman of China's National People's Congress, confronts police in Hong Kong

Reuters

26/30 18 May 2016

Chicks dyed to draw attention are offered for sale at a small poultry market in Jakarta, Indonesia

Reuters

27/30 17 May 2016

A man throws a fire extingusher at Parliamentary security behind a closed door after members of Julius Malema's Economic Freedom Fighters (EFF) were evicted from Parliament during President Jacob Zuma's question and answer session in Cape Town, South Africa

Reuters

28/30 17 May 2016

Supporters of Federal Alliance, a coalition of Madhes-based parties and other ethnic political parties and organizations, protest against the constitution near the Prime Minister's official residence in Kathmandu, Nepal

Reuters

29/30 17 May 2016

Members of a Sri Lankan Army rescue team carry a woman to safety through floodwaters in the suburb of Kaduwela in capital Colombo. Emergency workers in Sri Lanka found the bodies of a woman and two children killed in a landslide, taking the toll from two days of heavy rain to 11, with thousands more forced to flee their homes

Getty Images

30/30 16 May 2016

Protesters light flares and wave flags marching through a street, during an anti-government protest in Skopje, in series of protests dubbed "Colorful Revolution". Macedonia has been politically gridlocked for two years but the crisis rose a notch on 12 April when President Gjorge Ivanov halted a probe into more than 50 public figures suspected of involvement in corruption and a wire-tapping scandal. The move triggered street protests against Ivanov and the ruling party's leader, Nikola Gruevski. Fresh demonstrations drew several thousand, mostly young people who demanded Ivanov resignation

Getty Images
Some positives: the refuge buildings include a visitor centre with a small gift shop. The site also features an observation tower, which faintly resembles a guard post at an army fort – thus allowing those of the activists who aren't military veterans to pretend they're fighting a war. In fact, these impassioned folks really have inserted themselves into a long-running conflict, between ranchers and the federal government over the ownership and regulation of land in the Western US.
Across the West from Arizona to Montana, ranchers have complained for decades about what they see as an aggressive expansion of protected federal lands. The occupation of the Malheur refuge headquarters began with a protest in support of two such men from nearby Burns: the Hammonds, whose property abuts the federally managed wilderness, and whose antagonistic relationship with the government culminated in a 2012 conviction for arson.
Dwight Hammond, 73, and his son Steven, 46, said they had set fires in 2001 and 2006 to protect their ranch from wildfires and invasive plants. But both fires spread over the property line, with one conflagration accidentally engulfing some 140 acres of government land. A judge ruled in October that the father and son's original 12-month sentences did not satisfy the federal minimum of five years for the crime, and sent them back to prison.
Last Saturday, several hundred demonstrators marched through the town in solidarity with the Hammonds. Afterwards, a breakaway group of a dozen or so out-of-towners set off to seize the deserted refuge HQ. They are led by 40-year-old Ammon Bundy, the son of Nevada rancher Cliven Bundy, whose own long-standing land feud with the feds is, if anything, even more histrionic.
The Hammonds were quick to distance themselves from the more radical protesters, releasing a statement through their lawyer, saying: "Neither Ammon Bundy nor anyone within his group/organisation speak for the Hammond family." On Monday, as planned, they turned themselves in to authorities in California, where they will serve out their sentences. They have said they intend to plead for clemency in their case from the President, Barack Obama.
The bad blood between the Bundys and the government goes back to 1989, when federal land adjacent to Cliven Bundy's ranch was closed to grazing cattle to protect the endangered desert tortoise. Bundy was fined for continuing to graze there, racking up a reported $1.2m (£820,000) in unpaid penalties. In 2014, agents from the Bureau of Land Management (BLM) rounded up hundreds of his cattle, but were eventually obliged to release them after an armed stand-off with protesters.
At the time, the Bundys received support from Republican politicians including the presidential hopefuls Ted Cruz and Rand Paul. The government owns vast swathes of the West, including half of Oregon and 85 per cent of Nevada. Some of that land is national parks and wildlife refuges such as the Malheur refuge, which was established in 1908 – since when, Ammon Bundy claims, it has displaced around 100 ranches. Farmers were allowed to graze cattle on public lands for free in the early 20th century, but over time, rampant overgrazing threatened to devastate many Western rangelands. The 1934 Taylor Grazing Act introduced a permit system for ranchers to graze their animals on public land in return for modest fees. A decade later, the government established the BLM to manage its property, mostly in the West. The agency now oversees more than 260 million acres.
The arrangement appeared to satisfy everyone until the 1970s, when the so-called Sagebrush Rebellion movement saw rural anti-government groups arguing that their constitutional rights were being infringed upon by a greedy, land-hungry BLM. In fact, the agency, which takes in around $12m per year in grazing fees, spends almost $80m annually on land-maintenance programmes – effectively subsidising the ranchers who use that land.
(Side note: Ammon Bundy himself has benefited from federal munificence. The Mother Jones website reported this week that the man accusing the US government of "tyranny" held his nose for long enough to accept a $530,000 federal small-business loan to fund his truck-maintenance business in 2010.)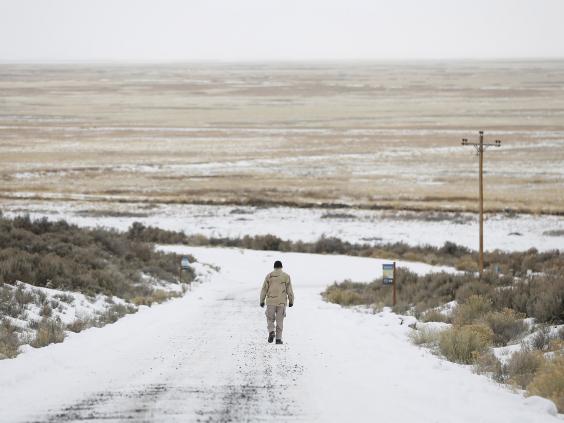 The more recent antipathy felt by ranchers towards the BLM stems from the agency's overdue attempts to enforce federal land regulations, after many years of turning a blind eye to ranchers' bending the rules. Any reasonable opposition to government overreach has been overshadowed, however, by the revolutionary rhetoric of right-wing radicals like Ammon Bundy, who has described his group's occupation of the refuge HQ as "the point of the spear" for an insurrection. Bundy and his followers say the government's ownership of the Malheur refuge and lands like it is unconstitutional, insisting that it should instead be managed by local authorities on behalf of "the people" – or, at least, people like them. A sign posted by the group at the entrance to the occupied facility reads: "BLM: Another Intrusive Tyranical [sic] Goverment [sic] Entity Doing What They Do Best – Abusing Power & Oppressing the Backbone of America."
A couple of days after their occupation began, Bundy announced that his protest group would henceforth be known as "Citizens for Constitutional Freedom". He also said they intended to remain at their remote redoubt "for years" and to make it "a base place for patriots from all over the country". To demonstrate their patriotism, members of the group drape American flags over things and brandish their pocket copies of the US Constitution.
Bundy said that they would be "freeing these lands up… Getting ranchers back to ranching, getting loggers back to logging, getting miners back to mining where they can do it under the protection of the people." But any ranchers, loggers or miners tempted to up sticks to north-eastern Oregon should be aware that the refuge is mostly occupied by a lake, contains approximately zero trees, and has no mineral, coal or gas deposits to speak of.
So far, the gift shop revolutionaries remain a ragtag bunch of no more than 25 ranchers, veterans and assorted anti-government cranks and conspiracy theorists. Among them is one Jon Ritzheimer, a known anti-Muslim agitator who once posted a YouTube clip of himself shooting a Koran, and who runs a website selling "F**k Islam" T-shirts. Another protester, who identified himself to The Independent only as "Fluffy Unicorn", said he had served three tours overseas as a US Marine.
Cooper, who took part in the Bundy ranch stand-off in 2014 and had travelled from Arizona to join the protest, wore combat fatigues with a sleeve patch describing the Second Amendment (the part of the Constitution that enshrines the right to own assault rifles) as "America's Original Homeland Security". The 36-year-old said his parents owned a 120-acre horse farm in Missouri. "I'm fighting for them, too, because maybe some day the BLM will come and try to steal their land."
The group said local ranchers had offered them supplies and moral support since the occupation began, but some in Burns have erected signs asking them politely to sod off. Speaking to Oregon Public Broadcasting, Dwight Hammond's wife, Susan, said she "didn't really know the purpose" of the protest. Long-time Burns resident Butch Delange, 68, endorses the group's aims but not its tactics: "What they're doing needs to be done, but they're doing it the wrong way," he says.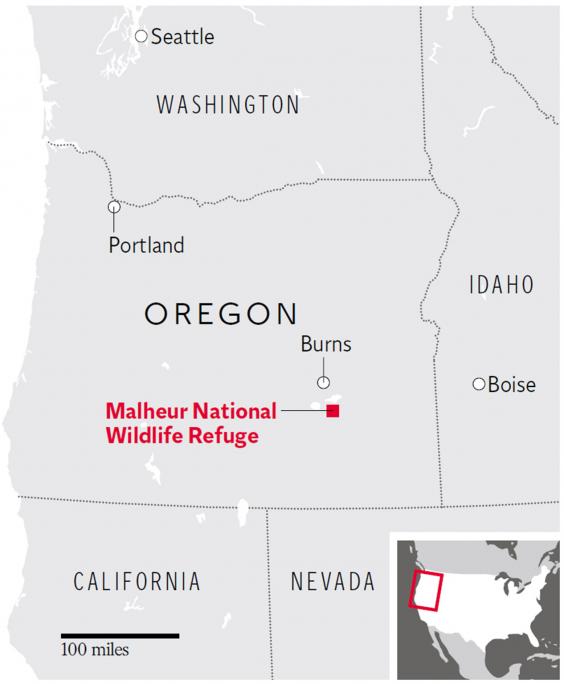 Dr Larry Rosenthal, the director of the Centre for Right-Wing Studies at the University of California, Berkeley, says the protesters represent "a version of far-right extremism in the USA that is tied to the land". He continues: "There is a notion in the far-right world that the control of land by the federal government is illegitimate, and that the land somehow belongs to 'the people'. That meets up ideologically with the far-right militias, which also do not recognise the federal government."
Radical right-wingers were drawn to Oregon and Idaho, the heartland of the militia movement, in the 1980s when the Aryan Nations leader, Richard Butler, urged his followers to turn Idaho into an all-white state. More recently, in 2012, a group calling itself The Citadel revealed plans to build a separatist, medieval-style walled community in the Potato State's sparsely populated north-west, where every resident aged 13 or over would be obliged to carry an assault rifle.
It was in northern Idaho, too, that a 1992 stand-off between federal agents and radical backwoodsman Randy Weaver at his cabin on Ruby Ridge ended with the deaths of Weaver's wife and son, and a Deputy US Marshal. That, along with the fatal FBI siege of the Branch Davidian compound in Waco, Texas, the following year, spurred the growth of anti-government militias and inspired Timothy McVeigh to bomb the federal building in Oklahoma City in 1995, killing 168 people.
"White supremacists and other anti-government movements came to think of the north-west as a place that was still controlled by white people," explains Heidi Beirich, of the Southern Poverty Law Centre (SPLC), an expert on right-wing extremist groups. "They came up with an idea for a northern 'homeland' where they could move to and find fertile ground for their extremist ideas." The number of militia groups in the US exploded after Obama's election in 2008, peaking at 334 in 2011, according to the SPLC, which tracks such groups – and counted 276 nationwide last year.
Yet other far-right outfits are unimpressed with Ammon Bundy and the "Citizens for Constitutional Freedom". This week, Mike Vanderboegh, the founder of the gun-loving right-wing group The Three Percenters, called the occupiers at the Malheur refuge "sociopaths and idiots". Stewart Rhodes, the leader of the Oath Keepers anti-government militia, said the protest in Oregon was "an armed stand-off manufactured by potheads". Even the Bundy patriarch preferred to distance himself from his offspring's actions. Cliven Bundy told Oregon Public Broadcasting that Ammon and another of his sons, Ryan, felt obliged to intervene on behalf of the Hammonds. "That's not exactly what I thought should happen," he said.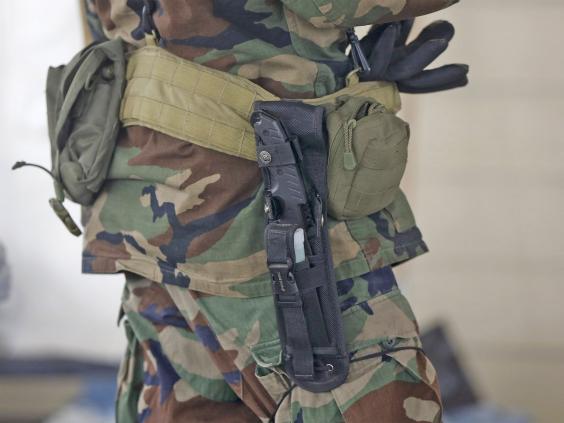 "Things are going a little sideways for the Bundys," Beirich says. "The Hammonds didn't support them. The locals don't support them. Other parts of the movement have denounced them. The political class has denounced them, including far-right candidates like Ted Cruz. This can only end in embarrassment, arrest or – God forbid – violence… It's absurd."
Some have called the occupiers domestic terrorists. Others have criticised the authorities for not moving decisively to end the protest, allowing Bundy and co to flout the law in the media spotlight. But law-enforcement agencies surely want to avoid a repeat of Ruby Ridge, Waco or even the Bundy ranch – and have probably calculated that it's better to let the occupiers run out of soup and enthusiasm than to lay siege to some draughty buildings in the back of beyond.
Earlier this week, the men at the Malheur refuge sounded almost disappointed by the utter lack of any law-enforcement response. "There is a long-standing notion on the very far right that there's going to come a moment when all the patriots will rise up and there will be some kind of revolutionary taking-back of the country," Dr Rosenthal says. "My guess is the people who have taken over the building in Oregon harbour that fantasy."
Given the sub-zero temperatures, the limited facilities and the sheer remoteness of the federal buildings where Bundy and his followers decided to make their stand, this seems rather unlikely to be that moment.