If the armed wing-nuts occupying an isolated federal facility in a remote corner of rural Oregon hoped to establish a rallying point for fellow far-right "patriots", they picked an odd location. The Malheur National Wildlife Refuge is 30 miles through featureless, snow-covered fields from Burns, a small farming town of fewer than 3,000 people. It's another 200 from Boise, Idaho, the nearest medium-sized city. It's about as close as you can get to the middle of nowhere on paved roads.
In warmer months, the refuge, which is home to 58 mammal species and more than 300 types of bird, attracts twitchers, fishers, hikers and hunters. But in the depths of winter, the landscape is bleak and monochrome. Last weekend, this group of committed anti-government activists seized the deserted cluster of 19 small buildings that comprise the refuge's headquarters, manned on weekdays by employees of the US Fish and Wildlife Service.
So far, the occupiers have failed to paint an alluring picture for prospective recruits. On Monday, reporters were given a tour of parts of the compound, including a gym which the group had turned into a dorm-cum-pantry to store their tinned soup and other sparse provisions. The climate is as inhospitable as the geography. "It's freezing!" complained protester Blaine Cooper, as he blew hot air into his cupped hands. "Why couldn't this happen in Hawaii?"
World news in pictures
World news in pictures
1/49 25 October 2016

Migrants walk in the camp called the 'Jungle' on the second day of their evacuation and transfer to reception centers in France

Reuters

2/49 25 October 2016

Gendarms stand guard as migrants queue during the full evacuation of the 'Jungle' migrant camp in Calais

Getty

3/49 25 October 2016

Migrants line-up to register at a processing centre in the makeshift migrant camp known as 'the jungle' near Calais

AP

4/49 25 October 2016

A migrant sits on some disused rail tracks as he waits to register at a processing centre in the makeshift migrant camp known as 'the jungle' near Calais

AP

5/49 25 October 2016

Residents look on as police officer leave a crime scene after a police operation against illegal drugs in Quezon City, Philippines

EPA

6/49 25 October 2016

Crew member of the International Space Station (ISS) expedition 50/51 Oleg Novitsky of Russia attends an examination training session in Star City outside Moscow, Russia

Reuters

7/49 25 October 2016

A man stands amid the debris at the scene of an attack in the town of Mandera, Kenya

AP

8/49 25 October 2016

People gather at the scene of an attack in the town of Mandera, Kenya, near the border with Somalia

AP

9/49 25 October 2016

A massive recall of Samsung smartphones and strikes at Hyundai Motor took a toll on South Korea's economy in the third quarter, with the slowest growth in more than a year

Getty

10/49 25 October 2016

Philippines' Armed Forces chief General Ricardo Visaya escorts President Rodrigo Duterte before Duterte's departure for Japan

Reuters

11/49 25 October 2016

Over a hundred supporters gather to welcome Philippines' President Rodrigo Duterte outside a hotel in Tokyo

Getty

12/49 25 October 2016

Police officers stand guard as a prison vehicle escorting Rurik Jutting leaves the High Court

Getty

13/49 25 October 2016

JR Kyushu President Toshihiko and the company's officials pose during the ceremony for the company's listing at the Tokyo Stock Exchange. Japan's Kyushu Railway skyrocketed 20 percent as the former state-owned firm made its Tokyo trading debut after one of this year's biggest initial public offerings.

Getty

14/49 25 October 2016

South Korea's president offered a surprise public apology on after acknowledging her close ties to a mysterious woman at the center of a corruption scandal

AP

15/49 25 October 2016

South Korean President Park Geun-hye leaves after releasing a statement of apology to the public during a news conference at the Presidential Blue House in Seoul, South Korea

Reuters

16/49 25 October 2016

NATO Secretary-General Jens Stoltenberg speaks during a news conference at the Alliance headquarters in Brussels, Belgium

Reuters

17/49 25 October 2016

A drone flies above World Surf League World Title winner Hawaian surfer John John Florence during the final heat of the Portuguese stage of the World Surf League championship at Supertubos beach near Peniche, central Portugal

Getty

18/49 25 October 2016

An employee walks at a facility located on the newly launched Pyakyakhinskoye oil field owned by Lukoil company in the Yamal region, Russia

Reuters

19/49 25 October 2016

An aerial view shows facilities located on the newly launched Pyakyakhinskoye oil field owned by Lukoil company in the Yamal region, Russia

Reuters

20/49 25 October 2016

Nguyen Van Xuan, one of three Vietnamese sailors freed by Somali pirates, holds his daughter at Hanoi's international airport

Getty

21/49 24 October 2016

Iraqi families, who were displaced by the ongoing operation by Iraqi forces against jihadistds of the Islamic State group

Getty

22/49 24 October 2016

Migrants gather around a bonfire to warm up in the 'Jungle' migrant camp in Calais

Getty

23/49 24 October 2016

An Iraqi man reacts as families, who were displaced by the ongoing operation by Iraqi forces against jihadistds of the Islamic State group to retake the city of Mosul, wait for food near Qayyarah

Getty

24/49 24 October 2016

Migrants gather around a bonfire to warm up in the 'Jungle' migrant camp in Calais

Getty

25/49 24 October 2016

Iraqi families, who were displaced by the ongoing operation by Iraqi forces against jihadistds of the Islamic State group to retake the city of Mosul

Getty

26/49 24 October 2016

A member of the Iraqi forces holds a position at the al-Shura area, south of Mosul

Getty

27/49 24 October 2016

French anti-riot policemen stand guard a gathering of migrants during the full evacuation of the Calais "Jungle" camp, in Calais

Getty

28/49 24 October 2016

European Challenge Tour players Joel Sjoholm of Sweden, Jurrian van der Vaart of the Netherlands, and Sandro Piaget of Monaco play from the "high tee" near the summit of Jebel Jais mountain, the highest peak in the UAE, as a preview to the Ras Al Khaimah 2016 Golf Challenge

Reuters

29/49 24 October 2016

European Challenge Tour players Sandro Piaget of Monaco, Jurrian van der Vaart of the Netherlands, and Joel Sjoholm of Sweden pose for a photograph on the "high tee" near the summit of Jebel Jais mountain, the highest peak in the UAE, as a preview to the Ras Al Khaimah 2016 Golf Challenge

Getty

30/49 20 October 2016

A flower lies next to an inscription on the tomb of Martin Luther in the Schlosskirche church. Next year will mark the 500th anniversary of the Reformation that Luther set in motion and that led to the creation of successful Protestant movements in history's most significant challenge to the Catholic Church

Getty

31/49 20 October 2016

The statue of 16th-century theologian Martin Luther on Marktplatz square, in Wittenberg, Germany

Getty

32/49 19 October 2016

Russian Navy's Tarantul-class corvette Ivanovets is escorted by a Turkish Navy Coast Guard boat as it sets sail in the Bosphorus, on its way to the Black Sea, in Istanbul, Turkey

Reuters

33/49 19 October 2016

Around 100 French police take part in a protest at the old harbour on after four officers were injured when a group of youths swarmed their cars on October 8 in Viry-Chatillon and lobbed Molotov cocktails at them.

Getty

34/49 19 October 2016

A police mobile runs over protesters during a protest in front of the US Embassy in Manila, Philippines

EPA

35/49 19 October 2016

A worker works on scaffolding to install a portrait of Thailand's late King Bhumibol Adulyadej near the Grand Palace in Bangkok, Thailand

Reuters

36/49 18 October 2016

A bank employee arranges commemorative 100 baht banknotes featuring the late Thai King Bhumibol Adulyadej

Reuters

37/49 18 October 2016

Conor Jordan, deputy chairman of impressionist and modern art at Christie's, unveils a painting by Claude Monet entitled 'Meule' during an auction preview in Hong Kong. The artwork, painted in 1891 and part of the Grainstack series, will be auctioned by Christie's in New York on November 16 where it is expected to sell around 45 million USD

Getty

38/49 17 October 2016

Investigators beside a bridge connecting two small islands south-east of Indonesian holiday hotspot Bali that collapsed, sending motorbikes flying into the water and leaving eight dead and about 30 injured

Getty

39/49 17 October 2016

China's Long March-2F carrier rocket transporting the manned spacecraft Shenzhou-11 blasts off from the launch pad at the Jiuquan Satellite Launch Center in Jiuquan, northwestern China's Gansu Province

Getty

40/49 17 October 2016

A long column of smoke rises from the Chemical plant of the BASF site in Ludwigshafen, western Germany. One person was killed and at least six others were missing after an explosion Monday at a chemical plant at BASF's headquarters

Getty

41/49 17 October 2016

A view of a busy street during the morning rush hour, following the death of Thailand's King Bhumibol Adulyadej, in Bangkok, Thailand

Reuters

42/49 17 October 2016

Mourners enter the Grand Palace to pay their respects to the late King Bhumibol Adulyadej in Bangkok, Thailand

Reuters

43/49 17 October 2016

A Thai art student paints a portrait of late Thai King Bhumibol Adulyadej as part of the country's mourning at Silpakorn University in Bangkok, Thailand

EPA

44/49 16 October 2016

Thai's pray and light candles in memory of the late King of Thailand outside the Grand Palace

Getty

45/49 16 October 2016

Over 360 Cheongsam enthusiasms enjoy the nature on the Tai Chi pond at Dahongyan National Park in Wuyi, Zhejiang

Getty

46/49 16 October 2016

Aerial view of women dressed in Cheongsams walking on the Tai Chi pond at Dahongyan National Park in Wuyi

Getty

47/49 16 October 2016

Excursionists enjoy the view from Buchenberg Mountain underneath autumnal trees near Buching, Germany

e

48/49 16 October 2016

Fireworks during the closure of the Pilar Fiestas next to the Pilar Basilica in Zaragoza, Spain

EPA

49/49 16 October 2016

People watch as a supermoon rises over Ciudad Juarez, Mexico

Reuters
Some positives: the refuge buildings include a visitor centre with a small gift shop. The site also features an observation tower, which faintly resembles a guard post at an army fort – thus allowing those of the activists who aren't military veterans to pretend they're fighting a war. In fact, these impassioned folks really have inserted themselves into a long-running conflict, between ranchers and the federal government over the ownership and regulation of land in the Western US.
Across the West from Arizona to Montana, ranchers have complained for decades about what they see as an aggressive expansion of protected federal lands. The occupation of the Malheur refuge headquarters began with a protest in support of two such men from nearby Burns: the Hammonds, whose property abuts the federally managed wilderness, and whose antagonistic relationship with the government culminated in a 2012 conviction for arson.
Dwight Hammond, 73, and his son Steven, 46, said they had set fires in 2001 and 2006 to protect their ranch from wildfires and invasive plants. But both fires spread over the property line, with one conflagration accidentally engulfing some 140 acres of government land. A judge ruled in October that the father and son's original 12-month sentences did not satisfy the federal minimum of five years for the crime, and sent them back to prison.
Last Saturday, several hundred demonstrators marched through the town in solidarity with the Hammonds. Afterwards, a breakaway group of a dozen or so out-of-towners set off to seize the deserted refuge HQ. They are led by 40-year-old Ammon Bundy, the son of Nevada rancher Cliven Bundy, whose own long-standing land feud with the feds is, if anything, even more histrionic.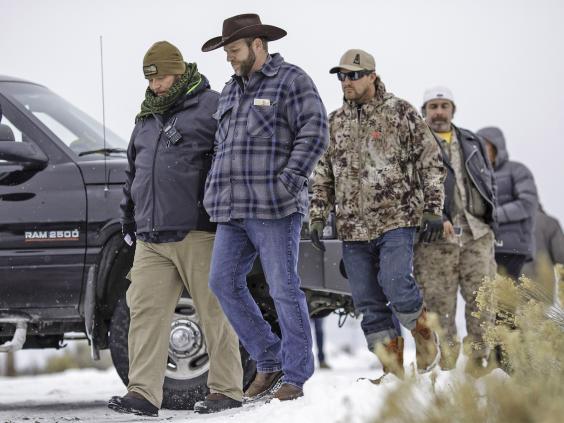 The Hammonds were quick to distance themselves from the more radical protesters, releasing a statement through their lawyer, saying: "Neither Ammon Bundy nor anyone within his group/organisation speak for the Hammond family." On Monday, as planned, they turned themselves in to authorities in California, where they will serve out their sentences. They have said they intend to plead for clemency in their case from the President, Barack Obama.
The bad blood between the Bundys and the government goes back to 1989, when federal land adjacent to Cliven Bundy's ranch was closed to grazing cattle to protect the endangered desert tortoise. Bundy was fined for continuing to graze there, racking up a reported $1.2m (£820,000) in unpaid penalties. In 2014, agents from the Bureau of Land Management (BLM) rounded up hundreds of his cattle, but were eventually obliged to release them after an armed stand-off with protesters. At the time, the Bundys received support from Republican politicians including the presidential hopefuls Ted Cruz and Rand Paul.
The government owns vast swathes of the West, including half of Oregon and 85 per cent of Nevada. Some of that land is national parks and wildlife refuges such as the Malheur refuge, which was established in 1908 – since when, Ammon Bundy claims, it has displaced around 100 ranches. Farmers were allowed to graze cattle on public lands for free in the early 20th century, but over time, rampant overgrazing threatened to devastate many Western rangelands. The 1934 Taylor Grazing Act introduced a permit system for ranchers to graze their animals on public land in return for modest fees. A decade later, the government established the BLM to manage its property, mostly in the West. The agency now oversees more than 260 million acres.
The arrangement appeared to satisfy everyone until the 1970s, when the so-called Sagebrush Rebellion movement saw rural anti-government groups arguing that their constitutional rights were being infringed upon by a greedy, land-hungry BLM. In fact, the agency, which takes in around $12m per year in grazing fees, spends almost $80m annually on land-maintenance programmes – effectively subsidising the ranchers who use that land.
(Side note: Ammon Bundy himself has benefited from federal munificence. The Mother Jones website reported this week that the man accusing the US government of "tyranny" held his nose for long enough to accept a $530,000 federal small-business loan to fund his truck-maintenance business in 2010.)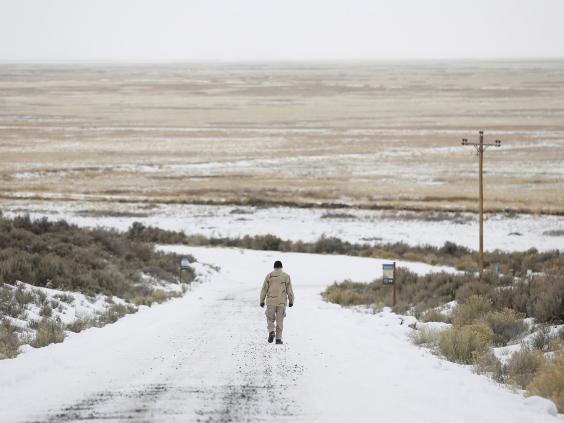 The more recent antipathy felt by ranchers towards the BLM stems from the agency's overdue attempts to enforce federal land regulations, after many years of turning a blind eye to ranchers' bending the rules. Any reasonable opposition to government overreach has been overshadowed, however, by the revolutionary rhetoric of right-wing radicals like Ammon Bundy, who has described his group's occupation of the refuge HQ as "the point of the spear" for an insurrection. Bundy and his followers say the government's ownership of the Malheur refuge and lands like it is unconstitutional, insisting that it should instead be managed by local authorities on behalf of "the people" – or, at least, people like them. A sign posted by the group at the entrance to the occupied facility reads: "BLM: Another Intrusive Tyranical [sic] Goverment [sic] Entity Doing What They Do Best – Abusing Power & Oppressing the Backbone of America."
A couple of days after their occupation began, Bundy announced that his protest group would henceforth be known as "Citizens for Constitutional Freedom". He also said they intended to remain at their remote redoubt "for years" and to make it "a base place for patriots from all over the country". To demonstrate their patriotism, members of the group drape American flags over things and brandish their pocket copies of the US Constitution.
Bundy said that they would be "freeing these lands up… Getting ranchers back to ranching, getting loggers back to logging, getting miners back to mining where they can do it under the protection of the people." But any ranchers, loggers or miners tempted to up sticks to north-eastern Oregon should be aware that the refuge is mostly occupied by a lake, contains approximately zero trees, and has no mineral, coal or gas deposits to speak of.
So far, the gift shop revolutionaries remain a ragtag bunch of no more than 25 ranchers, veterans and assorted anti-government cranks and conspiracy theorists. Among them is one Jon Ritzheimer, a known anti-Muslim agitator who once posted a YouTube clip of himself shooting a Koran, and who runs a website selling "F**k Islam" T-shirts. Another protester, who identified himself to The Independent only as "Fluffy Unicorn", said he had served three tours overseas as a US Marine.
Cooper, who took part in the Bundy ranch stand-off in 2014 and had travelled from Arizona to join the protest, wore combat fatigues with a sleeve patch describing the Second Amendment (the part of the Constitution that enshrines the right to own assault rifles) as "America's Original Homeland Security". The 36-year-old said his parents owned a 120-acre horse farm in Missouri. "I'm fighting for them, too, because maybe some day the BLM will come and try to steal their land."
The group said local ranchers had offered them supplies and moral support since the occupation began, but some in Burns have erected signs asking them politely to sod off. Speaking to Oregon Public Broadcasting, Dwight Hammond's wife, Susan, said she "didn't really know the purpose" of the protest. Long-time Burns resident Butch Delange, 68, endorses the group's aims but not its tactics: "What they're doing needs to be done, but they're doing it the wrong way," he says.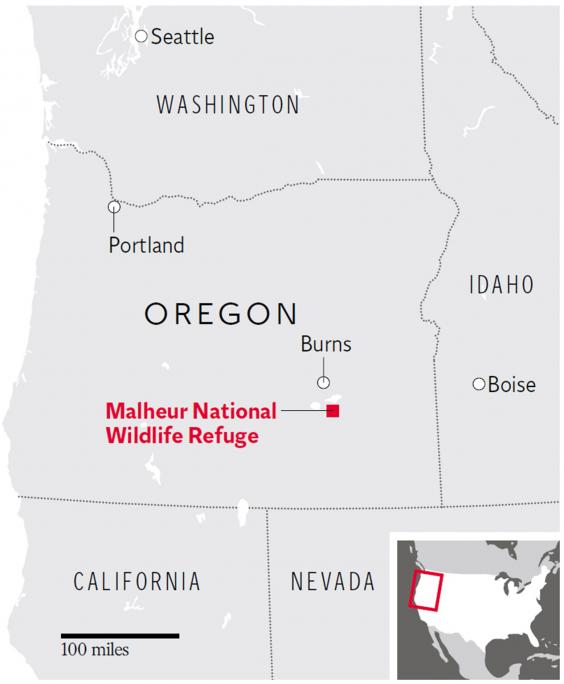 Dr Larry Rosenthal, the director of the Centre for Right-Wing Studies at the University of California, Berkeley, says the protesters represent "a version of far-right extremism in the USA that is tied to the land". He continues: "There is a notion in the far-right world that the control of land by the federal government is illegitimate, and that the land somehow belongs to 'the people'. That meets up ideologically with the far-right militias, which also do not recognise the federal government."
Radical right-wingers were drawn to Oregon and Idaho, the heartland of the militia movement, in the 1980s when the Aryan Nations leader, Richard Butler, urged his followers to turn Idaho into an all-white state. More recently, in 2012, a group calling itself The Citadel revealed plans to build a separatist, medieval-style walled community in the Potato State's sparsely populated north-west, where every resident aged 13 or over would be obliged to carry an assault rifle.
It was in northern Idaho, too, that a 1992 stand-off between federal agents and radical backwoodsman Randy Weaver at his cabin on Ruby Ridge ended with the deaths of Weaver's wife and son, and a Deputy US Marshal. That, along with the fatal FBI siege of the Branch Davidian compound in Waco, Texas, the following year, spurred the growth of anti-government militias and inspired Timothy McVeigh to bomb the federal building in Oklahoma City in 1995, killing 168 people.
"White supremacists and other anti-government movements came to think of the north-west as a place that was still controlled by white people," explains Heidi Beirich, of the Southern Poverty Law Centre (SPLC), an expert on right-wing extremist groups. "They came up with an idea for a northern 'homeland' where they could move to and find fertile ground for their extremist ideas." The number of militia groups in the US exploded after Obama's election in 2008, peaking at 334 in 2011, according to the SPLC, which tracks such groups and counted 276 nationwide last year.
Yet other far-right outfits are unimpressed with Ammon Bundy and the "Citizens for Constitutional Freedom". This week, Mike Vanderboegh, the founder of the gun-loving right-wing group The Three Percenters, called the occupiers at the Malheur refuge "sociopaths and idiots". Stewart Rhodes, the leader of the Oath Keepers anti-government militia, said the protest in Oregon was "an armed stand-off manufactured by potheads". Even the Bundy patriarch preferred to distance himself from his offspring's actions. Cliven Bundy told Oregon Public Broadcasting that Ammon and another of his sons, Ryan, felt obliged to intervene on behalf of the Hammonds. "That's not exactly what I thought should happen," he said.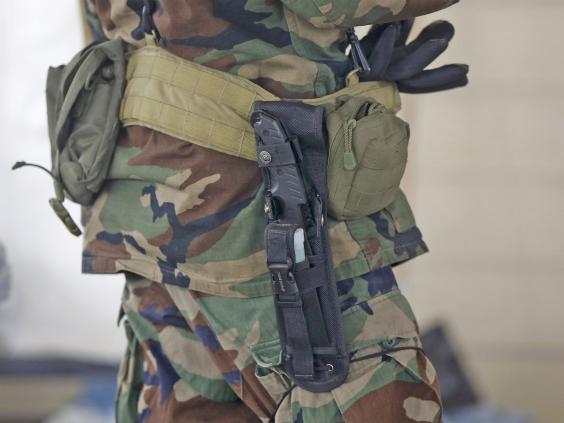 "Things are going a little sideways for the Bundys," Beirich says. "The Hammonds didn't support them. The locals don't support them. Other parts of the movement have denounced them. The political class has denounced them, including far-right candidates like Ted Cruz. This can only end in embarrassment, arrest or – God forbid – violence… It's absurd."
Some have called the occupiers domestic terrorists. Others have criticised the authorities for not moving decisively to end the protest, allowing Bundy and co to flout the law in the media spotlight. But law-enforcement agencies surely want to avoid a repeat of Ruby Ridge, Waco or even the Bundy ranch – and have probably calculated that it's better to let the occupiers run out of soup and enthusiasm than to lay siege to some draughty buildings in the back of beyond.
Earlier this week, the men at the Malheur refuge sounded almost disappointed by the utter lack of any law-enforcement response. "There is a long-standing notion on the very far right that there's going to come a moment when all the patriots will rise up and there will be some kind of revolutionary taking-back of the country," Dr Rosenthal says. "My guess is the people who have taken over the building in Oregon harbour that fantasy."
Given the sub-zero temperatures, the limited facilities and the sheer remoteness of the federal buildings where Bundy and his followers decided to make their stand, this seems rather unlikely to be that moment.
Reuse content