The former wife and acquaintances of the gunman who massacred 49 people at a gay club in Florida have suggested he may have been questioning his sexual orientation.
Omar Mateen pledged allegiance to Isis during the shooting in Orlando in the early hours of Sunday morning and authorities are treating the atrocity as a terror attack inspired by the group.
His father claimed he had become angry after recently seeing two men kiss but others said Mateen visited gay clubs and used same-sex dating apps.
Sitora Yusufiy, his ex-wife, reportedly told her fiancé the shooter had "gay tendencies".
In an interview with SBT Brazil television, Marcio Dias said she recalled Mateen's father accusing him of being homosexual several times in front of her before they divorced in 2011.
A man who was Mateen's class at the Indian River Community College police academy in 2006 said he showed romantic interest.
The man, who did not want to be named, told the Palm Beach Post: "We went to a few gay bars with him, and I was not out at the time, so I declined his offer."
He believed Mateen was gay but was not open about his preference, describing him as "socially awkward".  Mateen did not become a police officer and was working as a G4S security guard at the time of his attack.
Another man said Mateen had messaged him for a year on the gay chat and dating app Jack'd but that they never met up.
Kevin West told the Los Angeles Times he was dropping off a friend at Pulse at 1am on Sunday morning when he recognised him crossing the road.
"He walked directly past me. I said, 'Hey,' and he turned and said, 'Hey,'" and nodded his head, West said. "I could tell by the eyes."
In pictures: Orlando nightclub shooting
In pictures: Orlando nightclub shooting
1/30

Friends and family grieve after a list of hospitalised victims was released, implying the death of those who weren't on the list and hadn't been heard from, outside a Hampton Inn & Suites hotel near the Orlando Regional Medical Center

AP

2/30

People mourning for victims of the mass shooting near the Pulse gay nightclub in Orlando

AFP/Getty Images

3/30

Mina Justice speaks to a reporter discussing texting with her son Eddie who was in a bathroom at Club Pulse in Orlando. It has now been confirmed that Eddie Justice was among the 50 people killed in the massacre

AP

4/30

FBI agents investigate near the damaged rear wall of the Pulse Nightclub

Getty Images

5/30

Terry DeCarlo, executive director of the LGBT Center of Central Florida (C) is comforted by Orlando City Commissioner Patty Sheehan (R) after a shooting involving multiple fatalities at a nightclub in Orlando

AP

6/30

FBI agents investigate the damaged rear wall of the Pulse Nightclub

Getty Images

7/30

Police officials investigate the back of the Pulse nightclub after a shooting involving multiple fatalities at the nightclub in Orlando

AP

8/30

A member of the Medical Examiners office wheels a body to a vehicle from the mass shooting at Pulse Nightclub

Getty Images

9/30

A photograph posted by the Orlando Police Department on Twitter with the words, "Pulse shooting: In hail of gunfire in which suspect was killed, OPD officer was hit. Kevlar helmet saved his life", in reference to the operation against a gun man inside Pulse night club in Orlando

REUTERS

10/30

FBI, Orlando Police Department and the Orange County Sheriff's Office personnel investigate the attack at the Pulse nightclub in Orlando

AP

11/30

Annette Stubbs, a pastor at a local church, prays for victims a few blocks from a crime scene at the nightclub where a mass shooting took place

AP

12/30

Aimee McCarthy from Jacksonville, gives blood at the oneblood facility, to help the victims from a mass shooting at a nightclub in Orlando

AP

13/30

Police forensics investigators work at the crime scene of a mass shooting at the Pulse gay night club in Orlando

REUTERS

14/30

An injured person is escorted out of the Pulse nightclub after a shooting rampage

AP

15/30

An injured man is escorted out of the Pulse nightclub after a shooting rampage

AP

16/30

An injured man is escorted out of the Pulse nightclub after a shooting rampage

AP

17/30

Law enforcement officials work at the Pulse nightclub following a fatal shooting

AP

18/30

Orlando Police officers direct family members away from the nightclub

AP

19/30

The scene outside the Orlando gay club where multiple people have been shot

AFP/Getty Images

20/30

The injured are treated in the street outside Pulse in Orlando following the shooting

EPA/Univision

21/30

Two witnesses, Jermain Towns (left) and Brandon Shuford, wait down the street for news following shooting and hostage stand-off at the Pulse nightclub. Mr Towns said his brother was in the club at the time

AP

22/30

Emergency services at the scene. Ambulance crews and firefighters were outside the club alongside police.

EPA

23/30

People treating the wounded on the street

EPA

24/30

Friends and family members embrace outside the Orlando Police Headquarters during the investigation of a shooting at the Pulse night club

Reuters

25/30

Law enforcement agencies and local city representatives give a news conference in the wake of a mass-casualty shooting at the Pulse nightclub in Orlando

Rex

26/30

Orlando police officers seen outside of Pulse nightclub after a fatal shooting and hostage situation in Orlando, Florida

Getty

27/30

Friends and family console one another outside the Orlando Police Headquarters

28/30

U.S. President Barack Obama speaks about the worst mass shooting in U.S. history that took place in Orlando

REUTERS

29/30

Imam Syed Shafeeq Rahman, the Imam of the mosqe that mass shooter Omar Mateen attended, speaks to the media in Fort Pierce. The imam said that the suspect never gave any indication he was capable of such violence.Omar Mateen attended evening prayers three or four times a week at the Islamic Center of Fort Pierce, bringing his son who is about four or five years old

AFP/Getty Images

30/30

Omar Mateen has killed 50 people at a gay nightclub after pledging allegiance to Isis in the deadliest mass shooting in US history

Myspace
Several regulars at the club told the Orlando Sentinel Mateen had visited before and told drinkers he had a child, as well as talking about his father.
"Sometimes he would go over in the corner and sit and drink by himself, and other times he would get so drunk he was loud and belligerent," Ty Smith said.
Another frequent patron at Pulse, Jim Van Horn, described Mateen as a "regular". 
"He was trying to pick up people. Men," he told the Associated Press, saying the man had once told him about his ex-wife. 
The FBI said it was investigating whether Mateen had visited venues to scout them out for a possible attack.
"We are working to understand what role anti-gay bigotry may have played in motivating this attack," director James Comey said. 
"But we are highly confident that this killer was radicalised and at least in some part through the internet."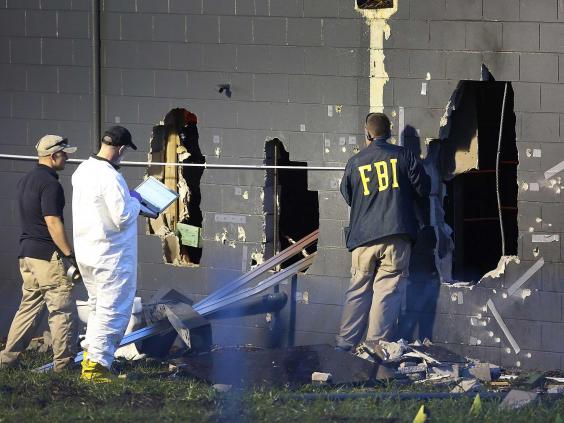 He said Mateen had made supporting multiple armed Islamist movements and people, which "adds a little bit to the confusion about his motives".
Isis claimed responsibility for the shooting, calling Mateen "a soldier of the Caliphate", but there was no indication that the terrorist group had contact with the gunman or directed the atrocity.
"It does appear that at the last minute he announced allegiance to Isil (Isis) but there is no evidence so far that he was in fact directed by Isil or that it was part of a larger plot," Barack Obama said.
The 29-year-old was shot dead in a gun battle with police who stormed Pulse with armoured vehicles after a three-hour siege.
Mateen called 911 as he held hostages in a bathroom, pledging allegiance to Isis leader Abu Bakr al-Baghdadi and talking about the Boston bombers and a man who became a suicide bomber for the al-Qaeda-linked Jabhat al-Nusra in Syria.
Co-workers reported him to the FBI in 2013 after he had made "inflammatory and contradictory" statements, including a claim that he had family connections to al-Qaeda and Hezbollah but investigators found no evidence of a link.