It is a cause for which some cultured New Yorkers have fought ever since its prohibition, claiming that the minor health risks are far outweighed by the lifestyle benefits.
And now the city's new Mayor, Bill de Blasio, looks poised to bow to their demands for legalisation. Yes, officials at New York City's Department of Health and Mental Hygiene have called for the repeal of a 15-year-old ban on domesticated ferrets, saying that the animals are no more dangerous to the public than other pets.
The change in policy must be approved by the city's Board of Health, which is expected to vote on the proposal in September. The lifting of the ban would likely be contingent on the furry, elongated creatures being spayed and vaccinated. According to a report in the The New York Times, ferret owners may also be required to ensure their animal's anal glands are removed, since they could otherwise emit an unpleasant odour.
The newspaper published extracts from an internal memo passed between officials at the health department as they debated the merits of ending prohibition. "Evidence shows ferrets do not bite more frequently or severely than other pets the same size," the memo said, though it added: "There may be injuries, especially to infants."
Ferret ownership is allowed in 48 US states, including the rest of New York. However, the weasel's friendlier cousin remains illegal in California, Hawaii and the District of Columbia. The California ban was introduced in 1987, motivated by fears that the sharp-toothed mammals might bite children and spread rabies. Yet research by the state's own research bureau has found that dogs are more than 200 times more likely than ferrets to bite humans. A rabies vaccine for ferrets was developed in 1992.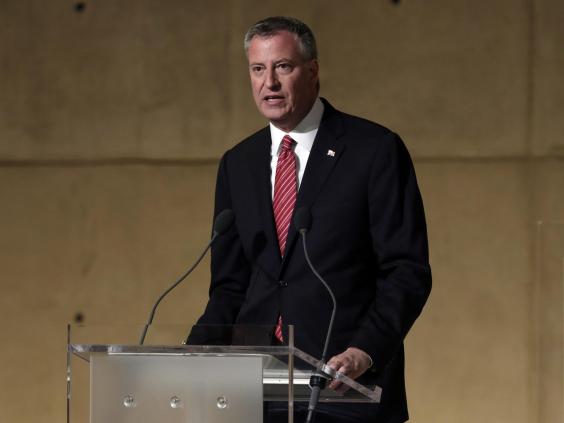 New York City's ferret ban came into force in 1999, during the reign of Mayor Rudy Giuliani, and prohibits "all fur-bearing mammals of the family Mustelidae, including, but not limited to, weasel, marten, mink, badger, ermine, skunk, otter, pole cat, zorille, wolverine, stoat, and ferret". Ferret fans protested the legislation, and in 2002 Mr Giuliani's successor, Michael Bloomberg, had to defend it to the state's supreme court.
A Change.org petition demanding legalisation has attracted almost 400 signatures, while a Facebook page, "Legalizing Ferret Ownership in NYC" has 100 "Likes". The campaign for the ban's repeal is being led by Ariel Jasper, a student from Brooklyn. "I looked into the Health Code and I saw that they were labelled as wild, dangerous animals, and that confused me because ferrets have been domesticated for over 2,000 years," Ms Jasper told CNN. "They were actually domesticated before the cat."
Several other obscure pet species would remain illegal in New York, even if ferret prohibition ends, including: pot-bellied pigs, hedgehogs, elephants, wolves, lions and iguanas. There is also a blanket ban on marsupials. Ms Jasper said she decided to act because Mr de Blasio, who took office in January, appeared to have the best interests of animals at heart. The mayor has also promised to ban the traditional horse-drawn carriages that trot around Central Park, saying that the horses' treatment is "inhumane". He has suggested the tourist favourites be replaced by electric buggies.
Talk of repeal has unearthed memories of Mayor Giuliani's notorious 1999 exchange with a furious ferret rights activist, shortly after the ban was introduced. At the time, Mr Giuliani hosted a weekly radio call-in programme for New Yorkers, on which he fielded a call from David Guthartz, executive president of the organisation New York Ferret's Rights Advocacy, who was profoundly upset by the legislation. "There's something deranged about you," Mr Giuliani told Mr Guthartz. "This excessive concern with little weasels is a sickness… You need help."