A palpable sense of fear pervades Morro da Providencia – the oldest favela in Rio de Janeiro – on the morning after a night of intense gunfire between local criminals and police. 
For three hours, hundreds of bullets ripped through the public square of Praca Americo Brum on that recent night, in a location known as Coracao (Heart) at the top of the hillside Providencia. 
It is where a local resident, Cosme Vinicius Felippsen, sits to explain how a new mobile app, being launched this month, will be used to report violence in Rio's favelas.
Although no one was injured in the barrage, the favela itself, in central Rio, feels wounded and frightened. Mr Felippsen points out evidence of the fierce gun battle. Bullet holes pockmark the towering concrete pillars that form part of the structure of the nearby cable car lift, which was opened in 2014.
"It's these types of incidents that residents will be able to record and report with our new app to show the sort of conditions we live under," Mr Felippsen said. He is part of Forum de Juventudes (FJRJ) – Rio de Janeiro's Youth Forum, the group responsible for developing the smartphone app Nos por Nos (Us by Us).
"It's a self-defence tool for people to report violence, assaults and killings, particularly by the police. They can send videos, texts, record witness statements and post pictures, and these will be forwarded to human right bodies like Amnesty International, government public security organisations and the media that can take official action," explained the 26-year-old, who works part time as a favela tourist guide and street salesman.
FJRJ members will monitor information, ensuring it is authenticated and that all complaints are followed up.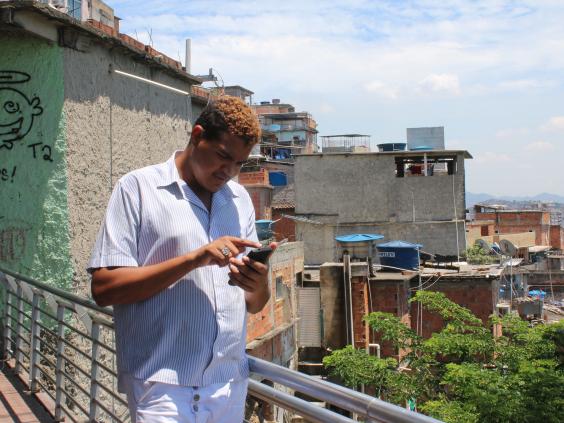 For Alex Azevedo, 24, who lives in Complexo do Alemao favela, about a 30-minute drive from Providencia, the application is welcome news. He believes that it would have helped him to report an alleged case of police brutality a month ago.
He said indignantly: "The police beat me in an alleyway for no apparent reason. I thought I was going to die. A woman on her way to church, who knew me, called my aunt who came and vouched for who I was. I am not a criminal."
Users of the new app can upload complaints anonymously and access advice and information about their rights as well as draw on a community support network in times of emergency.
The idea for the app emerged after FJRJ carried out research analysing the impact of the city's Pacifying Police Units (Unidade de Policia Pacificadora) on the lives of young people living in 11 of Rio's 763 shanty-town communities, home to more than two million inhabitants. The first UPP was created in 2008. 
The overriding complaint from those living on the periphery was the escalation in violence following the installation of UPPs, whose primary purpose is to reclaim territory from the control of armed gangs of drug dealers. 
Rio has 38 favela-based pacification units, with the UPPs being an important part of the city's strategy to ensure the safety of visitors for the Olympic Games later this year.
The most affected by any escalation are poor, black and mixed-race youths aged between 15 and 29, say human rights groups. According to data published last month by Rio's Institute of Public Security – Instituto de Seguranca Publica (ISP) – of the 644 people killed in violent clashes with police in 2015 across the state of Rio de Janeiro, 497 (77 per cent) were black or mixed race.
Mr Felippsen has personal experience of the violence in the favelas – his 17-year-old brother, Paulo, was killed in 2010.
World news in pictures
World news in pictures
1/30 28 September 2016

Rescuers evacuate residents through floodwaters brought by typhoon Megi in Ningde, eastern China's Fujian province. Typhoon Megi smashed into the Chinese mainland, killing one person, after leaving a trail of destruction and four people dead in Taiwan

AFP/Getty Images

2/30 28 September 2016

A CalFire firefighter surveys a hot spot in the Santa Cruz Mountains near Loma Prieta, California. The Loma Fire has charred more than 2000 acres and burned multiple structures in the area

AFP/Getty Images

3/30 28 September 2016

A civil police officer carries a girl to a safe place during the demolition of over 300 settlements of the Bukit Duri neighbourhood located on the Ciliwung river banks, in order to improve the riverside infrastructure planned by the government in Jakarta. Authorities ordered the slum residents to vacate their settlements built on riverbanks and for the residents to relocate to new flats, as the government is trying to clear the flood-prone area, where more than 900 homes were demolished a year earlier

AFP/Getty Images

4/30 27 September 2016

A woman eats and struggles with her umbrella against powerful gusts of wind generated by typhoon Megi across the the island in Taipei, Taiwan. Schools and offices have been closed on Taiwan and people in dangerous areas have been evacuated as a large typhoon with 162 kilometers- (100 miles-) per-hour winds approaches the island

AP

5/30 27 September 2016

Alstom employees stage a protest in front of its headquarters in St Ouen, north of Paris, asking not to close a plant in Belfort, eastern France, which employs 400 people. Alstom's situation is considered by many French politicians as symbolic of France's difficulty of keeping a strong industry at home

AP

6/30 26 September 2016

A man poses as he gathers with others at Bogota's Bolivar main square, to celebrate the historic peace agreement between the Colombian government and the Revolutionary Armed Forces of Colombia (FARC). Colombia will turn the page on a half-century conflict that has stained its modern history with blood when the FARC rebels and the government sign a peace deal. President Juan Manuel Santos and the leader of the FARC, Rodrigo Londono, better known by his nom de guerre, Timoleon "Timochenko" Jimenez, are set to sign the accord at 2200 GMT in a ceremony in the colorful colonial city of Cartagena on the Caribbean coast

AFP/Getty Images

7/30 26 September 2016

Tourists pose in front of the illuminated Eiffel Tower during an event to mark the Breast Cancer Awareness month in October in Paris

AFP/Getty Images

8/30 26 September 2016

A nail house is seen in the middle of an area covered by a dust screen in Hangzhou, Zhejiang province, China

REUTERS

9/30 26 September 2016

Students at the Durban University of Technology march as countrywide protests demanding free tertiary education continue, in Durban, South Africa

REUTERS

10/30 26 September 2016

Palestinian women throw sweets at the militants from the al-Nasser Brigades, an armed wing of the Popular Resistance Committees (PRC), while marching on their vehicles during a rally to commemorate the 16th anniversary of their group in Gaza

AP

11/30 26 September 2016

A supporter of Awami Ittihad Party (AIP), a pro-India party, is detained by Indian police during a protest demanding to hold a plebiscite, in Srinagar

REUTERS

12/30 25 September 2016

A dog wipes out during the Surf City Surf Dog competition in Huntington Beach, California

REUTERS

13/30 25 September 2016

Indian folk dancers from the Panghat Group of Performing Arts perform during a dress rehearsal for an event to mark the forthcoming Hindu festival 'Navaratri', or the Festival of Nine Nights, in Ahmedabad

AFP/Getty Images

14/30 25 September 2016

An artisan hangs decorative pieces at a pandal, or a temporary platform, for the upcoming Hindu festival of Durga Puja, in Kolkata, India

REUTERS

15/30 25 September 2016

Runners take the start of the 43rd Berlin Marathon in Berlin

AFP/Getty Images

16/30 25 September 2016

The Five-hundred-metre Aperture Spherical Radio Telescope (FAST) is seen on its first day of operation in Pingtang, in southwestern China's Guizhou province. The world's largest radio telescope began operating in southwestern China, a project which Beijing says will help humanity search for alien life

AFP/Getty Images

17/30 25 September 2016

Australian knight Philip Leitch (R) has a floral basket on his helmet smashed by an opponent at the St Ives Medieval Fair in Sydney, one of the largest of its kind in Australia

REUTERS

18/30 25 September 2016

A security guard working at the Cascade Mall places flowers at a makeshift memorial in Burlington, to the five victims killed in a shooting at the mall. The 20-year-old man suspected of killing the five people with a rifle at a Macy's makeup counter had a string of run-ins with the law in recent years, including charges he assaulted his stepfather

AP

19/30 25 September 2016

A man works in a rice field where rice crop is planted in a shape which looks like a map of China, ahead of China's National Day, in Shanghai, China

REUTERS

20/30 25 September 2016

Law enforcement officials inspect a boat overturned on a jetty, off Miami Beach. Authorities said that Miami Marlins starting pitcher Jose Fernandez was one of three people killed in the boat crash the day before. Fernandez was 24

AP

21/30 24 September 2016

Syrians await to receive treatment at a make-shift hospital following air strikes on rebel-held eastern areas of Aleppo. Heavy Syrian and Russian air strikes on rebel-held eastern areas of Aleppo city killed at least 25 civilians, the Britain-based Syrian Observatory for Human Rights said, overwhelming doctors and rescue workers

AFP/Getty Images

22/30 24 September 2016

A fire broke out on a tanker belonging to the Mexican state oil company PEMEX, causing no injuries, according to a company official, in the Gulf of Mexico off the coast of Boca del Rio in Veracruz state, Mexico

AFP/Getty Images

23/30 24 September 2016

Participants attend a competition of the 2016 XTRAIL Expedition at Kanas National Geological Park in Altay, China's Xinjiang Uygur Autonomous Region

REUTERS

24/30 23 September 2016

Protesters march in the streets during another night of protests over the police shooting of Keith Scott in Charlotte, North Carolina

REUTERS

25/30 23 September 2016

Campaigners pose on a 'United To Stop Trump' cardboard wall in front of the Brandenburg Gate to urge Americans living abroad to register and vote in Berlin, Germany

REUTERS

26/30 23 September 2016

A man rests on his cart after unloading plastic jugs near a shop at a main market in Colombo, Sri Lanka

REUTERS

27/30 23 September 2016

Staff inspect the presentation before the Swiss Cheese Awards competition in Le Sentier, Switzerland. One hundred and fourty-two experts have to choose the best out of 777 cheeses from 353 producers competing in 28 categories

REUTERS

28/30 23 September 2016

Israeli settler bride Yael Levi (C) is surrounded by friends and relatives during her wedding ceremony at the plaza outside the Cave of the Patriarchs also known as the Ibrahimi Mosque, which is a holy shrine for Jews and Muslims, in the heart of the divided city of Hebron in the southern West Bank

AFP/Getty Images

29/30 22 September 2016

A South Korean army special forces soldier breaks bottles with his hand during the Naktong River Battle re-enactment in Waegwan, South Korea. South Korean Defense Ministry reenacted one of the important battles as part of commemoration events for the 66th anniversary of the Korean War

AP

30/30 22 September 2016

Women wait on a street in Pyongyang, North Korea

AFP/Getty Images
"He was on a motorbike with his friend when police opened fire," recalled Mr Felippsen. "His friend escaped but my brother was injured and alive. By the time police took him to hospital he was dead. They claimed he was selling drugs but there has never been an inquiry."
The issue of police violence is clearly on the minds of many in Providencia. Electrical engineer Iuri Velosa Santos, 23, complained: "The police use force as an excuse to intimidate and humiliate us." He says he was punched in the head by an officer after being wrongly accused of not paying his bus fare while on his way to work three weeks ago.
"But we are making them more accountable because our mobile phones are becoming our weapon of choice in our battle for justice," Mr Santos said.
In a survey last year, Sao Paulo research body Data Popular reported that slum dwellers are "vigorous" users of social media, with the majority using mobile phones with free Wi-Fi connection. The data showed that 74 per cent of hillside residents in Rio access the internet at least once a week, compared with 54 per cent of those living in wealthier neighbourhoods on lower ground.
Mr Felippsen said: "The Us by Us app is one more thing to help in our fight against police violence. We need to tackle institutionalised racism in our police force and change the attitude of officers who believe slum dwellers' lives don't matter."
Carlos Henrique's 16-year-old son, Carlos Eduardo, died with four friends when their car came under a hail of more than 100 bullets fired by police in November last year. 
The five youngsters, all black, and aged 16 to 25, were out celebrating their first pay packet in Costa Barros, a suburb in Rio.
"My son was an innocent, loving and studious boy who was planning to join the navy," said a grief-stricken Mr Henrique. "Witnesses said they raised their arms and shouted they were locals. The police are meant to be our protectors but we live in fear every day of being on the end of excessive force at their hands." 
The officers involved claimed the exaggerated use of ammunition was an act of self-defence as the car had been used in a robbery. Investigators confirmed that none of the boys had a criminal record and that no shots came from inside the car.
In a statement, Jose Mariano Beltrame, Rio's security secretary, described the incident as "indefensible … unnecessary and exaggerated", and promised a thorough investigation. He denied police gun-handling training was inadequate and added that a new investigative unit had been set up to help "reduce the level of criminal incidence by the police".
Four officers have been arrested and are awaiting trial for murder.
Even so, Mr Felippsen warned: "There's every chance they could get off. We have no faith in the criminal justice system. But if we sit back and do nothing ... the injustice in our lives will never end. Using modern technology is the smartest way forward to fight back."
Reuse content