Rosa Parks, the activist whose refusal to give up her seat on a bus entered into civil rights iconography, felt she had been "pushed around all her life".
A collection of writings by the late Ms Parks, which is being made available to the public for the first time this week, provides an important insight into activist, who remained devoted to her family, especially to her mother and husband, Raymond, as well as to her cause.
The collection also offers a detail into what was going through her mind that day in December 1955 in Montgomery, Alabama, when she refused to give up seat for a white passenger.
"I had been pushed around all my life and felt at this moment that I couldn't take it anymore," she wrote. "When I asked the policeman why we had to be pushed around, he said he didn't know. 'The law is the law. You are under arrest'. I didn't resist."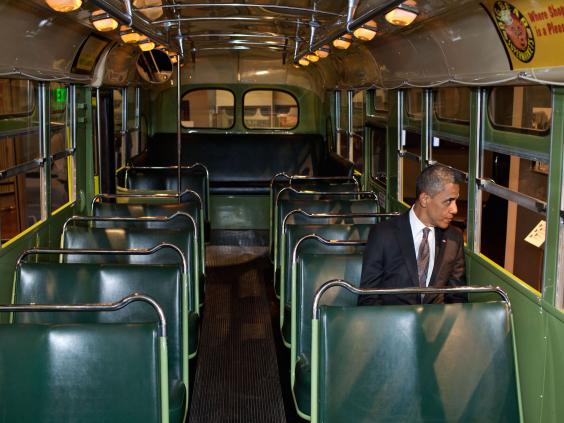 The Associated Press said that the treasure trove of historical items, much of which has not been publicly available before, was purchased last summer by the Howard G Buffett Foundation and was to be deposited with the Library of Congress in Washington on Tuesday on a 10-year loan.
A legal battle between her heirs and friends had kept the collection from public view for years. But in 2014, Mr Buffett's foundation bought the collection and decided to make it available.
Experts say the collection reveals a more detailed, complex view of Ms Parks, who died in 2005 at 92. Her refusal to give up her seat triggered a yearlong bus boycott that helped dismantle the country's system of segregation.
"I think it's one of the first times we're actually able to read her voice, and it just totally goes against this image of the quiet seamstress," said Margaret McAleer, an archivist at the library. "Her writings are phenomenally powerful."
Video: Rosa Parks' items sold in 2011
Material in the archive contains sections where Ms Parks wrote of feeling lonely and lost living through the struggle with segregation.
After her arrest, she lost her job as a tailor at Montgomery's largest department store because of her activism. Her husband, Raymond, lost his job, too, and the couple sank into deep poverty. They moved to Detroit but continued to struggle.
She traveled with the NAACP, pressing for civil rights, and eventually landed a job at the Hampton Institute in Virginia earning $3,700 a year — enough to send some money home to her husband and mother. It wasn't until 1965 when Ms Parks was hired for the district office of Michigan Congressman John Conyers that she finally earned a steady, living wage, archivists said.
"It's important because we see Rosa Parks in a kind of almost frozen, iconic image — a hero that is not really real flesh and blood," said library historian Adrienne Cannon. "Here we get a sense of a woman that is really full flesh and blood."
The Associated Press said some people may be surprised by documents that reveal that Ms Parks had an aggressive edge and supported more radical actions over the years, archivists said. She used her symbolic status to support Malcolm X, Black Panther gatherings and the Wilmington 10, a group of activists who were convicted in North Carolina.
"She was so deeply opposed to segregation that as the younger generation came along, she didn't hold back from them. She was in the fight," said Helena Zinkham, the library's collections director.
The Washington Post said one part of the archive contains Ms Park's recollections of her time growing up in rural Alabama, and how she was forced to stay up at night, keeping watch with her grandfather as he stood guard with a shotgun against marauding members of the Ku Klux Klan.
"I wanted to see him kill a Ku-Kluxer," she wrote. "He declared that the first to invade our home would surely die."
Reuse content