"Just killed 2 ppl. Bout to shoot up the school." That was the chilling message sent on social media by the suspected gunman who went on to murder at least two more people at a school in Canada.
One of the students who escaped the attack at the La Loche Community School sent a screenshot of the exchange to The Canadian Press, showing friends ask "why?".
Noel Desjarlais-Thomas, 16, said he was returning from lunch when gunshots rang out and pupils starting running past.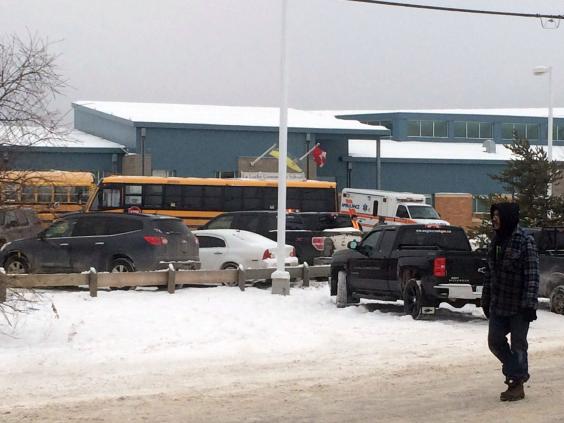 "'Run, bro, run!" he recalled his friends shouting to him as they fled the Saskatchewan high school. 
"There's a shotgun! There's a shotgun! They were just yelling to me. And then I was hearing those shots, too, so of course I started running." 
Noel feared one of his friends may be among the dead after seeing him fall, while the family of a 23-year-old teacher, Marie Janvier, said she had also been killed.
Her father, acting Mayor Kevin Janvier, said police told him the gunman shot two of his brothers at their home before making his way to the school. 
The local MP's nieces and nephews were among the children inside at the time.
Georgina Jolibois, who attended the school herself as a child, said everyone was "shaken up".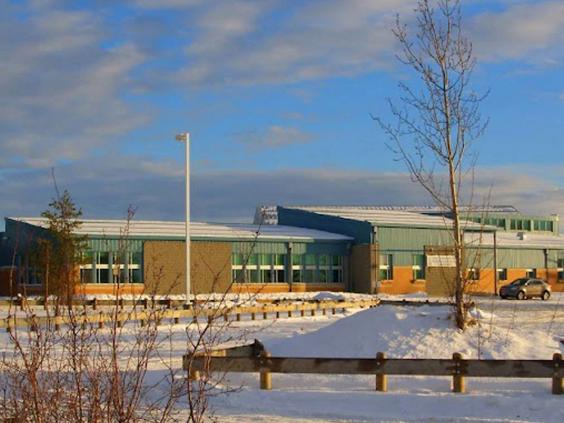 At least two others were injured in the attack, officials said, and the suspect is in custody.
Police had closed off two crime scenes on Saturday morning – one at the school and one in a residential area of La Loche.
The Royal Canadian Mounted Police (RCMP) said they received a report of an "active shooter" at 1pm local time and took a male with a gun into custody at 1.47pm.
Justin Trudeau, the Canadian Prime Minister, said what unfolded in the remote native community was "every parent's worst nightmare". "The community is reeling," he added.
Ken Ladouceur, the director of education at the Northern Lights School Division, said his deepest sympathies with the victims' families and La Loche.
"Our entire school and school division community are in shock and in mourning after the tragic events in La Loche," he said. 
"Our hearts are broken for each of the victims and their families and for all the students and staff at the La Loche Community School."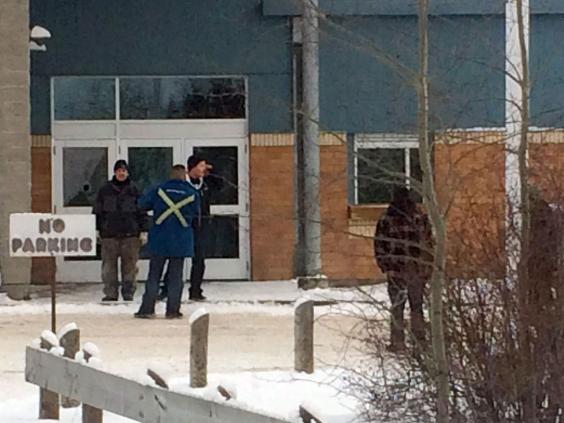 Crisis response teams have been sent to support students and staff.
The shooting caused shock across Canada, where attacks at schools and university are rare.
Milos Raonic, the country's top male tennis player and world number 14, dedicated his third-round victory at the Australian Open on Saturday to victims. 
"Today, before I stepped out on court, it was a difficult day back home," said the emotional-sounding 25-year-old in an on-court interview.
"I want to take a moment and give thoughts to that community, the family, the students and the school affected. We wish you all the best. 
"Today's victory was for that community, and a quick recovery and all of Canada, and I'm sure the world is behind you."
School and University mass shootings in America
School and University mass shootings in America
1/12 Craghead County, Arkansas - 24 March, 1998

Students Mitchell Johnson,13, and Andrew Golden, 11, killed four students and one teacher, wounding ten others at Westside Middle School

Reuters

2/12 Springfield, Oregon - 21 May 1998

After killing his parents at home, 13- year-old Kip Kinkel drove to Thurston High School where he shot and killed two students and a teacher at a school dance, wounding 23 others.

Getty

3/12 Columbine, Colorado - 20 April 1999

Eric Harris, 18, and Dylan Klebold, 17, killed twelve students and one teacher at Columbine High School. They wounded 23 others before committing suicide.

Getty

4/12 Santee, California - 5 March 2001

Charles Andrew Williams, 15, opens fire on at Santana High School, killing two students and wounding thirteen others.

Getty

5/12 Red Lake, Minnesota - 24 September 2005

Jeffrey Weise, 16, kills his grandfather before driving to Red Lake Senior High School. He proceeded to shoot and kill five students, one teacher and security guard before committing suicide. Seven others were wounded.

Getty

6/12 Nickel Mines, Pennsylvania - 2 October 2006

Charles Carl Roberts IV,a 32-year-old milk truck driver, shot to death five Amish girls and wounded five more in an Amish school in the hamlet of Nickel Mines before committing suicide.

Getty

7/12 Blacksburg, Virginia - 16 April 2007

Seung-Hui Cho, 23, shot and killed 32 students and faculty members and wounded 17 others at Virgina Tech University. It is the deadliest attack by a lone gunman in US history.

Getty

8/12 DeKalb, Illinois - 14 February 2008

Steve Kazmierczak, 27, killed 6 and wounded 21 at Northern Illinois University before committing suicide.

Getty

9/12 Oakland, California - 2 April 2012

Gunman One L. Goh, 43, shot shot and killed seven students in a classroom at Oikos University, a small Christian college. Goh was deemed unfit for trial in January 2013 after being diagnosed with paranoid schizophrenia.

Getty

10/12 Newtown, Connecticut - 14 December 2012

Adam Lanza, 20, killed 26 people at Sandy Hook Elementary School. He first killed his mother before taking her guns and driving to the school. He killed 20 children in the first grade along with six adults before killing himself.

Getty

11/12 Santa Monica, California - 7 June 2013

John Zawahri, 23, shot and killed five people on, or near, the campus of Santa Monica College.

Getty

12/12 Isla Vista, California - 23 May, 2014

22 year-old-Elliott Rodger went on a stabbing and shooting rampage just outside of the main campus of University of California, Santa Barbara. He killed 7 people and wounded 13 more.

Getty
Canada's deadliest shooting occurred in December 1989 at Montreal's Ecole Polytechnique, when Marc Lepine entered a classroom, told the men to leave and opened fire, murdering 14 women before killing himself. 
Brad Wall, the Premier of Saskatchewan, said words could not express his shock and sorrow. 
The US Ambassador to Canada, Bruce Heyman, also offered his condolences and said similar tragedies happen in America "far too often". 
Bobby Cameron, Chief of the Federation of Saskatchewan Indian Nations, said it was the worst tragedy to ever hit the community. 
The Dene are an aboriginal group who inhabit the northern parts of Canada. 
"It's not something you ever imagine happening here. The whole community, province and country has been affected and we will all go into mourning," Mr Cameron said.
"Right now we're just in a state of shock and disbelief." 
Additional reporting by AP
Reuse content