Remember Jeremy Meeks – the "handsome" felon from California? Well it looks like he has competition. 
Fellow West Coast resident Sean Kory was arrested on Halloween for attacking a person dressed as a Fox News reporter.
But his mugshot has been proving a hit on social media, especially since he has a rather uncanny resemblance to a certain criminal.
Kory was arrested after an incident at Santa Cruz's annual parade on Friday.
Police said the 29-year-old  shouted "I hate Fox News", before grabbing his victim's microphone and rubbing it on his own crotch. He then attacked the victim with an aluminium tennis racquet.
The person was not injured but reported the assault to police. Kory initially fled but was caught by officers and arrested.
However, on Twitter users were more concerned with his looks than his crime.
#SeanKory, When you get out of jail... I'll be waiting boo.

; MorgenJ. (@RosesandEcstasy) November 3, 2014
#jeremymeeks has competition #SeanKory for all those ladies having #feloncrushfridays this guy is… http://t.co/HLAUhAtOWb

; miss moi (@moinomnom) November 2, 2014
Yep. Sean Kory is the felon bae sequel. Quantum of Bae.

; Lt. Shabbie Mills (@okjoi) November 3, 2014
Original mug shot heartthrob Meeks was arrested in June. His photo, posted on the Stockton Police Department's Facebook page, has over 100,000 "likes", has been shared 12,800 times and has more than 26,500 comments.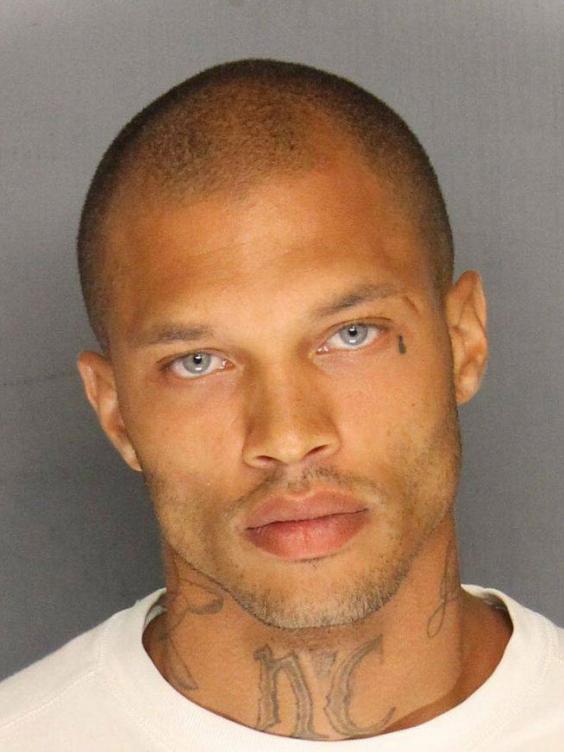 According to News10 he faces a federal gun charge, carrying a sentence of up to 10 years in prison.
Reuse content