Authorities across the Caribbean are working hard to clean up huge piles of smelly rotting seaweed on their beaches that are causing tourists to cancel their holidays.
The brown seaweed, called sargassum, has long washed up on Caribbean coastlines.
However, algae blooms have risen sharply in extent and frequency in recent years, causing the seaweed to smell bad. In worse news for tourists, the seaweed also attracts biting sand fleas, which can cause itchy red sores.
This year's seaweed crisis is being called the worst yet - with a number of beaches so badly hit that summer holidays have been cancelled and lawmakers on Tobago are referring to it as a "natural disaster".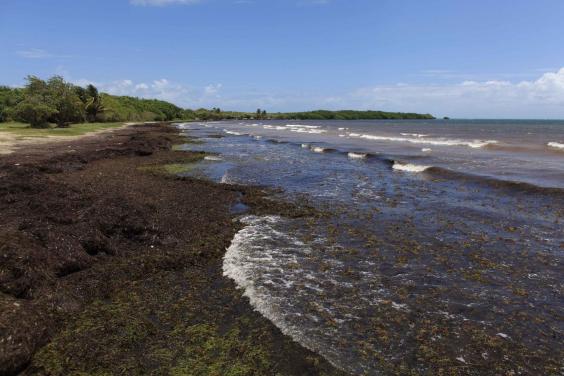 Due to the high heat, humidity and rainfall during the summer months, peak tourist season in the Caribbean is usually between mid-December and April.
Many Caribbean nations rely heavily on tourism, and some officials are now calling for an emergency meeting of the 15-nation Caribbean Community, in an effort to sort out the tourist-repelling stinking seaweed.
"This has been the worst year we've seen so far. We really need to have a regional effort on this because this unsightly seaweed could end up affecting the image of the Caribbean," said Christopher James, chairman of the Tobago Hotel and Tourism Association.
There are multiple theories about the origin of the seaweed boom, including rising ocean temperatures and changing currents, both the product of climate change.
In pictures: Caribbean villas
In pictures: Caribbean villas
1/6 Caribbean villas

Round Hill Villas, Jamaica

2/6 Caribbean villas

The Wings, St Barts

3/6 Caribbean villas

Laluna Villas, Grenada

4/6 Caribbean villas

Paradise Beach, St Kitts & Nevis

5/6 Caribbean villas

Ani Villas, Anguilla

6/6 Caribbean villas

Bird of Paradise, Anguilla
Some researchers also think that it is down to increasing levels of pollutants, such as fertiliser and sewage waste, running into the oceans and fuelling the algae blooms.
As well as making picturesque Caribbean beaches smell bad, the seaweed can also have major detrimental environmental effects - it can kill fish and newly-hatched sea turtles, and can even create coastal dead zones, areas of low-oxygen waters that make it hard for marine life to exist.
Sargassum, when not polluting beaches, it an essential part of the ecosystem in the Sargasso Sea, providing habitats for mahi-mahi, tuna, eels, shrimp and sea turtles.
However, when it comes to shore, it causes problems - and the cleanup efforts, which may include large machinery, could damage the shorelines even more.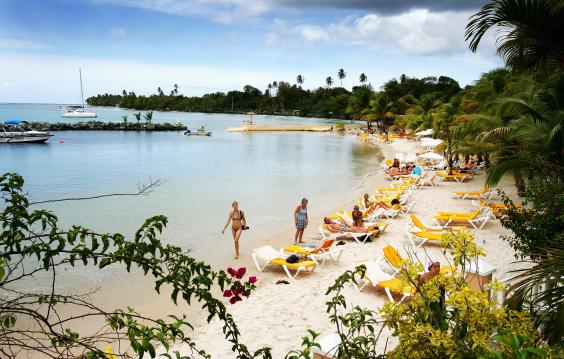 Mexican authorities recently announced they will spend around $9.1 million (£5.9 million) and hire 4,600 temporary workers to clean up seaweed that has accumulated along the country's Caribbean coast.
Part of this fund will also be used in research to see if the sargassum can be collected at sea before reaching the shore.
Despite, the smell, some tourists are soldiering on.
"The smell of seaweed is terrible, but I'm enjoying the sun," German tourist Oliver Pahlke said during a visit to Cancun, Mexico.
Sitting at a picnic table on the south coast of Barbados, Canadian vacationer Anne Alma said reports of the rotting seaweed mounds she'd heard from friends did not dissuade her from visiting the Eastern Caribbean island.
"I just wonder where the seaweed is going to go," the Toronto resident said one recent morning, watching more of mats drift to shore even after crews had already trucked away big piles to use as mulch and fertilizers.