A seemingly notorious Amazonian fish has been discovered thousands of miles from home in a lake in the US.
The pacu, an omnivorous fish which has previously made news for its apparent peccadillo for men's testicles, was found earlier this week by father and son fishing team in Delran, a Philadelphia suburb, New Jersey.
Ron and Frank Rossi initially thought the unusual-looking creature was a piranha but after taking the animal home – and thanks to some research – realised it was a pacu.
"I've never seen anything like that before in the lake. It was different," Mr Rossi told 6ABC News.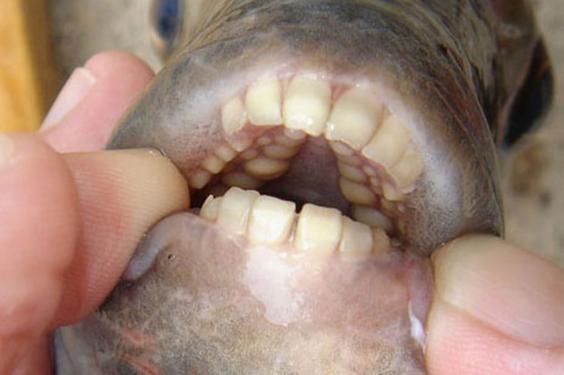 Pacu, erroneously known as the 'testicle-eating fish', originate from South America but are sometimes kept as pets, according to the US Department of Environmental Protection, and have cropped up in Scandinavia, France and Washington before.
The fish, which can grow up to 3ft and weigh 55lbs in the wild, are omnivores with powerful jaws used to crunch through nuts, fruit and plants.
It is thought that rumours over their testicle eating habits originate from Papua New Guinea, where the fish are known as 'Ball Cutters', after two men reportedly died following their castration at the jaws of these creatures.
However, a 2013 National Geographic article attempted to clear up the issue by explaining it was "highly unlikely" pacu would attack humans.
Peter Rask Møller, a fish expert at Denmark's University of Copenhagen, added that although it's "teeth and powerful bite can be dangerous" there was no real threat.
He later told CNN that the whole story – which centred on warning released by his organisation - was "a bit of a joke" and apologised that it had gone too far.
Reuse content