Six weeks ago Marina Silva was not even a candidate in Brazil's presidential election. Now, with just over two weeks to go before the vote, the former environmental campaigner is the front-runner in the race to head South America's largest country and most important economy.
Ms Silva says the key to her support among millions of Brazilians who joined in anti-government protests last year is her understanding that reforming a broken political system will come from the ground up.
She was thrust into a hotly contested campaign on 13 August when Eduardo Campos, the Socialist Party's original candidate, was killed in a  plane crash. Mr Campos's running-mate, Ms Silva, was chosen by the party as its new challenger to Dilma Rousseff, the current President.
Ms Silva says that as president she would seek bilateral trade deals and better relations with the US and Europe, and would push for improved human rights in allies such as Cuba.
Asked what she would do to lessen Brazilians' frustrations with an inefficient political system widely viewed as corrupt, Ms Silva said real change won't come from the top.
"It's neither the parties nor the political leaders who will bring about change," she said. "It's the movements who are changing us."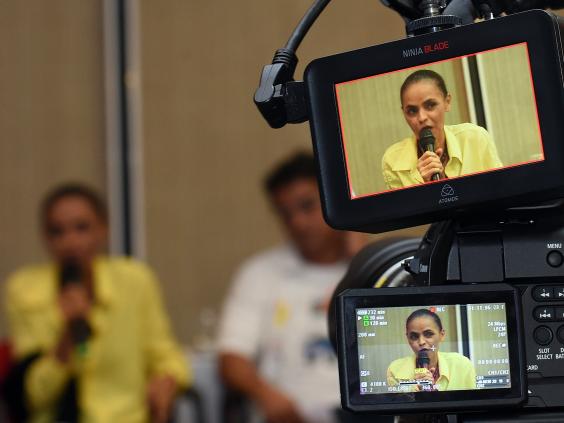 A former Amazon activist and Environment Minister who pushed policies that helped Brazil slash the rate of jungle destruction, Ms Silva is in a dead-heat presidential race with Ms Rousseff, who represents the Workers Party, which Ms Silva herself helped found three decades ago.
"Brazil has a great opportunity to become a global leader by leading by example," Ms Silva said, talking about human rights and environmental protections. "Our values cannot be modified because of ideological or political reasons, or because of pure economic interest."
Born to an impoverished rubber tapper in the remote Amazon state of Acre, Ms Silva grew up illiterate, collecting latex from trees from dawn to dusk. She nearly died as a child and said her family often had very little to eat.
She was infected with malaria five times and suffered from leishmaniasis, a disease that causes skin ulcers. When she was 15, her mother died. At 16, she was sent to the state capital, Rio Branco, for hepatitis treatment – and finally to learn to read and write.
Deeply religious and now an evangelical Christian, Ms Silva at that age wanted to become a nun. She went to study in a convent, and there met priests adhering to liberation theology, a Latin American-inspired movement that supports the poor.
It was her political awakening. She joined the Workers Party in its early days and was elected a Rio Branco city council member in 1989. Two years later, she moved into the state legislature before becoming a federal senator in 1995. President Luis Inacio Lula da Silva, who is no relation, made her the Environment Minister when he took office in 2003.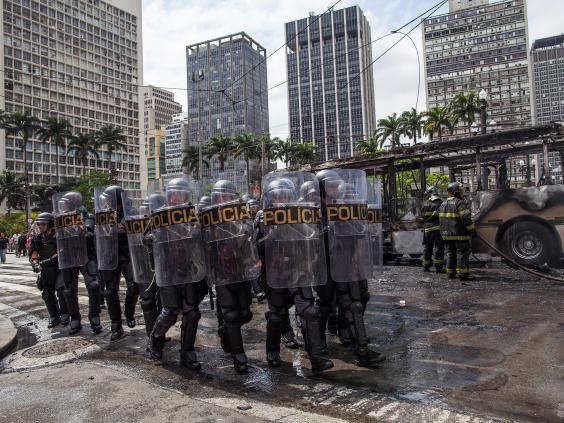 "If elected, she has such a remarkable personal story that she'd come to the presidency with a lot of legitimacy, tremendous excitement and high expectations," said Michael Shifter, president of the Washington-based Inter-American Dialogue.
Ms Silva, who could become Brazil's first black leader, has deep roots in Brazilian politics but has tapped into an anti-establishment mood, a continuing frustration with government that erupted in huge street protests in hundreds of cities last year. Her life story connects with millions struggling to keep modest advances made as Brazil boomed in the first decade of this century.
Asked whether she would continue Brazil's strong investment in and political support for regimes such as Cuba, Venezuela, China and Iran, Ms Silva said that dialogue was essential with each – but that her personal convictions meant Brazil would be more vocal in pushing human rights. "The best way to help the Cuban people is by understanding that they can make a transition from the current regime to democracy, and that we don't need to cut any type of relations," she said.
"It's enough that we help through the diplomatic process, so that these [human rights] values are pursued."
Brazil's relationship with the US has been chilly since revelations more than a year ago that the National Security Agency's espionage programmes targeted Ms Rousseff and other Brazilian officials.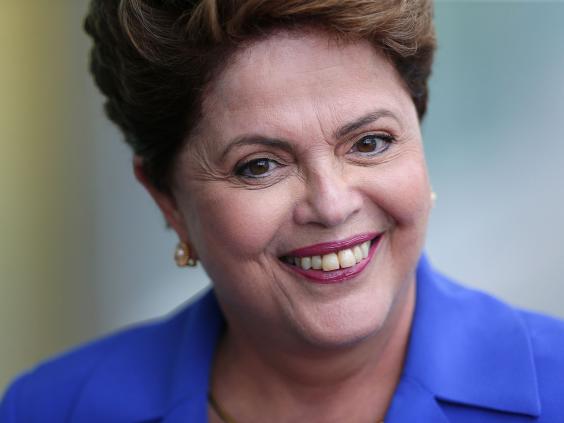 After the revelation Ms Rousseff cancelled her earlier acceptance of President Obama's invitation for a formal state visit. Ms Silva said the US spying was a grave error, but added that it was time to move on.
"Both nations need to improve this situation, to repair the ties of co-operation," she said. "The Brazilian government has the absolute right to not accept any such interference. But we also cannot simply remain frozen."
The presidential vote is on 5 October, but the contest is likely to go into a second-round ballot between Ms Rousseff and Ms Silva since neither is expected to win an absolute majority in the first round of eight candidates. AP
Presidential runners: Silva's rivals
Dilma Rousseff  Workers Party (PT)
Ms Rousseff is Brazil's first female president. A former Marxist, she was arrested, tortured and jailed in 1970 by the military dictatorship. Her social programmes have lifted tens of millions out of poverty but her poll ratings have tumbled as  Brazil's economy struggles.
Aécio Neves (Social Democratic Party)
A centrist, Mr Neves began his political career working with his grandfather Tancredo Neves, who was elected President in 1985 (he died before taking up office). He cut his teeth as a seven-year governor of Minas Gerais, introducing sweeping reforms designed to reduce public expenditure and promote private investment.
Reuse content