One smiled as the other remained stern, one reached out as the other kept his arm in close, one clutched his glass as the other maintained a delicate grip.
It's the moment Barack Obama and Vladimir Putin exchanged what should have been a simple gesture of goodwill – and it speaks volumes for the gulf that has emerged between them.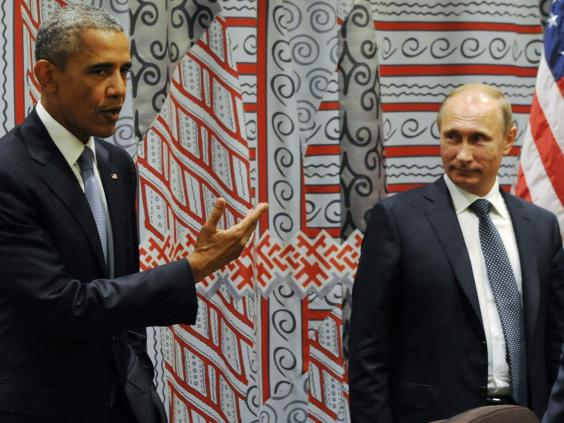 Relations between Russia and the US, already fraught amid the crisis in Ukraine, have been brought to this impasse by the two effectively backing opposite sides in the Syrian civil war.
Meeting at the UN General Assembly for their first face-to-face encounter in nearly a year, the pair spoke privately for 90 minutes in a bid to find some common ground.
But if their two countries are hardly on a friendly footing, the relationship between the men themselves appears to have deteriorated by an even more alarming degree in the past 12 months.
Tensions between Russia and the Western world
Tensions between Russia and the Western world
1/7 Russia

Vladimir Putin leaves G20 early after criticism from world leaders over Ukraine. David Cameron warned Vladimir Putin, face to face, that Russia's whole post-Cold War relationship with the West is at a "fork in the road" over Ukraine

Getty

2/7 Russia

A mysterious Russian object is being tracked by space agencies, giving new life to fears about the increase of space weapons. The satellite, dubbed Object 2014-28E, has grabbed the interest of official and amateur satellite-watchers because it is taking a confusing path and its purpose has not been identified

Getty Images

3/7 Russia

Russian warplanes are risking the security of civilian passengers as they play a dangerous game designed to test Western air defences, according to Nato's secretary general

FRA

4/7 Russia

Russia has warned Ukraine that a resumption of hostilities against pro-Russian separatists in the east would be catastrophic for Ukraine

Reuters

5/7 Russia

A Swedish minesweeper searches for suspected "foreign underwater activity" near Stockholm. A Russian sub in Swedish waters has slipped away into the sea...leaving recriminations in its wake

Reuters

6/7 Russia

Russian government agencies have been accused of editing a Wikipedia article to suggest the Ukrainian military was responsible for shooting down the Malaysia Airlines flight MH17, a Twitter account monitoring state IP addresses has claimed

AFP

7/7 Russia

Australia's prime minister Tony Abbott has promised he will "shirtfront" Vladimir Putin over the downing of Malaysia Airlines flight MH17, which killed 38 Australian citizens

AP
In his speech as host of the New York summit, Mr Obama offered a jibe at Russia without even daring to speak its name, railing against "some major powers [who] assert themselves in ways that contravene international law".
He also directly addressed the Ukraine crisis, saying: "We cannot stand by when the sovereignty and territorial integrity of a nation is flagrantly violated.
"If that happens without consequences in Ukraine, it could happen to any nation gathered here today."
This was the context for the pair's awkward clink of glasses at the leaders' lunch which followed, and it made the prospect of the two men sitting together in private for a full 90 minutes seem almost unthinkable.
In the event, the American side said afterwards that the meeting was "focused", a "business-like back and forth".
US officials said the situation in Ukraine consumed about half of the meeting, Syria the other half. The White House is worried pro-Russian separatists in eastern Ukraine could hold local elections next month that violate a fragile peace plan, and Mr Obama urged Mr Putin to help keep the accord on track, they said.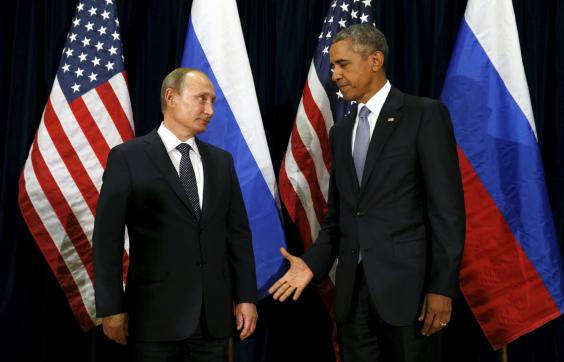 Then, almost as if to highlight further the contrast between the two men, Mr Putin emerged to brief journalists on what happened himself.
He revealed Russia had not ruled out air strikes in support of the Syrian regime, signalling his preparedness to take unilateral action by stating: "We are thinking about it and don't exclude anything."
And despite all that had gone before, he sought to play down any differences with the US over Ukraine following his meeting with Mr Obama. He extended if not an olive branch, then an offer to work together, saying the US had a role to play mediating between the Ukrainians, Europeans and Russia itself to help reach a peace settlement.
Reuse content