On the frontline in Brazil's fight against Zika, widespread failures to diagnose the virus and under-reporting of suspected cases are triggering claims of deliberate attempts to downplay its spread.
Doctors, nurses and patients in north-eastern state Pernambuco, the area worst affected by Zika in Brazil, claim that ahead of this summer's Olympics, authorities are failing to test for the virus on a vast scale. 
At best, experts say, health authorities are failing to register thousands of potential cases because they are overwhelmed by the crisis. But some suggest there has been a widespread, even deliberate, failure to diagnose Zika in the worst affected country. Experts claim this incomplete diagnosis process has led to fewer confirmed patients.
 Health authorities in Pernambuco admit that extensive testing is not done on all cases, pointing out that in an epidemic, doctors must give priority to pregnant women and children, because of the links to the birth defect microcephaly. 
Last year, the city of Recife in Pernambuco experienced around a third of Brazil's reported cases of microcephaly. In nearby Olinda, exterminators said there has been a significant increase in people with symptoms of Zika or chikungunya, a similar virus spread by the same mosquito, in the last six months. 
Paula Elane, 35, a statistician for the Brazilian environmental health organisation, Ceval, which is responsible for spraying the streets with mosquito repellent, said that the team's 10-strong extermination team find around 100 cases every day in Olinda.
Since the outbreak began, Brazil estimates that there have been between 500,000 and 1.5 million, but admits it has been forced to stop counting due to the size of the epidemic. 
Ms Elane also claims that, despite the rapid spread of the virus, there has been no rise in assistance from the government of President Dilma Rousseff, despite her pledges to fight the outbreak. She said: "I believe the government has tried to cover this situation up as there is a lot at stake this year. We have municipal elections and the fact that carnival and the Olympics will bring in such a large amount of money to the country has caused them to downplay the situation."
The Zika virus - in pictures
The Zika virus - in pictures
1/5

A three-month-old, who has microcephaly, in Recife, Brazil. A rise in microcephaly cases is thought to have been caused by the spread of the Zika virus in affected countries

Getty Images

2/5

A mother holds her baby who has microcephaly

Getty Images

3/5

A five-month-old baby, who has microcephaly, in Recife, Brazil

Getty Images

4/5

A pediatric infectologist examines a two-month-old baby, who has microcephaly, in Recife, Brazil

Getty Images

5/5

A baby affected with microcephaly
The Zika outbreak is not the first time the Brazilian government has faced criticism for its failure to respond. Arthur Chioro, a doctor trained in the field of public health, was removed from the Ministry of Health last September when the dengue epidemic, also caused by the Aedes aegypti mosquito, was raging.
Ms Rouseff handed over control to career politician Marcelo Castro. Mr Castro has incurred widespread scorn for his reaction to Zika, issuing statements including one saying he hoped women protect themselves less than men from mosquitoes "because they expose their legs". 
"The people of this area are pulling together and working in a charitable sense for one another," Ms Elane told The Independent. "We have not received any monetary or logistical support, but we are constantly being pushed to increase our workload. In the 12 years I have worked at the agency, I have never seen anything like this."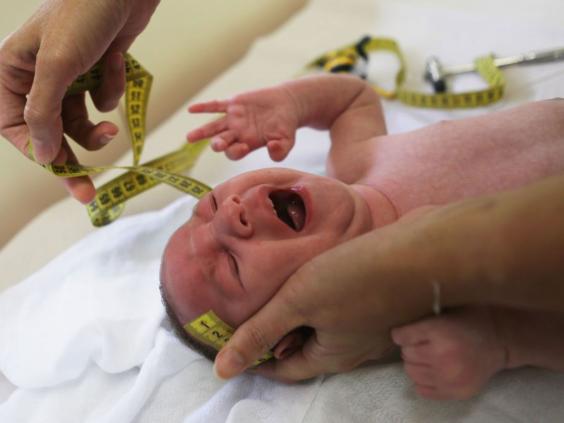 She claims health workers are failing to fully diagnose Zika as part of an effort to keep down official numbers. Many, like Ms Elane was when she displayed feverish symptoms, are not given anofficial diagnosis. She was told it was "likely to be chikunguya" and given pills for her headaches. "The only thing the hospital gave me was a certificate to take three days off work," she said. 
Ana Lucia Hilario, a postgraduate professor in epidemiology at the Recife University, says the government cannot put in place appropriate measures to stop the outbreak if they are failing to accurately diagnose Zika. "Education is key when aiming to prevent the spread of disease," she said.
Meanwhile, a lack of investment in preventative measures has left people afraid, and the areas where the infection is rife are unprotected. "Women are not leaving their houses as they are frightened of getting sick," Ms Hilario said. "There isn't funding to provide homes with mosquito nets, therefore no one in the favelas has them."
The government has deployed 220,000 troops to areas affected. But a few days after deployment in Olinda, soldiers were absent from the favelas and the town centre, the worst-hit areas. Gilda Seara, 37, a nurse at a public hospital in Olinda suspected she had Zika, but had to wait 15 days before the results of her test came through, despite doctors saying they would be ready in hours. Ms Seara estimates 40 per cent of the people in her street have had the same symptoms, which include high temperature, joint pain and inflammation and a rash. 
The government argues that, unable to cope with all cases, hospitals are giving priority to pregnant women. When asked why more extensive testing was not being done, the Pernambuco Ministry of Health admitted that during an epidemic "definitive tests" could not be carried out. It said: "We are only doing definitive tests on pregnant ladies and babies with microcephaly."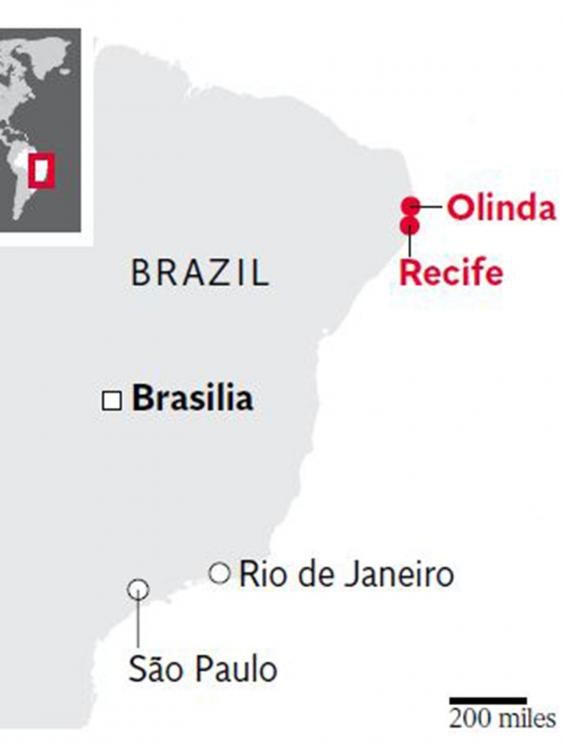 Dr Angela Rocha, 67, chief infectologist of Oswaldo Cruz Hospital in Recife, said that resources are "not being put into sanitary improvement, which is the main reason this crisis is spreading". 
Adreana Scavuzzi, 42, a health co-ordinator at the Imip Hospital in Recife, said the government had not been quick enough to catch up with monitoring the disease. "Each disease has a notification form associated with it in order to send and notify the government, but for Zika there was no such form as it is new to the continent. The first increase in cases came in August 2015, yet the platform was not put into place until December 2015."
She says that no financial or logistical help has been given to the hospital by the government. The hospital had to organise its own task force. "Without correct data capture how are we supposed to comprehend the severity of the situation and do anything to battle it?" asks Ms Scavuzzi. "There is no reason to think it is going to be just here in Recife; the outbreak could spoil the Olympic games."
That is, said critics, part of the problem for the Brazilian government.
Reuse content