Uruguay's liberal president – who proposed a state-run cannabis marketplace – handed his power over to a new leader yesterday.
Jose Mujica, who is known for giving away most of his salary and living humbly on a farm with his family and three-legged dog, presented his presidential sash to Tabare Vazquez on Sunday.
Vazquez, a 75-year-old oncologist, said he will retain the legal status of cannabis that was implemented in December 2013, but he said he will stop government supply if the scheme goes wrong.
Where cannabis is and isn't legal
Where cannabis is and isn't legal
1/12 UK

Having been reclassified in 2009 from a Class C to a Class B drug, cannabis is now the most used illegal drug within the United Kingdom. The UK is also, however, the only country where Sativex – a prescribed drug that helps to combat muscle spasms in multiple sclerosis and contains some ingredients that are also found in cannabis - is licensed as a treatment

Getty

2/12 North Korea

Although many people believe the consumption of cannabis in North Korea to be legal, the official law regarding the drug has never been made entirely clear whilst under Kim Jong Un's regime. However, it is said that the North Korean leader himself has openly said that he does not consider cannabis to be a drug and his regime doesn't take any issue with the consumption or sale of the drug

MARCEL VAN HOORN/AFP/Getty Images

3/12 Netherlands

In the Netherlands smoking cannabis is legal, given that it is smoked within the designated 'smoking areas' and you don't possess more than 5 grams for personal use. It is also legal to sell the substance, but only in specified coffee shops

Getty

4/12 USA

Although in some states of America cannabis has now been legalised, prior to the legalisation, police in the U.S. could make a marijuana-related arrest every 42 seconds, according to US News and World Report. The country also used to spend around $3.6 billion a year enforcing marijuana law, the American Civil Liberties Union notes

AP Photo/Ted S. Warren

5/12 Spain

Despite cannabis being officially illegal in Spain, the European hotspot has recently started to be branded, 'the new Amsterdam'. This is because across Spain there are over 700 'Cannabis Clubs' – these are considered legal venues to consume cannabis in because the consumption of the drug is in private, and not in public. These figures have risen dramatically in the last three years – in 2010 there were just 40 Cannabis Clubs in the whole of Spain. Recent figures also show that in Catalonia alone there are 165,000 registered members of cannabis clubs – this amounts to over 5 million euros (£4 million) in revenue each month

Getty

6/12 Uruguay

In December 2013, the House of Representatives and Senate passed a bill legalizing and regulating the production and sale of the drug. But the president has since postponed the legalization of cannabis until to 2015 and when it is made legal, it will be the authorities who will grow the cannabis that can be sold legally. Buyers must be 18 or older, residents of Uruguay, and must register with the authorities

Getty

7/12 Pakistan

Despite the fact that laws prohibiting the sale and misuse of cannabis exist and is considered a habit only entertained by lower-income groups, it is very rarely enforced. The occasional use of cannabis in community gatherings is broadly tolerated as a centuries old custom. The open use of cannabis by Sufis and Hindus as a means to induce euphoria has never been challenged by the state. Further, large tracts of cannabis grow unchecked in the wild

Getty

8/12 Portugal

In 2001, Portugal became the first country in the world to decriminalize the use of all drugs, and started treating drug users as sick people, instead of criminals. However, you can still be arrested or assigned mandatory rehab if you are caught several times in possession of drugs

Getty

9/12 Puerto Rico

Although the use of cannabis is currently illegal, it is said that Puerto Rico are in the process of decriminalising it

RAUL ARBOLEDA/AFP/Getty Images

10/12 Colorado

The US state became the first in the country to legalise marijuana in January 2014. In February 2015, President Obama recently said he expects to see more states "looking into" legalisation. However, it is illegally to grow more than six cannabis plants and to possess more than 28 grams of the drug

Rex Features

11/12 California

Oaksterdam in Oakland, California, is the world's only university dedicated to the study and cultivation of cannabis. If you are court in California with anything up to an ounce of cannabis, you will be fine $100, but you will not get a criminal record, nor will you have to appear in court

Getty Images

12/12 China

Cannabis is grown in the wild and has been used to treat conditions such as gout and malaria. But, officially the substance is illegal to consume, possess and sell

Getty
Possession of cannabis currently carries no penalty and, since August last year, citizens have been allowed to grow up to six marijuana plants at home.
Each registered person would be able to buy up to 1.4oz (40 grams) of cannabis from government-backed pharmacies per month in the near future.
Mujica, 79, is a farmer and former guerrilla fighter who is famous for driving a blue 1987 VW Beetle. He has left office to become a Senator.
Uruguay has experienced 12 years of booming economy, rising salaries and historically low unemployment while neighbouring Brazil and Argentina are experiencing economic downturns.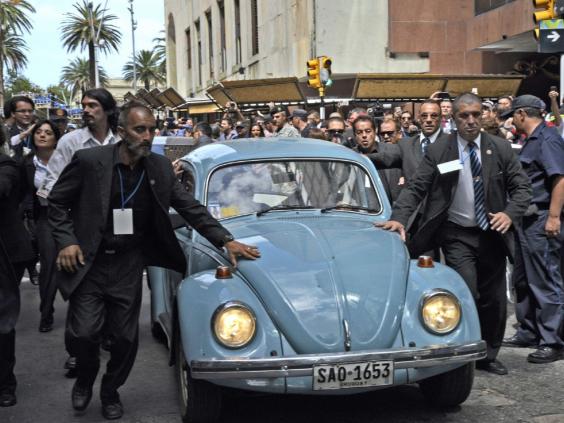 The Marxist former president, known as Pepe by Uruguayans and had spent 14 years in prison for fighting with the rebel Tupamaros National Liberation Movement during the 1960s and 70s, is also known for legislating abortions and gay marriage.
"He's the best president we've ever had," said Charo Baroni, a 66-year-old housewife who was in the crowd for the ceremony, according to AFP.
"I'm sorry to see him go. Tabare is good too. But Pepe is Pepe."
Mujica wore his usual smart-casual attire of brown rubber-soled shoes, a black suit and a shirt with no tie for the ceremony.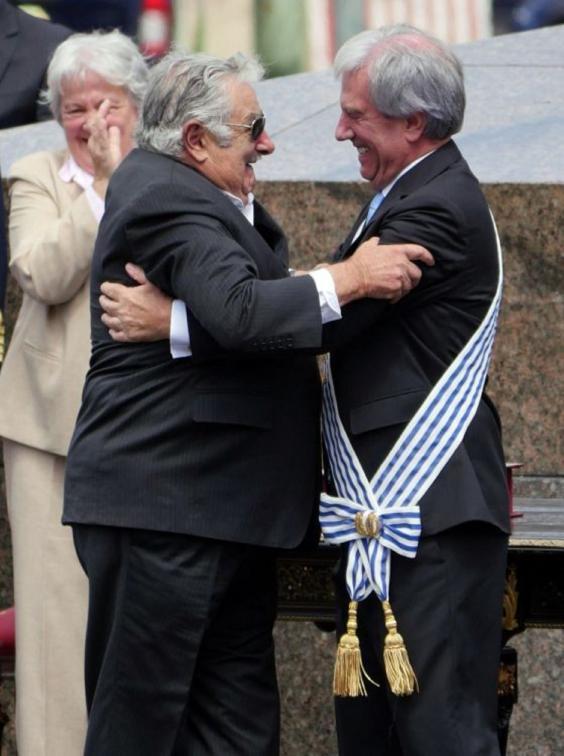 New president Vazquez urged Uruguayans to work together to improve public education, health and housing, and he decried the violence haunting the world.
"Seldom in history has humanity been so shaken, so beaten, so overwhelmed as in these times. Violence, fear, terror, intolerance stalk different regions of our planet," he said in his inaugural address.
The new leader is not a stranger to presidency as he was in power from 2005 to 2010. He ended 170 years of two-party dominance and left office with approval ratings of about 70 percent.
Both politicians represent the Broad Front coalition of parties that range from centre-left Christian Democrats to Communists.
Reuse content