The voters of  New Hampshire are proud of their status as citizens of the Granite State.
They do not like to let things such as freezing temperatures and driving blizzards get in the way of their lives, and when it comes to politics they relish the fact that candidates for president have to go through the rituals of so-called retail politics, and attend small gatherings in villages and town halls.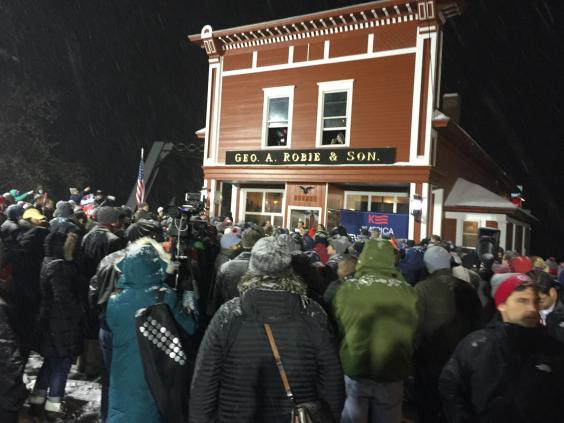 On the eve of voting, Republican John Kasich pursued those rituals to new extremes when he held an outdoor rally in a snow storm, despite there being a perfectly good indoor venue fifty metres away.
Robie's Country Store in Hooksett, about ten miles outside of Manchester, has its place in US political lore as one of the locations where candidates speak to voters. The traditionally built property dates back decades, and for years politicians have come here to make their case directly to voters.
Karen Kasich claps as hubby John Kasich exhorts the enthusiastic crowd outside Robie's General Store in Hooksett, NH pic.twitter.com/DCQ0AunAFO

— Darrel Rowland (@darreldrowland) February 9, 2016
On Monday evening, the Ohio governor spoke to a small but lively group of supporters outside the store, in temperatures of -7C and with snow making the roads treacherous.
There was a village hall located opposite from Robie's Country Store, but Mr Kasich's campaign team appeared to have calculated that while a speech inside a dreary indoor venue would attract modest attention, a rally in the snow against the picturesque backdrop of the store, would ensure good pictures for the media. And so it proved. 
Mr Kasich, whom some polls predict could come in second place, said he was moved that people had come out to campaign for him and to listen to him speak.
"How could you possibly say thanks?" he asked of himself. The crowd yelled back: "Win." 
Reuse content