The US government should consider paying reparations to the African-American descendants of slaves, a United Nation working group says. 
The UN Working Group of Experts on People of African Descent has released its preliminary recommendations after more than a week of meetings with black Americans from across the country. 
The group also recommended establishing a national human rights commission and publicly acknowledge the trans-Atlantic slave trade was a crime against humanity. 
Chairwoman Professor Mireille Fanon-Mendes France said the committee were "extremely concerned about the human rights situation of African-Americans". 
She said: "The colonial history, the legacy of enslavement, racial subordination and segregation, racial terrorism and racial inequality in the U.S. remains a serious challenge as there has been no real commitment to reparations and to truth and reconciliation for people of African descent." 
She compared the recent deaths of unarmed black men like Michael Brown and Eric Garner at the hands of white police officers to the racist lynchings of black men in the South from the post-Civil War era through to the latter half of the 20th century.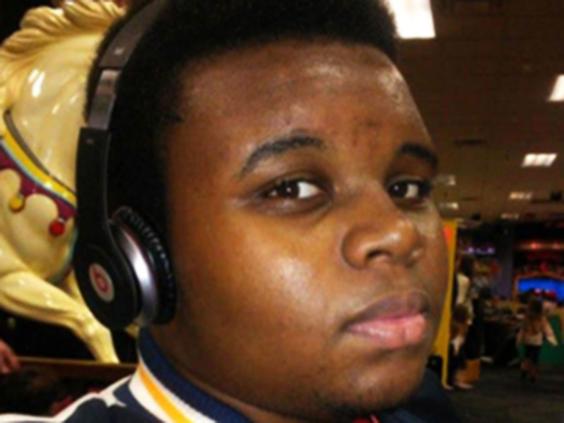 The recent deaths - as well as that of Sandra Bland who was found dead in her cell in Texas in July last year - have prompted the growth of the protest movement #BlackLivesMatter.
She said: "Impunity for state violence has resulted in the current human rights crisis and must be addressed as a matter of urgency."    
Members of the working group - none of whom are from the US - said they were shocked at some of the injustices many black people in the US faced. 
In pictures: Michael Brown shooting nationwide protests
In pictures: Michael Brown shooting nationwide protests
1/10 Ferguson, Missouri

Protesters ride on top of a car as they gather on West Florissant Avenue in Ferguson, Missouri

2/10 Ferguson, Missouri

A protester holds the banner as he joins the protest on West Florissant Avenue in Ferguson, Missouri

3/10 Ferguson, Missouri

Missouri Governor Jay Nixon ordered state police to patrol a St Louis suburb, sidelining local police who had clashed with protesters after an unarmed black teenager was killed by an officer

4/10 Ferguson, Missouri

People demonstrate in front of a burned down Quik Trip gas station on West Florissant Avenue in Ferguson, Missouri

5/10 New York

Thousands of people peacefully gathered in Manhattan's Times Square and Union Square, invoking the rallying cries "hands up, don't shoot" and "I can't breathe," alluding to the deaths of Michael Brown in Ferguson

6/10 New York

People protest in front of police officers in New York's Times Square

7/10 New York

Protesters march in New York City's Union Square. Vigils are being held across the country for people organizers say died at the hands of police brutality

8/10 Portland, Oregon

People take turns speaking in Pioneer Courthouse Square in Portland, Oregon during a vigil for Michael Brown

9/10 Los Angeles, California

A protester holds a sign that reads 'Black Lives Matter' as she joins hundreds of demonstrators who gathered in Leimert Park in South Central Los Angeles, California

10/10 Omaha, Nebraska

With his hands raised above his head, University of Nebraska criminal justice senior Aron Sanders, of Omaha, Nebraska, kneels in front of the Nebraska State Capitol building, as he and more than 30 others students gathered for a vigil
Around 37 per cent of state and federal prisoners were black males in 2014m and according to a recent survey by the US Federal Reserve the median African-American family has around 8 cents in wealth to every dollar held by the median white family. 
The working group suggested monuments, markers and memorials be erected in the United States to facilitate dialogue, and "past injustices and crimes against African-Americans need to be addressed with reparatory justice".
They also suggested an end to racial profiling, mandatory minimum sentencing and solitary confinement in prisons.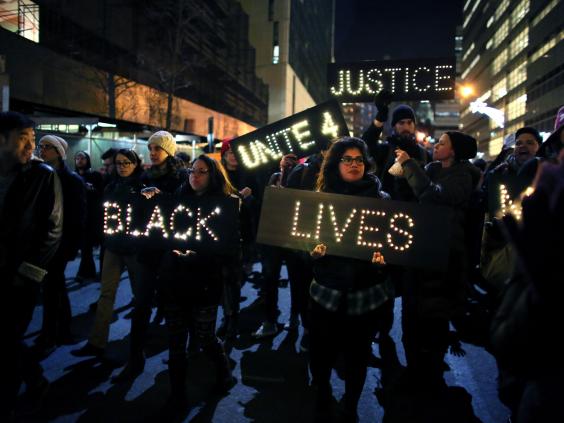 The US government has never issued an official apology for slavery.
In 2008, the House of Representatives unanimously voted to apologise for both slavery and the Jim Crow laws which followed. 
The following year the Senate passed its own bill to apologise for the injustice but neither reached President Obama's desk as both houses could not agree on the correct wording to stop them becoming liable for future repatriations.
Additional reporting by AP
Reuse content